What should we do now to revive the Congress?
Letter to Mr.Kamal Nath
To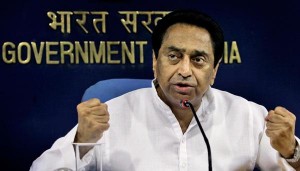 Mr. Kamal Nath M. P.
1, Tuglak Road,, New Delhi – 110 011
Phone : 011-23061166, 011-23061162
Fax : 011-23062089, 011- 23793396
Dear Mr.Kamal Nath,
Congratulations for your rare feat of winning the 2014 Lok Sabha elections.
What a shame for the Indian National Congress to end up like this?
I saw your TV interview yesterday with both Karan Thapar and Bharka Dutta on the CNNIBN and the NDTV.
To imagine the Congress just got 7 seats more than the one-state party AIADMK? It is shame.
Today the Congress Working Committee (CWC) is meeting. I hope my political blog (www.isvarmurti.com) on which this letter is also posted is seen by them.
Anyway, what is the surgical solution needed?
While your views were candid, I am afraid you are hesitant still to look up and face the issues at the face.
First, we must know each other well. I know you well. You may not know a thing about me.
First, you see I was with Dr.Manmohan Singh at Oxford while he was a research student; I was then a full student at New College, Oxford. Even then, in the late 1960s I knew him as a shy and withdrawn person. So, I for one am not surprised his Prime Minister ship ended this way.
It is almost tragic that Sonia Gandhi, herself inexperienced and disinterested in politics was thrust upon the job by none other than the late Arjun Singh and the whole political evolution took place in an artificial way and progressively, there was the decline of the various institutions and instruments of the Congress party functioning and traditions.
I came back to India from Oxford in 1961 and from 1962 to 1967, on and off; I worked at the then AICC at Jantar Mantar Road under Atulya Ghosh and Kamaraj and others Sri.Nijalingappa and Sadiq Ali.
After the 1967 debacle of the party I came back and contested in 1968 to the Madras Legislative Council and defeated the then resurgent DMK under the leadership of C.N.Annadurai. Of course, I was close to Kamaraj all the time till he passed away in 1976. I never changed any Congress factions to get any power positions.
Now, the point here is that even now I am an active Congressman, not for positions, and you know very well the Congress politics in TN that went off track and always allied with the DMK and in the process it lost all life and its soul.
I am advocating for long that the Congress must grow on its own feet in TN.
I had done some work in this regard and about it later.
Now, I am sorry to say that I might have written many letters to Mrs.Sonia Gandhi. Not for one letter she had cared to acknowledge!
Not just me.
I am also in touch with so many senior leaders all over. In Karnataka, for instance, I meet and talk to such leaders like Sri V.Rajasekaran, MLC and former Union Minister. He is a member of the CWC and I hope he is attending the meet today.
But I know well, the CWC, for all practical purposes, is a non-working committee.
What moral and inherent strength it has today?
There was time when the late Prime Minister Mr.Chandrashekhar, could contest against the wishes of Indira Gandhi and get elected to the CWC!
Is there an atmosphere like this today's CWC?
It is time we have to face this historic humiliation in all its starkness and seek a remedy.
Can we ever hope to come back in today's changed India of the youth resurgence and great aspirations and an India where the social media, why even the TV channels and the rest of the media and the elite class all look to total honesty of purpose and a genuine sense of truth all over our  deeds and intentions?
You can't anymore pretend to impact Indian democracy with a dynastic rule, can you?
So, this is the stark reality. To Congressmen and women, leaders and others must think in some seriousness and must be prepared to come out with a real inner party democracy as our core strength.
Let us admit honestly there is such an inner party democracy within the BJP today.
There are any number of leaders and viewpoints inside the party.
The BJP represents, honestly, a genuine change towards the democratic change, both inside the party as well as, let us hope, inside the functioning of the government.
I really feel sorry that Dr.Singh, a very learned man, did contribute to the fall of the party, its sycophantic culture was fostered by seniors like Dr.Singh.
This is not the time to go further into the causes of our defeat.
The only way forward is to accept the reality of the massive, historic defeat and the tragedy for those who grew with the Congress.
I am somehow reconciled to the need for a change in the leadership, a goodbye to dynastic rule. Otherwise, we have to recognize the dangers of the party splitting and also the states where there are genuine leaders within the Congress tradition, they might sprout as independent and state level Congresses of different  vintages. It is also time to reach out to regional parties that are almost like the breakaway Congress parties.
Let us really come out not with soothing self-deceptions, but with genuine difference of opinions and perspectives.
We need inter party elections for all the posts in the Party. It should start from district levels, and then reach the final Delhi high office.   One year interim presidents should be given charge to strengthen the party at grass root level.
Then All India Congress party elections should be conducted and the next 4 years they should work at the field level and strengthen the party to face to 2019 election bravely. Let the new debate begin today.
Yours sincerely,
V.Isvarmurti