Indian polity needs many structural reforms!
Indian people need much self-introspection!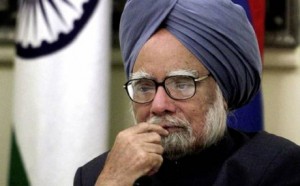 I have just now finished reading Sanjay Baru's Accidental Prime Minister. The book reads dull, boring, a bureaucratic maze! The book is written by a dyed in the wool bureaucrat who comes from a family of bureaucrats. This is a usual gossipy sort of book. The book reads like a sad tale of a fallen angel, if the PM who himself was dyed in the wool bureaucrat all his life till he found himself picked up as a finance minister by P.V.Narasimha Rao. If this is what Delhi under Sonia Gandhi and Manmohan Singh amounts to, then it is a very sad fall. There is no strength the duo brought to governance.
God forbid the days to come, things shouldn't fall further, and we mean standards of leadership and governance. Just now also we read that the World Bank ranks India as the world's third largest economy. Can then the PM claim any credit for this distinction? If so, the irony is, the PM didn't claim it as his own achievement. Anyway, India needs better types of leaders.
For this we, Indians, have to become more aware of how we are now governed by default by persons who aspire to occupy positions of power for which, they know, they don't deserve. So, we need to enlarge our vision, highly misused word these days but with some in-depth analysis and some self-examination of our own selves. Now, the other characters who make their presence in so many ways in so many assignments. What can you make of these, now faceless and nameless men and women?
They are all there in Delhi in various avatars and they are in fact hanging around Delhi once they had got some jobs done and they never retire to their native places. They continue to hang on and that is how so many of them came around the power centers and got the jobs they got and survived all the political volcanoes. Now, what is really unique to the Indian political scene today, I write before the final round of polling is over, is the fact that now for the first time, as far I know, not just the bureaucrats but even the politicians who were close to Sonia Gandhi had deserted her  almost through the whole electioneering process is over.
Only at the fag end of the electioneering some have shown out their faces, P.Chidambaram and Jairam Ramesh are speaking out and here too we don't see any conviction in their political beliefs but only some sympathetic noises as to the shape the next government would take. But one or two things become clearer this time, in this election. Sonia Gandhi and her family seem to be aware that they don't trust any of their political supporters. Even leaders like Digvijay Singh seem to have been sidelined. When senior leaders are not chosen to contest against Narandra Modi in his two constituencies what does that mean?
Surely, Sonia seems to fear for her turf, she wants to make sure there are no rivals to Rahul Gandhi who unfortunately, hasn't risen up to the expectations of many sections. So, this time the verdict might not just go against the Congress but also against the chosen heir. Also, there is this time the heavy liability of the Prime Minister with his baggage of poor governance and a rash of corruption cases that might surely hit the reputation of the party, also the PM's image. What to make of  a party whose chosen Prime Minister himself chooses to maintain such a long-time silence when the heat of the election  is so high and when he himself could have chosen to deny the charges and stand up to face the crowd. Even if he had chosen to make some token appearances in different parts of the country, such a gesture would have surely made an impact. It is not just simple accident; it is real tragedy, a political tragedy of the very highest ranking, the PM's conduct during the most critical election to the party, in its entire post-Independence history.
If there is ingratitude it is this only. The Prime Minister whatever may be his reason to do what he chose to do is really tragic for the party and every Congressman, big or small ,would surely feel how the party lost its traditional  rhythm it displayed in identifying itself with the grassroots sentiments. So, this election outcome, as widely predicted, might throw up a great surprise and if the Congress loses on a large scale then, there won't be many to shed tears for India's premier political party. The party had really grown into an arrogant and imperial party with a display of much disdain for the common people of the country.
What if, the Congress loses power? Who else would form the government? Of course, it is widely assumed that the BJP might get a majority of its own and might form the next government. Of course, no big bad thing might happen to the country. These are for various obvious reasons. Intellectuals like Amartya Sen or U.R. Ananthamurthy from Karnataka, are the two vocal critics of Modi as of now. Though there are many others like them who all assume that Mr.Modi might go the most vicious communal way or might give rise to communal troubles. They all predict much more dire consequences.
Sen says why even many others fear that Modi might adopt some rightwing, rough and thought methods to push his development agenda. When it comes to development, Modi had made it his unique contribution to India's economic backwardness. In fairness, it is only right we have to give him a chance. India is a big democracy and a mature one too. Once we have succeeded and the outside world acknowledges it so, we have to understand that democracy implies periodic change of government. In this sense we have to be open-minded to give the winning party to show its capabilities.,
Second, in the case of India, Indian democracy with all our ritual praise for democracy, it is a fact, rather ha harsh fact and reality that when we talk of democracy, we, why the whole lot of organized and representative opinion is silent on the process of elevating Rahul Gandhi as the dynastic heir. Is it really justified? Apart from the sterling qualities of the young man, it is still an uncomfortable fact that there is no open discussion or even some self-doubt within the Congress party itself, not to speak of the wider society, the intellectuals like Amartya Sen and others why no one questioned this very much suppressed   undemocratic push to achieve such an end.
Surely, there must at least have been some inner party democracy within the Congress. Ironically, inside the BJP, supposed to be a rapidly rightwing party, there is a vigorous inner party democracy, even at this late hour there are doubts, genuine doubts, again ironically within the BJP itself, whether one or two or the third person, leader within the party could be  propped or emerge as the acceptable leader. For argument sake can we imagine such a possibility within the Congress, some other leader, other than Rahul Gandhi, can emerge as an alternative leader?
This is the real tragedy of the Indian democracy today. We have a Prime Minister, as Sanjay Baru and Parskh and also one more book in the making by K. Natwar Singh, they all show that the Prime Minister has to remain a modest man, he can't claim more than what objective scrutiny would allow as his credits. K.Natwar Singh now claims he was the man who finished the nuclear deal. He cites no less a person than Condolezza Rice, the State Secretary. There are other claims for the nuclear deal glory. So, what would be the legacy of the PM? Perhaps nothing! Very much like the later-day minor Mughals the current incumbent has to satisfy with much more modest glory. This is the real tragedy of India today.
Sonia Gandhi, as the President of the Congress party has to take all the criticism for what she had made of India. She destroyed the Congress party's inner core, the moral core of the party as a liberal, open-minded and very accommodative party of regional leaders, each Indian state contributing its own quota of greats. TN, UP, Bihar, W.Bengal to take some big states, had their own great leaders. They all came to accept the great leadership of Gandhi and Nehru. Nehru used to say:"We are all small men with big power and responsibility". Today, even the blatant sycophant disregards genuine Congress workers and leaders. Those who are state level players are simply shunted out. So, today we don't have the Congress party in either roof these big states.
Time and tide wait for none! So too politics! It doesn't bend to one's whims and fancies! Politics is a serious pursuit.
Only long years of toil and dedication brings you some repayment. So, the time has come to take stock of what went wrong. The role of an unelected PM, the role of an autocratic party leadership, the unsuited successors! May be they have to pay the price for their own follies. No excuses would pay. So too the deserters, the opportunists and others!
Sanjay Baru's book is rather distasteful for the number of bureaucrats who complete their jobs and then join the Congress party and lord over the unsuspected Congress leaders and the loyal party workers. Even those whose faces we saw in between the election rallies, we all upstarts who came the wrong way to the top. So, if Sonia Gandhi has to pay a heavy price, let that is so. What else we can say?