And Arvind Kejriwal? Equally disappointing, so far!
Why Aam Aadmi corporate heavyweights silent on their own vision for India?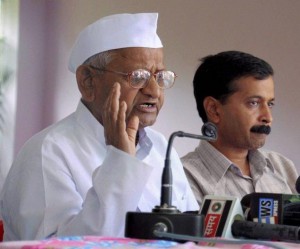 Anna Hazare always stood for some ideals in public life. That is how he emerged as the crusader against corruption in high politics. That is also how he emerged as the latest champion on the national stage.
But now, all it seems to have vanished suddenly. How this came about?
He first endorsed Mamata Banerjee as the future candidate for the Prime Ministerial post. He went to Kolkata and met the CM and the two came out with a statement that they would launch a nation-wide campaign.
Then, suddenly on the day they were to meet in New Delhi at the Ram Lila maidan on March 12th, he was in Delhi and yet in an unpredictable manner he refused to come on stage citing some lame excuse as to the poor crowd turnout.
Is this justified for a man of Gandhian claims? In our opinion, it doesn't vindicate his claims.
After all, is it crowds or principles? Now, who lost and who gained in this game of politics?
It is Anna who lost his credibility and whatever was left. It is really sad that he was also found hobnobbing with General V.K.Singh, on the same day and also the General now went on to become the BJP candidate from Ghaziabad. Good luck for him, namely, the General. Though there will be questions as to his own legitimacy and also Anna who seems to have endorsed him.
Now, the uncomfortable question is: is Anna alone in this decision or was he manipulated by forces outside his control?
Such a question is legitimate for Anna was ,it is reported, originally sponsored by some forces to first destabilise the Central government when he launched his fast unto death along with Arvind Kejriwal who later left him to float his own party.
Whatever be the genuine reasons, Anna's current stance on issues seem very confused and he stands discredited with anyone who really has much goodwill towards the crusader.
Whatever he does now would be suspect and he seems to be no more a man of his own inherent strengths. And now, Kejriwal
Now, the really important question that would engage the minds of the Indian public is the course of the Aam Aadmi party and its contest in the elections 2014.
How the Aam Aadmi party would fare in the elections?
Of course, no one can guess the election results and whatever be the opinion polls, it looks as on date the Aam Aadmi party is becoming a side player, not that much of front line force as it started to look when it came out with its national campaign. .
First, there are signs of waning reach and impact.
Dr.Harshwardhan, Kejriwal's Delhi opponent has come out with an audio-video tape with Kejriwal's "49 lies "as he calls them for Kejriwal's 49 days of misgovernance and tampering with the Constitution and Constitutional conventions. Surely, Kejriwal's many tactics would be subjected to critical scrutiny by really serious-minded persons.
Ideology, middle classes and many other aspects of the Aam Aadmi party and its leaders need to be studied before we can pass any judgement. Though some high profile corporate faces are in the fray, it is rather surprising the so-called heavyweights don't seem to bother about the real ideological focus or ideology as such, nor the party heavyweights seem to be putting forward their own ideas for India's growth or developments.
The Indian economy is not in good shape. As such, even the ordinary man, the real aim aadmi, are worried over several basic issues. Not to speak of the macroeconomic growth, distribution of wealth, abolistion of poverty etc…
The IT bigwigs, the middle class solidly behind Mr.V.Balakrishnan, the co-founder of Infosys must be having his own distinct ideas for lifting the spirit of growth, lifting the spirit of optimism.
How can the donots to his high profile dinner and meet with Kejriwal can seen to be quiet or quietly watching his campaign in the also high profile and knowledgeable IT city of Bangalore.
Certainly, his backers like Kiron Mazumdar, T.Mohandas Pai and others like Captain Gopinath must be feeling the moral burden of explaining their stand, unburden their guilt by silence. Democracy and election time call for maximum transparency and speaking out by these gentlemen and ladies is surely one very important public task, right?
Also, related to this question of Aam Aadmi party is also the question that even such highly ambitious candidacy of Mr.Nandan Nilekani must be having a prickly conscience as to his simple silence(with his declared Rs.7,700 core wealth)silent approach to canvassing.
Mr.Nilekani also must be troubled by his own enigmatic silence. Yes, he has at least come on the public TV and wins over the sceptical minds. Of course this is not enough in an election campaign of this time when so many questions of crony capitalism, mega corruptions, genuine solutions are all sought.
These highly gifted and also highly lucky candidates, not just in Bangalore but also in cities and constituencies, must be coming out and giving out their own alternative agendas of governance, issues like tackling like corruption and also curbing the role of money, even the suitability of Rahul Gandhi to become the Prime Minister.
But these qualified experts with their expertise knowledge and insights must be seen as people who are really committed and compassionate and willing to give hopes and raise the levels of expectations.
That would be meaning and significance of a general election campaigning, right?
But nothing of that sort is happening in the Aadmi nor in the other parties where such great personalities are sought after and fielded?
On the other side, the established parties too seem to be deserted by senior leaders. There is almost like an exodus-like darting of the ship of the Congress.
Mr.P.Chidambaram, the supposedly articulate Congressman seems suddenly lost traction and stands out. Of contest.
It is a pity that he also opted for his son, a low-level resort to dynastic politics when the ship has caught fire!
It is also not a credit for BJP; the much quarrelsome BJP is also resorting to dynastic politics of its own style. All noisy and brutal at times too!
This is an unusual election in many ways. It is widely predicted the Congress will come a cropper. An aggressive Narendra Modi would takeover. What is thereafter, how long and in what shape for the future of Indian democracy. These are speculations at the moment but no less troublesome for everyone, not the least to the very ambitious new entrants to the election battle.
All the same the very best good luck for the gladiators!