Rajya Sabha is turned to overcome the nervous Congress?
And the corrupt states turn into rogue states?
Kumari Selja goes to the Rajya Sabha, why? 
Haryana development story a farce?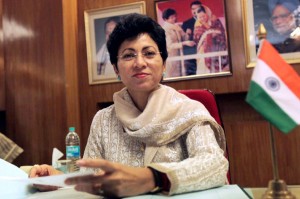 Yes, say observers. Haryana is a crucial state for the central government. The Haryana CM said of Kumari Selja's choice for Rajya Sabha that the Wedding horse must go to wedding (Rajya Sabha); the race horse must go for the races (Lok Sabha contest)!
And now, under the rather brave do Chief Minister, it is also very critical state for Sonia Gandhi's political future. Why? Her own son-in-law Mr.Robert Vadra is in the eye of a storm over some mega corruption scams.
And the redoubtable IAS officer, Mr.Ashok Khemka is also in the battle by taking on the Chief Minister over the CM's audacious words and also some illegal steps to tame the rebellious civil servant. And Haryana? It has a formidable line of political strongmen, the other ex-Chief ministers, Mr.Bajan Lal and also the other Lals and the current active party leaders of the Indian National Lok Dal Mr.Choutala and his son who are in jail.
It is not a pleasant thought or sight to see the political opponents in jail and we run a democracy and a general election when the jailed leader is also a contestant and what sort of message we send out to the parties, both the allies and the oppositions.
And in Haryana there are very many charges over corruption. Just now we read a column by a former MD of an IT company who is now a small farmer (yes, he calls himself as such, in the Business Line column January 30) an IT expert and what he says?
He says that his farm hand, a woman, dalit, widow with two sons who are poorly educated, a fit case for all the freebies the Haryana government gives, promises to give out and yet, the IT expert says that that just 12 km from Faridabad, she said she never got a single rupee in the last 25 years!
We can surely trust her words; we can also trust the words of this educated IT expert columnist. Yet, as he says that in Haryana just be trusting the full-page ads taken by the state government it looks it is a land of honey and everything, every freebie, from free medicine to cattle loan to crop loan waivers to crop insurance to "Bonanza worth Rs, 3,000 crores" are announced and yet we see here one instance of a believable case where how much falsehood is perpetuated.
Yes, Indian politics is turning into a game of uncertain future for the average citizen? It looks like that. Rahul Gandhi in his TV interview is said to have used to word "the system" some 18 times. Why Rahul used the word?
He put all the blame on the system of politics or polity as its exists today.
Who turned the system as it has become today?
His own mother, right?
It is Sonia Gandhi's limitations that turned the country, the world's largest democracy, into a fiefdom of the most corrupt, the most incorrigible selfish gang, call it by whatever other names that you fancy, it is a coterie, it is a fiefdom, it is a set of vested interests, crony capitalism, it is everything except as a well-defined, well-regulated and mature democracy.
What do we mean when we say we are not a mature democracy?
See what we are doing. Why send Mr.Sanjay Singh, a seasoned politician from Amethis, actually he is a Raja of Amethi and he is nursing political ambitions and what is wrong with it?
You shift him from his home base for you suspect he might join the BJP or the BJP might tempt him with a bigger prize and he might pose a threat to Rahul Gandhi in Amethi?
And goes thither Sanjay to the distant Assam, a state that has become now notorious to offer constituencies for the asking. It did oblige Dr.Manmohan Singh, continuously as long as the PM wanted. As we have noted above this sort of states which are popularly perceived as the most corrupt and most degenerate, we can name them easily and we don't ant not to create unnecessary controversies.
The point here is that the Congress now knows well it is on a weak wicket and yet dares to go forward and forges alliance with Lalu Prasad in Bihar and very likely with the DMK in TN, the two states where powerful regional parties had almost obliterated the national parties.
And now, the BJP, because it is new in forging alliance it might get some allies but the longest reigning party, the Congress and that too under Rahul Gandhi is just doing what it is accustomed to do only.
The very many schemes that the Congress depended, all the highly subsidised schemes, from food security to other schemes are all now not noticed by the public after the emergences of the AAP in Delhi. There is a national mood that is opposed to corruption and many other illegal activities in the name of democracy.
Rajya Sabha is so misused and so too the other institutions like the Governorships.
Every step, every move is insulting to the public mood.
You are supposed to be a paragon of ethics and truth. But here you run a government that is hypocritical to the sense of public morality. So, you expect the youth and the middle classes to swallow these misdemeanours. This time, it is corruption and thorough misuse of government machinery and government authority.
For what needs?
To perpetuate dynasty, one party, one family rule. Surely, Indian democracy would be strengthened only when the Opposition parties get a chance to rule.
This is the way to clean the corrupt political system and also the selfish gangs, crony capitalists from looting the country by illegal means. Long live Indian democracy.