This is not the time for ponderous editorial writing!
Only 18 months left!  For the next big election!
So, what they can and cannot do?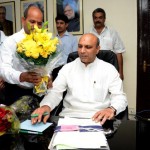 Mr.Pallam Raju, the new minister for HRD, seems to be a very competent man. May be his other two deputies too seem competent. So, our good wishes!
But can they really do something in the so vast education ministry turf?
Let us recognise that the time is so unfavourable. The very national outlook is cynical with so many scams and scandals filling our day! A scandal a day seems to be the current norm!
And see, what names are being bandied about! All names, all top names, of the two major parties!
Now, the very many scandals, the latest list is really unnerving, from the Congress leadership to the BJP President.
Also, the very political atmosphere is vitiated.
So, how do the HRD ministers hope to make an impact?
There are so many pending issues, from pending bills to pending priorities!
And given the many populistic instincts of the policy makers, from the Central leaders to the state governments, it is very difficult to spell out the education priorities before the Indian government, before the state governments.
Unfortunately, elections have come to dominate our very thinking, be it Sonia Gandhi or the Prime Minister or the states' very many allies and rival parties, everyone would pitch for their own pet schemes, be it RTE or medium of elementary education or midday meals, or subsidies of various schemes, it is next to impossible for really any serious and committed minister or ministers to speak and articulate the priorities.
Now, it looks that the election-eve priorities in Indian education is universalisation of education opportunities for the last man. This could be as good as the national priority. So, let us try this year, till the coming general elections to implement RTE act in letter and spirit.
Let the new ministers travel every state and see how the RTE is faring. This is a very basic commitment, to ensure real justice to the deprived sections to get into the best, well-off, well-endowed neighbourhood schools
This means, from New Delhi's point of view that the urban middle class, why even the so-called fanciful urban super-rich or super-powerful high profile neighbourhood schools opening their doors for the underprivileged in their neighbourhoods.
The real test in New Delhi where so much superficiality prevails in education aspirations and education illusions. Ideally, the education access must be now theoretically possible, given the sort of education IT techs available, already displayed in most well-off, fee-levying schools.
It is more an emotional adjustment for the new middle classes, the new rich and the new powerful political classes. The secondary schools too come almost nearly in this sort of emotional adjustment for new equality.
The higher education sector is highly complicated, highly-driven by commercial and market forces.
So, it is a difficult terrain and there is no space here. Already all big names, from Prime Minister to Sam Pitroda and even Kapil Sibal had come and gone! No worthwhile start had been made so far.
The Indian universities cry for serious attention. No vision of any sort had emerged.
Indian higher education had fallen steeply. No Indian university finds its name in the top world rankings, be it top 100 or top 200 or even in top 500!
So, what sort of big vision, big thinking had gone into this sector. Nothing!
Now, we all should recognise that we run the IITs, IIMs and other medical colleges, all have led to steady migration to the rich Western market.
As per some latest pronouncements on the TV screens, something like 50,000 medical doctors live and serve in the US, 40,000 in UK, 20,000 in Australia and 10 per cent of doctors in Canada from Indian origin. So, we pay heavily in shortages f doctors inside India.
Our public health system in grossly understaffed.
As for engineers, it is a big success and also a sad story. AP, TN, Maharashtra engineering colleges are great growths and also great scandals!
Anyway, the current trend in US is not in favour of great employment opportunities. So, India, as in China too, we have to live with the international reality of sending out the best and the brightest youngsters to the US market!
For how long, we don't know!
But there are new opportunities here inside the country, so there is also a return migration.
India is growing, not as fast as China. But China is our role model, as far as economic growth, faster economic and social changes are concerned.
So, there is no alternative except to encourage the private sector to enter the education market.
This is already happening.
So, if there is one lesson for Mr.Raju, the new minister, it is to do something to ensure some quality in all sectors of education!
That is our only destiny for this new generation.
You have to compete and emerge as winners.
Image Source : thehindu.com