Only for the urban sector, urban elite?
Why there is no agri/rural media of any significance in India?
In a country that always takes pride in the Green Revolution!
See the new challenges!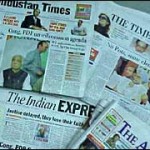 The vast tracts of agricultural, forest lands are being taken away for mining, power plants etc.
Agri/rural sector is being squeezed into more and more defenseless shrinking spaces!
The London-based Financial Times(FT) recently carried a long article on India's booming media scene. There is something like a  10 crore English speaking, English-reading public for the Indian English-language newspapers. The Times of India, FT concedes, is the world's No.1 newspaper! Also, when it comes to the Indian language newspapers, they are also booming, and they overtake TOI, and TOI comes only as the sixth largest sold newspaper in India.
But then what about the credibility of the Indian media, both the print and the TV news channels?
Oh,they are the most prone to corruption of all  sorts!
Indian media has not much credibility!
Which country has much media credibility?
Though the FT didn't pose that question, we like to pose it here?
Certainly, the UK press-both print and the TV, has some degree of high credibility. May be next we might put the USA, may be the French and even the German media.
The Western liberal traditions have much to do with their media credibility too.
In India, there is now so much condemnable fall in standards!
The paid-news is now a menance and menacing proportions of the Indian media fall is now widely  seen and spotted out.
The Press Council(with a much admired no-nonsense chairman) seems not capable of doing anything about this media corruption.
Now, as for the agri, rural media scene, it is as good as dead or plainly unequal to the challenges of the times. Now, with the new economic reforms, announced, the agri/rural sector is very likely to lose much with the latest round of talks and discussions within and outside the various  ministerial groups.
There is certain new legislation like the land acquisition bill that is at the stage of final clearance for tabling in Parliament. Then, there are certain other bills like the new SEZ policy etc.
The point is that the current phase of accelerated development, the speedy urbanisation there is the threat to much of the agri/rural sector.
More and more of the agriculture lands are to be taken over for industrial and housing projects.
The tragedy is that the agricultural land acquisition issue is getting more and more politicised.
Sonia Gandhi, along with her son, Rahul Gandhi, seems to have emerged or projected as the champions of the agriculture lands and rural households!
Anyone cynical about the agricultural lands issue might be in sympathy with the agri/rural sector spokespersons.
This magazine, in its 25th year of publication may be one of the few survivors of this squeeze!
What chance for the agri/rural future in this country.
When the audacious scene is that those who are simply cut off from the rural people, the very people whom are variously described by the power-hungry urban elites who in their bid for arbitrary power could muscle into the rural vote-banks promising the moon and may try to take over huge quantities of land with no room for any chance for the genuine rural survivors.
We, the publishers of this magazine, are directly engaged in  agricultural cultivation! This is not for publicity sake. But to send it the message that full-time politicians, the political class now have also become the country's new generation or new class of new capitalists! The new oligarchs, the new wealth creators, if not the genuine entrepreneurs. Those who grab agricultural lands, those who are in power or who have just lost power and yet they had engaged while in power in grabbing agricultural lands cheaply and had resold or holding back those very lands for future high prices.
The examples are now abounding in many instances.
Some are high profile cases, why high celebrity cases!
So, we need not elaborate when we ask: what chance for the future of genuine farmers?
Genuine, traditional farmers, farming communities a new charter of rights to protect and also prosper as farmers in this new emerging and  threatening environment where there is so much competition to accumulate wealth, usually, more agriculture properties are being grabbed (acquired legally is a very  improbable current scenario).
Now, we need some definite legislation to protect individual farmers, traditional farmers, also the so-called big farmers!
There is a conspiracy of silence when it comes to defend the traditional farmers.
All the current agricultural policies are staked against the farmers who are full-time into farming.
There are no incentives to invest in any significant way in farming activities that might form onwards might go into next stage of modernised farming enterprises.
New investments, new technologies, why new business models in farming. Say farming for exports, tieups with foreign markets….
Such new opportunities are coming up.
We at Vadamalai Media are getting so many new enquiries as to what government policies are there.
Our experience in promoting new entrepreneurs in agriculture, in biotechnology(in tissue culture in various crops)are all disappointing and very discouraging. What we are writing here might be very evident for our own current agriculture minister, namely Mr.Sharad Pawar himself!
Knowing his present pre-occupations with the current goings on in his own backyard, he would only  realise that make money, big money, create wealth through legal means must be simply next to impossible in traditional farming. At least he must be  talking out about the difficulties in what we are talking about here.
Mr.Nitin Gadkari and many others, everyone who is talking about the current corruption scams and scandals would realise that it is the agricultural land owners who face the threat of  "acquisition" of agricultural lands that are now cheap. This illegalities must be stopped.
A new thinking must be introduced in our land acquisition policy, specially for the private investors, the corporates into new agribusiness activities. There must be reservations for farmers for holding shares in whatever lands they hand over for capitalist ventures.
Farmers share holdings in the companies in their  traditional lands would only give a sense of justice and fairness of feeling, an emotional bonds with the soil that is a sort of sacred trust!
Traditional farming families wont part with the lands so easily and that is why whenever you talk of agricultural lands, you should realise the land is more than just a piece of property. Agricultural land holdings impinge upon a range of emotions, ways of life and belief systems and a sense of values, honour, truth and sense of shame etc come into play.
So you see the series of farmers suicides, farmers who can't tolerate any sense of shame to his bearing prefer to end his life rather than to compromise and live!
This is just the opposite of what we see in the India of today where so much corruption is growing and there is no sense of  threat of punishment!
Let us learn to approach the agri/rural  sector issues in a more special  delicate manner!