What is new and what  the lessons?
We have to engage with China, no other way!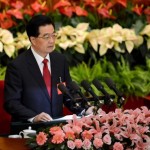 India has to engage China: in trade, diplomacy and also of course in true understanding of the people and the country's rulers.
China is now on everyone's minds. The big leaders, the  common people, not just in China and India but even in other countries and peoples, from  Japan to South China Sea countries. We have just been to China and back from a week-long holiday. Ever since the return we have been reading every piece of literature on China, from established classics by such authorities like John King Fairbank(The great Chinese revolution:1800-1985), Edgar Snow(Red Star Over China) to the latest expose of sorts by Jung Chang and Jon Halliday(Mao: The Unknown Story).Even Jung Chang's earlier autobiography(Wild Swans)were  adding to our understanding to the present day China's mindset.
These sort of books  are of course not available in China at all, though we visited the Shanghai' biggest bookstore in search of English books. Alas! There were none of the books any developed country would sell and enlighten the citizens. In Kuala Lampur, we were surprised to find one of the world's biggest book stores, as good as any in the West.
So wide choices of subjects and titles. Now, we are in the midst of remembering, both in  India and also in China of the 50th year of the India-China border wars. Though China had put out the message of reconciliation, saying that China and India are partners and there is room for everyone to live and do one's job, there are enough to point out that the Chinese  authorities are not yet ready to really to realise that it is only by way of openly discussing and talking things out, there could be a permanent sense of people and relief.
This, the Chinese authorities haven't done, it seems. There are reports, as reported by one leading Indian newspaper which has a Peking-based correspondent, there is a strong feeling in Chinese  foreign policy making that the India's borders with  China that India's something like some 4000 and odd km long borders are not settled yet. The LAC(Line f Actual Control)can't be recognised as the legally defined borders.
Also, China continues to hold on to an ambiguous  stance on India's sovereignty in Arunachal Pradesh, in Jammu and Kashmir and also more seriously in Akshin China. So, the so far held, something like the fourteen rounds of border talks haven't achieved any tangible results.
Also, there is also clear statement by "India that it won't accept LAC".
So, there is a real, unresolved border problem, border dispute with China.
Also, there are reports, the latest put out just a few days ago by the Indo-Tibetan Border Police(ITBT) that China had violated India air space thrice this year!
So, what India should be doing?
Of course, we have to engage with China, engage continuously and also in many wide fields.
Of course, there are certain new observations.
One, there is a radical change inside China today.
In the place of one-man dictatorship we saw under Mao, why even under the formidable Demg, we see today there is a more "democratic"(?) inner-party democratic decision-making. In recent days we saw the expulsion of Mr.Bo,  as he became too radical to the central leadership. And his equally powerful wife was put on trial and faces a suspended death suspension for murdering an English man, a businessman of the family. So, there is some opening or weakening of the dictatorial hold of the party machine on the political top leadership.
The Noble political transition also saw a shift to a new generation, the fifth generation leadership.
Third, we also see increasing internal pressure for more freedoms. We ourselves saw so many freedoms of the common Chinese citizens these days. There is, first, the India-China trade. Besides, the trust deficit, we have a huge trade deficit as well. China is India's biggest trade partner and  the bilateral trade has soared from a few billion dollars to the current 74 billion dollars!
There are also other indicators, the latest being the expose of top leaders like the current premier  When Jiabo family in some illegal wealth  acquisition!
Such reports one might not expect some years ago. Not now, it seems. The New York Times expose is being discussed in Hong Kong based newspapers and it also spread to China means there is definitely some  change in internal politics.
So, as China becomes more economically powerful, it is now the world's second largest economy, India's per capita is estimated as 1,500 dollars while in China it is estimated as 5,000 dollars.
So, with more incomes, the  Chinese citizens  now travel abroad, Chinese students are now the largest in the US universities, there is a new affluent middle class in China, the malls are overflowing with consumers, with all top international brands are sold in China.
There are all the French luxury good brads in Shanghai. There are also three high-end luxury car brands, with their show rooms. Rolls-Royce, Porsche, Maseroti!
So, we have to engage with China, come what may!
Image Source : abc.net.au