What is the rationale? The aim and timing?
To accelerate reforms and growth?
Or, a gamble, desperation and divert public attention?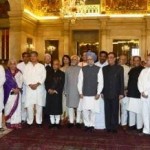 What about major election-eve issues like corruption, lack of direction and momentum etc?
Yes, the recent major cabinet reshuffle, at the face of it, looks like a major change? What is this major change and where is Rahul Gandhi in all these changes?
A look at the facial expression of Rahul Gandhi who was seated prominently at the Rashtrapathy Bhavan, honestly, gave an impression of a very confused and disturbed face. A face that seemed to say: I have no clue whatever!
Yes, the younger faces, most of them anyway, are also honestly are not Rahul's finds, so so say. They were like Scindia and pilot and others were family inheritors of the political legacy that is what the Congress party culture these days have led to.
You can see the murmurs, nay, even open expression of disappointment of the seniors like Digvijay Singh, a man with a mass base and a claim to the top job.
In fact, if at all, only a person of the mass base of some sort in the entire scenario is only Digvijay Singh. Even Renuka Choudhry expressed her disappointment. Her junior colleague as a spokesperson, Manish R Tiwari got some rehabilitation.
One or two hard questions are in order here.
Whose brain is behind this selection process?
Certainly, we can say this is not Manmohan's choices.
He may be honest but he has no moral authority or any real authority. He simply carries out the orders of anyone who is his superior or superior as he perceives it, right?
So, we can say with some openness or some bluntness for the sake of some moral clarity for the unsuspected general public that this exercise smacks of Sonia Gandhi's own inarticulations, so to say.
Sonia Gandhi and her son have locked themselves up in a world of their own.
The party they represent today has no reach whatever.
So, we see her own very narrow understanding of the pulse of the people. Sonia imagines, we are sorry to say so, that with the sort of corporate  support she has managed over the years, with huge funds and infrastructure  at her disposal and with a cheering coterie around her she can go on and win one more round of elections.
This only gives some rationale for the sort of names and the castes and the weak spots, like AP, why even HP and other parts where the party goes for elections might give a fight.
So, there are enough number of the high and mighty, the maharajas and their families, kith and kin politics is very much here in the new cabinet.
So too the very many nondescript faces from AP. Also, for Sonia Gandhi and her son, there is no idea of what is India even. No representation to the big states like UP, Bihar and even such states like Gujarat and TN which were once the very bastions of the Congress culture and nationalist spirit. Sonia Gandhi also seems to have failed to persuade her son to take a plunge. Even here, the very role and the very idea of Rahul Gandhi taking over as the future Prime Minister seem dim day by day!
Why?
After all, India is not a small country. India is not what Sonia Gandhi and her very disintegrated party structure gives an idea of as on date.
The Congress party is already has disintegrated into many regional parties, like NCP and Trinamool and others which, along with some other outfits, are basically national parties but for the lack of proper representation and recognition, the regional outfits have gone their own ways.
Who knows, once the current coterie and the clique dissolve, they have to, otherwise how long they can hang on without the mass base and mass following?
So, it is anybody's guess how long Rahul Gandhi can afford to hang around without a rational role and a clear articulation and can still make up at the last count.
Politics, as we have often said in these columns, is never static. Time and tide wait for nobody. You can't have even Manmohan Singh for long.
So, some replacement for Singh might come very soon, may be even before the 2014 general elections. After all, if we go with this cabinet team for whatever good it might perform in the rest of the next few months, it is the duo, Sonia Gandhi and Manmohan Singh who would go before the public can ask for support. Then, what the duo have to say as of now?
What about the haunting ghost of the mega corruption scandals?
For what for the Opposition parties are there?
They would surely and certainly ask these very uncomfortable questions?
So, the choice for the Manmohan Singh government is narrowing. He might go down, as he is reported to have said (and then suddenly corrected) fighting!
Fighting what? The mega corruptions? Or what else?
Yes, the Indian polity under Manmohan Singh would be described by historians as the most corrupt government he had presided over. That would be his legacy. Yes, it is very disappointing to see how ungraciously S.M.Krishna, one very sedate face, who was shunted out so suddenly. Also, how Salman Kurshid, in the face a raging controversy was elevated so suddenly, after the many names, including Rahul, Karan Singh and Anand Sharma were doing the rounds!
One thing about this mega reshuffle is it has not much political sense nor any positive thrust. It is a desperate response to a desperate situation!
Image Source : newsbharati.com