Meet Padmashri Prof.Jalees A.K.Tareen!
Vice-Chancellor of Pondicherry Central University
A dynamic personality, driven by a strong-willed vision and an optimistic outlook!
Such a personality is rare indeed in today's academic world. Prof.Tareen is one such rare individual.
He is now serving out his end of the term incumbent role of Vice-Chancellor.
But he would be remembered long for what he has done and we can see in each one of his goal there is a strong footprint of determined will and a commitment to excellence and much solid achievement.
Here are a few thoughts, random, as they might be but nevertheless they give a refreshing new insight into the man and his mission.
It is now a daily routine, it seems, to open your daily newspaper and read about news, often negative, about one university or other!
The other day when I was in Pondicherry I had a pleasant different news item about the Pondicherry University. The news was the Pondicherry University VC had spoken about the need for economic intellectuals to enter politics and give their wisdom to politicians about the new developments like FDI in retail and other sectors so that the politicians would benefit to get the best advice on critical policy issues!
A vice-chancellor speaking like this?
I wondered.
Because, living in Coimbatore and Bangalore I am accustomed to read more about the bad news, as it was, and also much distressing news items like police raids into VCs' offices and residences etc. There are few such events and even when a new VC is appointed, as in some recent cases there are allegations of favoritism and why even allegations serious charges on the incumbents.
Even the member of the state Planning Commission had pointed out that the very selection of the members of the search committees is flawed. In one such recent selection, that the state Governor had appointed one person, out of the 90 names applied for and the one name so appointed too is charged with serious alleged offences and deficiencies.
So in such distressed environment what sort of education reforms and educational advances we can contemplate?
So, when I read the news item about Prof.Tareen' speech I decided, then and there, I must call upon this unusual man. Prof.Tareen was an unusual man!
He had held the VC's assignment at the Jammu and Kashmir University before he came here. And so he had enough of the turbulence one can imagine in such a troubled spot like J&K! Also, he had worked at the Mysore University and had seen enough university politics, caste politics and what not!
We talked on a wide range of topics and issues. As were engaged in education in a common share of the great field of education, the VC, in his role as the architect and shaper of a great university that is brimming with life and we, as the promoter of  education media, both print and online, we had much in common and much to exchange.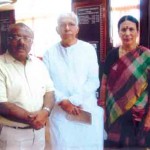 Of course he is well-informed about the current controversies that abound in the Indian higher education sector, so naturally we exchanged views on what is happening in the HRD ministry, the various bodies like the UGC, other government departments in education and related fields.
Of course, everyone knows how many of our higher education goals are running short of their targets. But here is one university that came as a pleasant surprise. The Pondicherry University had emerged, as the VC said and the XI Plan Development document he gave us, that this university is rated "as the fastest expanding Central University in India and its growth rate is an astounding 300%.
Of course, one can have one's own skepticism, for we know some other, much more older and famous central universities, like  Santiniketan's Visva Bharati and Gandhigram, the news we know from close quarters, languishing. Why, even the much-touted targets like opening so many new central universities, model colleges, and polytechnics, all much spoken about by Sam Pitroda and even the PM are now running short of the targets.
Why, the very 600 and odd universities in India are beset with multiple of problems.
The whole of Indian higher education is nowhere near the Times Literary Supplement ranking of the world's top 500/ 200 universities in the world.
Also, the gross enrolment ratio is falling short of the magic 30% goal.
Of course, Prof Tareen knows the ills that afflict our universities.
Then, there is the special concern about the state of affairs in the states' universities.
The states, some big and some small, have some exceptions. Also, soime states have completely politicised the universities.
There is so much corruption and also, as in the neighbouring state, almost daily news about police raids in universities!
Why, even the choice of select committees to selection of the VC is thoroughly corrupted by bribes and what not!
Education field is often talked in lofty language once. No more.'
It is now about everybody's concern. So, I didn't talk much on the practical side of providing higher education.
We seem to live in the time of unprecedented change in higher education.
The aspirations of the people is rising fast.
Everyone wants an English-medium education, everyone wants to become an engineer or a doctor and everyone is dreaming of an American dream!
But Prof.Tareen is a very optimistic person, optimistic educator. He is a nationalist. He likes Indian academia produce Nobel laureates and independent thinkers and experts.
That was why he said: See the government had introduced FDI in several sectors. People have legitimate apprehensions. So, why not economic experts like, say Prof.Amartya Sen and others give out their views, the two sides so that people and the politicians can choose and make objective judgments?
This is the type of academic leaders India needs now. We need academic personalities like Prof.Tareen who can articulate what is in the minds of the common man and express their opinions so that the general public stands to benefit.
.
First, Prof.Tareen is a mature person and a mature mind. He has no fear and he speaks his mind fearlessly for, as he said, he had tried to raise the university to some international level and that means he must have a critical mass, a large body of students and a large body of faculty. Today the Pondicherry University has not only a large body of students, drawn from all over India and there are some 100 and odd students from the J&K state as well and also from other far corners of India. A truly central university! And much more, there is a very large faculty and also a large and diversified faculty.
There is, a very important point he made, a significant number of women faculty! Many young and promising women faculty has now come from abroad, from the USA and that  is a good sign the university would benefit and also a great deal of potential faculty with promises of some national and international breakthrough research. As Prof.Taree put it, unless we spread the net wide and far, how can we hope to catch some big fish, a potential Nobel candidates?"Wonderful and fine! Here, there is one VC who dreams big! After all a great and promising university vision is what? It is all about dreams. Bigger the dream, bigger is the chances for big breakthrough knowledge creation.
So, I was very much impressed by the vision and the promising work Prof.Tareen is doing.
The other things I was impressed with Prof.Tareen is that he had also done many innovations in the campus. There are some priorities where he had concentrated on education for the disabled. Some of the work he had done and he had described touched our inner chords deeply.
He, rather his university can be proud of the fact that the Indian government had chosen the university for conferring the ward in recognition  of his work in this regard.
We don't want to dwell much on the physical and the statistical growth of the university much though it is also important to give the readers and specialists an idea of what is being done there.
The campus is so huge and so beautiful.
According to the brochure he handed over to us, the university campus is spread out on a vast acreage, some 800 acres of land, on the very enchanting East Coast Road, the sea if not far away and the students and the faculty are lucky in the sense they are living in a pollution-free open, green space.
It is a gift of nature to the university life in such enervating atmosphere.
The student body of some 5799 students is a target exceeded well before the due date! So, likewise, we see almost every target, faculty, target 395, exceeded by 450 numbers in Dec 2011.
Number of women students: 2174.No.of women faculty: 95, already 100!
Students in hostels, there are a good number of well-laid out hostels: 3526, target only 3,000! Another sign of healthy growth is the number of P.hDs:76.Another international criteria: citation index: 6.16 in March 11.The university has a funding target Rs.100 crores by March 2012.
Another feature that impressed us is the all-Indian student body. Almost from all the states of India there are students, the bulk being from Pondicherry and TN, followed by Kerala and AP. There are free hostels for girls, rent free, free boarding and lodging for deserving students of all categories.
So, one imp of inclusive education, equity is well-attended to. Likewise, faculty too is well-distributed all over the Indians states. From W.Bengal to UP to Tripura!
The courses are also tuned to the modern day world, from all practical fields, from education to sciences and technologies and medical sciences.
Prof.Tareen is a specialist in mineralogy and from Mysore, with rich academic, research and engineering experience. He was invited to take over as the vice chancellor of Kashmir University, Srinagar and he has narrated his very challenging experiences in the militancy-driven state. He has written a book on his experiences, which I am yet to go through.
Given his experience and outlook, he would be a worthy candidate for any challenging assignment for the government of India.
Let us hope his inherent integrity will stand him in good stead and many more honours would come his way in the days ahead. We wish Prof.Tareen all the good luck. Jai Hind.