Time and Tide wait for none! The silence of Anna & co is very worrying.
This reflects their own dilemma and also the very complexity of the current political scenario.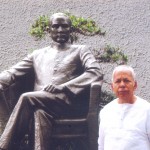 In fact, this piece must be taken as an open letter to two if the columns written by two activists, namely, Prof.Yogendra Yadav, Senior Fellow at the Study of Developing Societies, New Delhi and  Ms.Aruna Roy who heads many social activist groups and is a convener of the National Campaign for the Protection of Rights(NCPRI).
Yadav in the Times of India dated August 13th and Roy in the same newspaper dated 17th August have written on the Anna movement and what is happening afterwards. Since their columns have appeared in the popular daily I take them to be widely read by readers.
So, I would not quote or make exclusive comments on their views. I would rather put forward my views on  what Anna movement led to and after the second fast, where does Anna stand as on date and where does the Team Anna stand.
They want a political alternative. In fact, what Anna and his Team need is an alternative political ideology, a new world view, a new vision of society, politics and economy and much else.
This, who can articulate? We need an articulation in a new world, a new India and in a knowledge society.
There are also now new opportunities, new communication tools, websites, twitter, Facebook and YouTube etc.
So, we have to mobilise  a new public opinion ,among the emerging middle class and the youth who are all concerned with the decline of the moral core of the major parties, more so, the Congress party.
Who can do this, mobilise ideas and articulation? This is the challenging question or questions. We need to find answers and responses.
It is quite surprising and ,of course, not unexpected  that Anna had fallen into silence. What is the explanation? Perhaps, he is thoroughly confused. Why also Team Anna is not forthcoming on what they intend to do now? May be they haven't yet decided on a concrete course or they too might be confused as to the next step.
My views are as below:
As Aruna Roy says in her column the civil society is not that exclusive. A group forms to carry out a social agenda. There are as many civil society groups as there can be people.
The NGOs, most civil society groups are a collection of like-minded people. In this sense a political party too can function like a civil society group. In fact, most parties these days, from the big like Congress and BJP to other smaller parties are all centered on one leader or one agenda. All leaders are not like Gandhi or Lenin, focused on freedom or revolution or some other abstract elaborate utopia constructions like Karl Marx Communist Manifesto but simple fanatical beliefs, like abolition of caste like the party and movement of E.V.Ramasamay Naicker in TN.
In fact, lately as in India, parties have become more realistic, they run like an election machine, as Yadav notes. If you don't stand for an election then your group disintegrates  fast. So, if you really want to form a party and contest elections, then you really come face to face with the reality.
Top give my own personal example, I, a long time Congressman(since 1961) wanted to float a separate party. I just went to the state level electoral officer. He gave me a list of the parties registered with the Election Commission, New Delhi and also the latest party so registered. I located this gentleman and had a long talk. He narrated his experience and how he met the Chief Election Commissioner at that point of time and after narrating all the  hurdles he said to me:"Please meet Sonia Gandhi, you can get the party registered!"
So, this is reality!
So, what the Team Anna would do now?
The political reality in India, in New Delhi, is that there are so many vested interests in our society, polity and the administration.
If you really want to fight, fight with a fast or fasts you are welcome. But none would give a damn to  you. What you  do. You have to spend the rest of your life in fighting against the wall.
Do I then mean there is no option. There is. There are.
One way is to join an existing political party and work within the party for the reforms you have in mind. I do the same by remaining within the parent party.
After all you will have your own space, your ideas and your other capabilities.
I defeated the candidate put up  by none other than by the DMK founder C.N.Annadurai in 1968 for the Madras Legislative Council, the first such legislature to have founded but he British in the then Madras Presidency. Even the great Anna was shocked by the election defeat!
I stood against three big candidates ,including the one backed by the then Congress and yet I won.
Simply because I had my own ideas, my own(small though)print magazines and also my own grassroots work.
The point is that starting, registering a political party is the easy part.
The more challenging part is to come out with a comprehensive agenda, a manifesto that must catch the attention of the mood of the people at the time.
Now, for sure Anna can't start a party. He is a self-declared Gandhian and a follower of Vivekananda. So, he has to lead only a broad based movement for corruption-free polity.
But Anna has a tremendous goodwill and mass appeal. I would say he should  invite people with a clean image and give his moral backing as his own candidate. All such candidates can contest either on any party ticket or as an independent as an Anna-blessed, Anna-supported candidate. Of course, he or she must give a declaration before Anna or better before the assembled crowd of voters that he pledges not take bribe and work for the enactment of the Lokpal and Lokayukta legislation. This is bare minimum pledge. This itself, in my opinion, would electrify the  very atmosphere in the country.
As for the Team Anna, let them give some deep thought as to who would lead the new political party.
Surely, the present members, may be except one or two, have their own backgrounds and limitations. Surely, a person like Prashant Bhushan or Kiran Bedi cant lead a political party. Even Arvind Kejriwal  can at best be an articulator of the ideas of someone who, as a leader, must have credible record of service.
Once you become a political party leader, you will be called a politician. As Yadav says the word party is not a pleasant word, nor the word politician is not a positive term. It is a word of abuse and caricature.
A leader emerges once a mass movement takes some turns and transformations.
As Yadav points out even J.P.Narayan, the party less champion, had to form a party, Janata Party  when the chips are down, so to say.
Then there are problems like fund collection, cadres recruitment.
Anyone who wants to learn lessons can but turn only to the present state of the Congress party! No party apparatus properly speaking in the states, no PCCS or DCCs or any CWC worth talking about. Only Sonia Gandhi is running the show  with arbitrary power. That is why Dr.Manmohan Singh with all his credentials today looks like a pathetic figure. It is the glue of power that keeps everyone shut up and keeps up a show of power and respectability.
One more observation.
Political parties are no foreign import, as Yadav observes. For that matter much of our modern political and constitutional institutions are all foreign imports only. There is nothing wrong with these institutions.
In fact, we need a much more comprehensive political agenda.
Electoral reforms, constitutional reforms, public auditing of party funds, even the election process of parties(this the EC couldn't do for various reasons).Even if we start with some of these reforms as our agenda, there would be parties willing to seek our moral and other supports.
Anna should go for campaigning for the next set of elections only with some such clear and comprehensive political programme only.  That only would pay dividends for our labour so far.