Oxford days and life afterwards!
My dear Susil,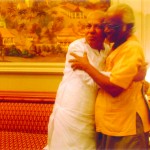 Just now I finished writing one page of my Sri Lankan trip for our Tamil monthly, Valarum Tamizhagam which sells well and widely distributed to the public libraries in Tamil Nadu. Yesterday I typed my English version for the School Journal. As I described today about my meeting you an old from of the Oxford days after 40 long years I was overcome   strong emotions  that I couldn't control tears emerging from my eyes! Yes, there used to be time when I used to think of you and other friends and among the few I continue to remember you are of course the most important. You are living so near and yet we couldn't meet. So, this opportunity was a dream comes true. I never imagined that I would be seeing you at least once. Anyway this piece is just for you only.
Malakanthi, oh what a wonderful person, so warm and so attached to friends. How we all enjoyed, we can't convey to you adequately. It was like a family that was reunited as we read in fiction!
I wanted to talk about so many things with you, politics, arts, culture, languages and much else. After this visit I myself realised how important  for Indians and Sri Lankans to develop a more focused outlook for Asia, for forging a South East Asian outlook. May be out destiny lies here, in this part of the world geography. We have to bring together a mental outlook and a mental unity of minds from Singapore, Malaysia, Thailand and even Indonesia and farther and Sri Lank and India could take the lead. I want your thoughts on this aspect of our countries destinies.
Now, I am active in politics  from my time of arrival from Oxford. I remember, I think it was Lakhsman Kadirkamar with whom one day I discussed at the Oxford Union premises what we would be doing back in our countries and I was mentioning that I wanted to start a magazine like the Newstatesman, then I was an ardent reader and I don't know whether you know it that once I invited Kingsley Martin then editor of that magazine to speak to the Indian Majlis, he wanted me to bring the Pakistani students also to the meet. I was then the President of the Oxford University Indian Students Association for a term.
So, Lakshman Kadirkamar also said that he wanted to do the same! I don't remember about what else we talked but I remember he was an enthusiastic Union man. So, I was only too delighted to read that his portrait was unveiled at the Union recently.
It is a great tragedy that such a good and great mind was taken away from us.
So too my interest in politics back in India met with so many setbacks. Not in politics as such but from local politics. So the school I established in 1962 had to be closed after a 15 years operation. I won't the Madras Legislative Council elections in 1968(do you know?)by defeating C.N.Annadurai(the first DMK chief minister and an icon)'s candidate! That was the first victory for the Congress in TN after Kamaraj lost the party elections in 1967.
Indira Gandhi took a very unethical stand and that is why Kamaraj fell out and with Kamaraj out of action we were all handicapped.
So, after Kartik came back from Oxford I concentrated on setting Kartik up in entrepreneurship.
So, there has been a change in our lifestyle these days.
Now, for the past two years I have promoted a Kamaraj Peoples' Movement to revive the Congress in TN. But then Congress in the state, why elsewhere too, is fragmented.
Then, I used to tell myself: Time and Tide  wait for nobody! That is also true of politics. You may not know that in my PPE exams I got scored high marks only in British Parliamentary History, my tutor, the late H.G.Nicholas wrote me saying that after all the marks only proved my interests were correct!
The late Lord Quinton thought high of my academic abilities but then that is another story.
In life I have learned a lot. God, yes, I have to say only this way, has been kind to me.
We live a happy and contented life, we are a happy family and for that we have to thank god only. Though I remain a philosophically a skeptical man, I write much on philosophy in my poems. I must mail you my big book of poems  we released in 2004.But it is in Tamil. Even now, magazines, some select one or two that are genuinely literary, publish my poems and topics in Tamil literature.
We run four magazines, print one. Two in English, one in Tamil and one in Kannada.
Kartik's agricultureinformation.com is perhaps the biggest website in agriculture, you know. He as visitors  upto some nearly one lakh!
My own weblog( www.isvarmurti.com),highly political  columns is there for very long and now attracts some one hundred visitors a day.
All these information is for you just to tell how busy we are all these days. Madam, Shenbi is a busy business person, she has her own consultancy and other engagements.
But  the pursuit of money and wealth doesn't interest me as you might imagine. But I had paid very heavy price for being too idealistic and too much commitment to my beliefs and convictions.
But I want to share with you much more and I want to recall some of the moments in my life with which you might not be aware.
You know I used to meet Pandit Nehru often at Santiniketan where he used to come every year during my four years as he was the Chancellor of the university. So, I became a Nehru follower. I shared his beliefs and hopes for a democratic socialist India. I returned from Oxford(do you know or remember that?)view a circuitous route after traveling through the then Soviet Russia, via Kabul and Pakistan. In New Delhi I went to meet Nehru to ask for his guidance in life., He was absent that day in Delhi and then I came to my village. Then life took different turns, though I kept visiting Delhi often.
Do you know, by the way, Manmohan Singh then at Oxford?
I was politically very active and once on a visit to Ireland I met the then President of the Republic, Eamon de Valera and after I returned and when I went to my history tutorial at St.Antony's College, I bust out at my tutor, James Joll, the historian and later he was professor at London School of Economics where I visited him once in 1989.By the way how many times you returned to England? I went twice afterwards. Once after my marriage in 1971 when we went to Paris and stayed in France for three months and visited England and stayed without hosts. Later, once again I went to UK where I took Kartik to show him around at Oxford and Cambridge. More about politics, perhaps, in later letters. This enough for now!
I want to share with you my assessment of the contributions of Gandhi, Nehru and Tagore and such historic figures. My views have changed a lot lately. We confront a different world today and  those days already look like ancient times. Peoples, the common man's perceptions of the world and himself have radically become more individualistic and  we have to think of a very radical outlook and find solutions to ethnic, religious, caste and other narrow and more terrorist-like and  rather violent challenges. USA and now China and what next for countries like India and Sri Lanka? Let us all join together and articulate our own  perceptions.
We still run our farm in Pichanur and we visit Pichanur once  in a month at least.
Now we travel a lot in TN as we have many engagements  for one reason or other.
I have written down these lines I feel a bit light and we look forward to hear from you, visits from you all and please convey our love and affection and regards, to Shuba and your dear sister, sister in law and Mrs. and your dear brother in law, I learnt a  lot from him in the brief few houses.
Thanks.
V.Isvarmurti.