India, the inarticulate nation?
Is India playing its role as an economic power and a political force?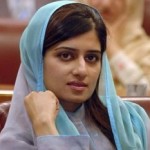 India, now the fifth biggest world economy? The largest democracy and yet an inarticulate and non-speaking giant?
Yes, it looks like that!Hilary Clinton was all charm and outgoing.India,the inarticulate and everyone who counts is unable to voice  our positions.Rather in Pakistan,there is a new and young female face to its foreign minister!All this bids for a hopeful turn of events.
A great country, a democracy at that needs leaders of great principles and convictions. We don't have   such leaders now.
It is 20 years after 1991 economic reforms. This is credited to P.V.Narasimha Rao. Others more nearby in Delhi credits this historic change to Dr.Manmohan Singh, the present incumbent in South block. Even the corporate leaders, always a cringing caste. Attributes this economic reforms to the wisdom of the corporate leaders.
All these are lies in a significant way. As if Pandit Nehru was responsible for the license, permit raj. In fact, the license-permit raj was owing to several other factors, some historic and some internal issues like Indira Gandhi's many radical and in a way some very foolish steps like the Emergency and the subsequent controls of the economy in the name of Leftist approach to eradicate poverty.
Now, poverty has again become a slogan with Sonia Gandhi and her own chosen civil society members claiming all glory, even to the very bad damage to the image of the Prime Minister.
Now, the point is that the private sector has become centre stage. There is undoubtedly, the rise and the growth of the Indian economy is more attributed to the open environment where the private sector has done very well. The new faces of the corporate sector are Ratan Tata, Sunil Bharati mittal of Airtel, the other Mittal, Lakshmi mittal of Arcelor Mittal steels, the Lond-based steel magnate and  of course the two Mukesh brothers and many others.
The rise of the Indian economic power and political influence are rated highly in the world. As attested by the recent visit of Hilary Clinton, the US Secretary of State who wants India to play a larger role on the world stage. Ms Clinton has asked India to go out and show its presence in the Middle East, in Afghanistan and even in South East Asia.
There are many aspects of the India's growth story that we can be proud of. Mukesh Ambani's oil and gas exploration business saw the BPL coming and investing a huge figure, 7 billion, the largest FDI in the history of India, as it is said!
Now, it seems the story is reversed; Indians are investing in a larger way overseas. The Tatas have already made history. They are the largest employer in UK. Now, India is the second fastest growing economy in the world and politically India is rated highly in the developed world, more for the success of the Indian parliamentary system.
It is politics, not economics that is holding up India's potential to show itself out to the public scrutiny, both inside as well as from outside. Ms.Clinton's rather louder laughter and giggling and the very many giving out of her moods of happiness and much goodwill towards India, was, in my view, is just to draw India to shoulder some more responsibilities in the region.
US is now facing so much trouble not just from within itself, not its economy though it is weighing down Obama's time and energy. It is the US burden to police the world, to run the war machinery in Iraq and Afghanistan (where it has 30 military bases and yet talks of withdrawal of its forces. And no less the burden of Pakistan for no obvious benefit to anyone, including to Pakistan itself! India has to stand up and look smarter. But here everyone in the top seems to be unable to articulate our stand on a wide variety of issues and challenges.
This is India's current problems and uncertainties.
So, this is a complicated world and a complicated time for a many of Obama's disposition, not a usual American President threatening the world with its military might but cajoling the more troublesome "American friends" in the India's periphery.
Even in the Middle East India could play a much more proactive role? After all, the Arab world was part of India's traditional NAM territory, we have had traditional friends all over the territory and even Russia and China could respond to India's many gestures, as the senior Singapore leader, Lee Kuwan You, has noted recently that India and China have many things in common and we needn't look at China as an adversary.
All these thoughts and observations are fine and could be soothing only to those who are inclined to play ball.
Unfortunately, it is here the hard truth and the hard reality is that our Prime Minister is not temperamentally suited to the role. Manmohan Singh's serious limitations, limitations both of the personality and the upbringing and training, were not for the making of a successful leader and a Prime Minister!
It is the peculiar situation in India, that of Sonia Gandhi not being capable of becoming the Prime Minister, though she was within its sight, and also she was entrusted with the task of shouldering the responsibility. What she did? She did what was within her capacity. She just nominated Singh, as if we can say so in retrospect, what Kamaraj did when he nominated Indira Gandhi for the Prime Minister's gadi! Kamaraj thought Mrs.Gandhi, much younger in age and experience would be amenable to his guidance. That was proved wrong. With what tragic consequences?
Likewise, Manmohan Singh, now in his seventh year in office, though proved to be loyal to Sonia, however proved in capable of leading the country and his team of ministers. Ministers went about their own ways and when it came to the most corrupt ministers, Manmohan bungled. He sat upon the misdeeds of ministers like A.Raja and he also sat upon the letters of such senior persons and intellectuals like Subramanyan Swamy and the result is that the PPM's image had taken a beating. He might end up leading the UPA II to a historic defeat in the next election.
It is by now, after seven long years of cozying up to the establishment, the media, both the print and the electronic media have almost given up on Singh.
Here is a Prime Minister, supposed to be an economic expert, he might be, otherwise he seems to be utterly unsuited even to face the newspaper editors and TV anchors. He, in his latest avatar, as the media interactionist, he just chose to meet just five editors! And that too in a very secretive and highly protected way, the press meet was not telecast nor  was it open to other media outlets with the result, that one never came to know what happened in the meet and what the Prime Minister spoke. In fact, it turned out that the PM just was allowed to say what he was capable of and the editors, most of them so obliging and they just allowed the PM just mumble a few words for each query and that was all we hear of the press meet.
How do you expect India to play a larger role on the international stage?
Never, not in the regime of Sonia Gandhi and Manmohan Singh and if we can add one more name ,not in the time, now or in hopeful near future when Rahul Gandhi is predicted by one and all, to take over from this PM. In fact, it was galling to read the PM, said in the press meet that he was just waiting to vacate his chair in time for Rahul Gandhi to take over! And at the same time, another senior leader, Mr.Digvijay Singh, the general secretary of the Congress party was bragging that Rahul was ready to take over as the new PM!
So, who is making a mockery of the country? Sonia Gandhi and Rahul Gandhi, as a team are losing every state for the ruling party.
Yet, there is no one, no voice in the country or in the party to cry a halt to this open mockery.
There are not enough political colleagues for Sonia Gandhi. There are only brokers, whether they are power brokers or simple operators, just bad elements surrounding Sonia Gandhi.
So, in spite of high profile visitors like Hilary Clinton might come and go and urge Indira to play a bigger role politically in the international sphere. But there are serious flaws in the Indian political system.
We don't have a strong parliamentary history or tradition, as they have in the UK or USA. There were strong principled Prime Ministers for long in the UK. Like leader of the stature of Robert Peel. He in 1848 abolished the famous "corn laws" and lost the post! Here we, in spite of Singh's erudite learning and claimed  convictions, he refuses to stand for any clear principles and yet he proclaims his professed loyalty to a young green horn like untested Rahul Gandhi who, incidentally, is nowhere near the seat of power or the big responsibility!
Image source : pakistanworldnews.com