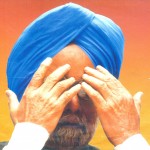 The DMK has just now passed a resolution withdrawing its ministers in the UPA-II. The provocation is the Congress sticking to its stand of asking for 63 seats in the May Assembly elections.
The DMK's resorting to their   known blackmail tactics. The DMK is weak and its minister is in jail and the DMK family members face a possible CBI enquiry.
Now, what the Congress should do? In the next 24 hours?
1. The Congress must retaliate and announce it would withdraw support for the DMK rule in Tamil Nadu. Let the DMK government resign as it would lose its majority in the Assembly.
2. The Congress can context alone and there would be a spontaneous support of the people.
3. Once the Congress announces its intention to context alone, there would be a Third Front emerging.
4. The Congress has nothing to lose, everything to gain.
5. The Supreme Court-directed 2G scam would further push the DMK into a corner. The DMK would lose all its credibility and morale and the disillusioned Tamil voters would go with only Congress or ADMK alliance.
6. A new opportunity has come to the Congress unexpectedly.
7. DMK's current tactics is to isolate the Congress and then corner it by allotting seats that could be more risky seats.
8. The five-member committee must be asked to speak out and enthuse the Congress cadre at this moment.
9. In Delhi, the Congress High Command must take a correct and principled stand. Rahul Gandhi must act right now.
10. The Youth Congress cadre is ready to go out and canvass for the Congress candidates.
11. Let the Congress not to demoralise the Youth Congress cadre.
12. A very rare opportunity for the Congress party in Tamil Nadu.
13. This is the time for the Congress High Command to act and give right leadership and direction to the Congress affairs in Tamil Nadu.
V.Isvarmurti, Former Memeber Tamil Nadu Legislative Council, (Congress whip in the Legislative Council) Chairman, Kamaraj Peoples' Movement, Tamil Nadu.