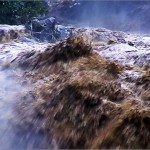 Controlling floods, linking and diverting river floods and much more becomes now topi water and flood control strategies. From Haryana to Bihar, to Uttarkhand, all major rivers and canals overflowed and caused much devastation.
New Delhi itself faced some of the worst floods and tense moments. India, Pakistan and why, even China faced the fury of the Himalayan rivers. So, there is much more than routine business here and some UN-initiated or some other international imitative could only give help and a way out of the imminent climatic changes and much else  as far our planet health is concerned.
 
Himachal Pradesh's water and power problems give us, one instance, where much remains to be done as far water power generation and flood control are concerned.Himachal Pradesh is a nature-rich state. Its hilly terrain gives it an advantage. Its hydel potential is enviable. The hydel power potential of something like the huge 23,000 MW is now turning into a great environmental nightmare. The BJP Chief Minister Prem Kumar Dhumal is trying to do a balancing act, he wants to preserve the environment and the ecology and The CM wants the Centre to compensate him for preserving the same with adequate carbon credits, as they are called these days of fashionable jargon!
The HP high court is into these issues. 400 hydel power projects in four river basins of HP could face an environment disaster if not serious application of policies and much wisdom is followed. Besides the 400 projects, an astounding 600 more power projects are awaiting to be exploited. All these call for enormous planning and help, from all stake holders, not the least, the Central government.
The high court has done the right thing and appointed a HC committee and ruled that these projects need to be cleared by experts and the expert committees before anything is done.
About half of the hydel power potential is allotted to the central PSUs and the rest, something like 7,000 MW has gone to private companies. The main river basins are in the Ravi, Beas, Sutlej and Chenab and they, the projects are all in different stages of allotments or implementation.
It is good that other states, especially in the south, would be very much happy to know so much hydel potential is there in HP and the country entirely would stand to benefit if the river waters are utilised to generate the much needed power that could serve the entire country.
Image Source : english.vovnews.vn