Whenever a high personality, a very senior ideological patriach like Jyoti Basu, 95, passes away, it is natural we tend to become emotional and sentimental.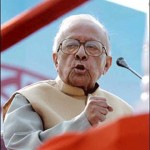 Jyoti Basu is a man from another age, as seen now in the context of current West Bengal politics and the sort of hotch-potch politics that rules in the name of coalition of convenience. Coalition for self and fortune seekers and convenience for the Congress party that is also highly centralised these days and that requires some dictatorial dispensation with no larger inner party deliberations.
I have also become a sort of sentimental over the passing away of such a great personality.
For I have known him or rather I have heard of him so much from my own Bengali  student friends when I went to Santiniketan  for education in the year 1959.I think it was in that year where Jyoti Basu also became the first time MP from Bolpur, the very town where Santiniketan is located! My friends used to speak so high of the Jyoti babu, as he was very soon came to be respectfully addressed by one and all.
To understand the times and the back ground for the Bengal Communists and their movement, it necessary to know what it was like to belong to the Bengali middle class. The Bengali middle class is a vast class of all sorts of talents, from landowning zamindars or broker zamindars as they were mostly in my time and also the professionals from academicians to barristers, to writers and artists and all sorts of experts. There was a time and even now one can see some of the rare specialist fields like archeology, anthropology to arts and crafts and even basic sciences, you will only Bengalis dominating the fields.
There is no wonder the Nobel Prizes in sciences and the arts, poetry and economics and even specializations like history you see the Bengali middle class professionals everywhere.
So, Jyoti Basu, a Bhadralok, as we call this white collar class with much pretensions to music and poetry and literature and other arts, is a highly refined class as well and also highly political and revolutionaries always came from this class!
So, Jyoti Basu, a Vaidya by caste, when he went to England and qualified himself as barrister, he returned also as a Communist.
So, Jyoti babu brought with him a great legacy from the Thirties England and also his was in august company of some of the best brains of India, who also turned up as Communists.
The story of the Indian Communist party need not detain us here.
Now, when all the tributes are paid and they are in place, there are some agonising questions that won't go away easily as with the passing away of Jyoti babu.
What would be his enduring legacy?
Did he leave his people, the people of Bengal a better people? Their living standards on par with other states? Did Bengal thrive as an advanced education state? In economic development? In social sector, Human Development Index, terms?
All answers are painfully no, no and no!
I have travelled in rural Bengal, as my trips to Santiniketan are through Birbhum district and one of the painful sights is the deterioration of the rural Bengal. So much degradation, so much poverty, so many falls in the rural infrastructure and for miles and miles you can't stop even for a cup of tea in any rural tea stalls. Such is the dirt and unhygienic conditions in the rural habitats.
Not a single industry to sight. All the old style rice mills and that is all for industry. The recent violence in Singur and other places by Maoists is no surprise. The Tata project fiasco is no small news.
So, between Jyoti babu and Mamata deed, it is anybody's guess what would be the fate of the Bengali people in the near and distant future. The Leftists are the more cruel human beings, it seems.Their dry dialectics is sickening for anyone and when even the liberals and other academics like Amartya Sen and others join their ranks Amartya Sen, supposed to be a great philosopher as well as an economist, makes it a special point to say that he is on the "Left", an Adam Smith disciple and a US-based liberal one supposes.
So, it is not easy to judge the legacy of Jyoti babu. Like his colleague, the late E.M.S.Namboodiripad, he with his so-called agrarian policy, land reforms had killed agriculture once and for all.There are always people in the ranks of academics and journalism to cook up statistics to paint a different picture. It is pointed out that Bengal is a number one rice producer.
This is hiding the fact that poor nutritional levels of the old and the young in Bengal is shocking. Education, more so the primary education, a favourite topic for Sen, is simply so bad. As for higher education, now you can see the Bengali educated young and women are all everywhere. They are in sizeable number in the Bangalore IT industry sector.
Why now, the Bengali labour, manual labour is everywhere, in Coimbatore, Tirupur and even in the distant Quilon, At least, in Kerala the comrades have taken to the comforts of a capitalist lifestyle!
Recently in Cochin, I asked my taxi driver as to how was life for the Communists. Pat came his reply. He said:"Sir, when C.A.Achutha Menon, when he laid down office, he travelled to Trichur by state transport bus!"."Now, Mr.Pinayari Vijayan, the state secretary of the party has built a massive bungalow and whose gate is manned by a remote control system!".
The Kerala CPI (M) owns assets worth thousands of crores, runs business ventures and TV channels. Poor cousins, the Bengal counterparts.
They cut sorry figures, now with Mamata deedi breathing fire at their tenure!
I was also once eye-witness to Ajay Mukerjee coming to see the late K.Kamaraj when he was the Congress President in Delhi. I was at the AICC then.
Kamaraj, I was there, didn't treat Ajay Mukerjee fairly. So, he went back and took Jyoti Basu as a member of the ministerial team and thus was born the first coalition government in Bengal. The Leftists didn't leave it till now.
Anyway, Jyoti babu is no more but his legacy; it is one of a Stalinist, doctrinaire, rigid, even wooden, ruthless bureaucratic regime only. There was no effort to understand the fall of Communism. I just now read a column by Pranab Bhardan that Jyoti babu called him, Amartya Sen, both are eminent economists to his hotel suite to understand the fall of Communism. Says Bardhan, ironically, "after listening to the two of the whole evening, Jyoti babu went to address a public meeting that evening. His speech ,as reported the next days, says Bardhan, didnt show any change in his mindset. It was as doctrinaire and rigid as ever, as he was always, says the eminent economist.
Image Source : bdoza.wordpress.com