Convert the historic site as a tourist destination!
Book Review
Sankagiri Fort and Town history
Author:K.Karunakaran,
Published by
Priyadharshini Publications,
Old Eadpady Road,Sankagiri-637 301
Salem District, Tamil Nadu
Pages 228,Rs. 160/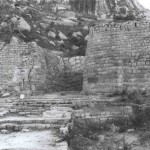 This is a rare  regional history  and archeology book. The author Mr.Karunakaran is  a highly qualified student of history, an M.A. in history and later got himself a diploma in epigraphy and archeology. He was born in an agricultural family in a remote  village (Anchettipattu) which is near the  then district town of Sankagiri in the present Salem district.
I write this for the outsiders, total outsiders to the subject of the book. Sankagiri was formerly called Sankaridurg and the town had the uniquely placed hillock, its natural majestic formation must have stirred the conquerors and there were plenty in this part of South India.
The hill and its fort have a long history. As per this book which is written with great diligence and remarkable hard work, there are so many details about the fort and the history of the fort and the town that grew up around the fort. At one point of time in modern British Indian  history, starting from the days of the Mysore rulers, Hyder Ali and his remarkable son, Tipu Sultan, the Sankagiri fort assumed great strategic importance and even before their times, the fort was an important post in the Vijayanagar kingdom and then the Mysore rulers and after the defeat of Tipu Sultan, on May 4,1799 in Srirangapatanam, near Mysore the British thought the Sankagiri fort is so vital for their control of the territory they stationed a critical number of their troops in this remote town! They stayed in this his tile environment till 1825 or so, say the London based  travel guide, the famous  Blue Guide.
In fact, it was in this guide that I first learnt that the British troops were stationed till that year.
Considering how weak Indians are to care to remember their past, their history is very weak when it comes to documentation. So, it is no wonder that not long after the defeat of Tipu Sultan the Sankagiri fort and the town fell into  disuse so to say and the past great times and  historic moments like the dates and years of the visits and may be stays, short and long of such historic figures like Hyder Ali and Tipu Sultan or other British high officers and even before these times, any great Vijayanagar kings or their generals' visits.
Nor do we know the later history of the region, say, when the period from the fall of Tipu Sultan to the coming of independence, there was the widespread prevalence of the land management system, namely, the zamindari system in this geography.
From what I learnt from this remarkable book is the fact, a rather very strong point of the book is this, there were some notable zamindars ,well educated and sometimes very selfless individuals of remarkable character and I was so fascinated to follow their individual lives and good works, though there were not enough details to quench my thirst!
The subtitle of the book is or rather the very title of the book is: Kongudesa capital city. But many outside Tamil Nadu, why even within Tamil Nadu might not know that this region had a historic capital. For, in my opinion(I am subject to correction) there was no any clearly established Kongu kingdom as such. Nor were there remarkable historic characters like  Desingu Raja of Senchi fort or other palayakarars like the Veerapandiya Kattabomman or the Marudu Brothers in this part of the state. Kongu Nadu was there and there were   very many historic rulers and their kingdoms in this geography.
The first chapter is fact gives a very detailed account of the ancient history of this region and  it makes  a very engrossing reading. In fact, so many new knowledge we are  provided with and anyone interested in the ancient history of the region would benefit immensely. From the Sanga period of the Tamil literature to the  post-Sanga period history. There were so many kingdoms and dynasties and there is a very reliable chronology of these rulers and their kingdoms. Literary minded readers have much to gain from this book, the prevalence of Jains, Buddhists and their contributions to the evolution of the Tamil language, its script and their literature and their religion and philosophy.
There was a long line of the small  Tamil chieftains, called Adiyamans, till 13th century. Each village in these regions seems to have got some historic connections. From Perur to Namakkal, Gunaseelam to others. Also, so many capitals for these so many small kingdoms.
In the meantime there is a detail about the travels of the famed   adventurer, Malikafur who came to the South in 1311 and  the book gives the travel route of this fellow, he went through Omalur and Namakkal and even Thiruchengodu etc!
Again in 1319 and 1323 there were these Muslim adventurers.
It was during the Vijayanagar rule, this city seems to have become a strategic centre. Their rule lasted in Kongu Nadu, says this books, from 1368 to 1667.
Afterwards, the Mysore kings, then the Hyder Ali and son  kept this town as their strategic centre.
Sankagiri served both as  a strategic military post and also treasury and  the toll gate.
There are many names ,local bigwigs of those days who failed to pay the treasury and served terms in the jail in the fort which acquired much notoriety!
There are many other small news that grips our mind and imagination.
Rare  information
This little book has some very rare pieces of information.
For instance, how many know that it was a small time Brahmin, one Purnaiya, who went on to rise up as  a trutes diwan of Tipu Sultan, after 1799, also went on to become the diwan of the newly installed Mysore kingdom by the British.
Hyder Ali was born in Dindugal, near Madurai, as a poor son of a jatka driver!
He became a dictator in 1761.
During the freedom movement, there were many names, small farmers and landowners, who formed a rebel unit and they met Tipu Sultan in(1799(?) and he sent on Khaju Khan(?)  to help them. And so many such small details that are not covered in any other books I have read. Bhavani, Dharapuram were capitals at some times.
British time history of Sankagiri fort and town is very interesting. New land administration, the creation of Ryatwari system as well as the zamindari system brings in new socio-economic changes and new local landlord families emerge.
There is a list  of the British officers that make interesting reading.
There is a reference to the Daniells, Uncle and nephew, who made India of those times immortals through their famed sketches and drawings. I don't know this before.
If so, the Daniells sketches of Sankagiri can be the basis for some renewal of Sankagiri as a new site for a historic tourist and heritage centre.
Convert Sankagiri fort and town as a historic and archeological and tourist centre.
I have met Mr.K.Karunakaran, the author of this book in Sankagiri recently and congratulated him for the remarkable service he has done for  writing a new genre of trust guide that is detailed and reliable and remarkably objective and based on verified facts.
He had toiled hard for some ten long years to produce the book.
While reading the book I  was struck by the rich historic heritage the small town holds within itself.
If properly developed, Sankagiri fort and the surrounding countryside can be turned into an international tourist centre.
There could be conducted tours once a while and then regulised.
The tour could be about the British sites, their  old dwellings, their cemetery could draw a steady stream of visitors from the British islands.
There could be home stays in the old zamindar buildings and palaces. This could be a heritage tour cum home stays.
A separate scheme could be drawn up and even funds could be tapped to develop this  home stay tourism.
There could be a separate museum with all the historic articles and other objects ,preserved carefully, period-wise.
There could be a library cum research centre. This centre could be tied to some college or university dept.
More conservation, environment protection  measures can be undertaken as part of the urban planning.
More social and cultural meets and cultural programmes and other events can be thought of.
Citizens of Sankagiri and all lovers of Sankagiri fort and township and the large number of the old families can be brought together once for this very purpose of how to make Sankagiri as a more visited and place of interest and relaxation and trekking and much more.
Image Source : indiaplaces.com