Asks Sonia Gandhi's high power advisory council member!
Where to start shedding tears and where to stop?
With the spate of killings and mass deaths
The Maoists menace needs tough tackling!
Armchair talks likely on tribal India development issues!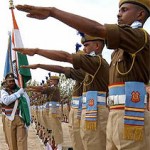 First it was ambush and mindless killings of CRPF jawans. The toll at 76 was thought to be the highest in independent India. Then came in quick succession further deaths of jawans and latest the 150 and odd was the most gruesome tragedy. Children and innocent civilians are the victims.
Now, what is to happen? By way of tackling this most serious threat to a democratically-elected government?
There must be action and action rather too soon and too adequately.
This seems possible only by deploying  the Army? Yes, there doesn't seem to be any real serious  alternative. It is rather gratifying that the government is now contemplating the deployment of the Army in the anti-Naxals, Maoists operations.
What alternative is there now? The Defence Minister, A.K.Antony said that the government is examining the pros and cons of this option and the armed forces are ready to accept the decision and act upon the decision.
The Maoists are becoming more and more bolder everyday, it seems.
Now, they have resorted to rail derailment, it is anybody's guess what would happen next and when it would happen so.
There can't be protection for the entire length and breadth of the railway system and some kind of counter intervention and more effective attack on the violent setup needs to be considered.
There are and have been many arguments about what needs to be done for dealing with the Maoist unrest. Mr.N.C.Saxena, a senior bureaucrat and who is also close to Sonia Gandhi as a member of the newly constituted National Advisory Council says that the UPA has done precious little for the tribal welfare. This should not come as a surprise, for, first of all, it is not an easy issue. Tribal India is rather very large and very widely distributed  among the states, some states have done well, others not so.
This is known to all. Some states like, say, Jharkhand has a poor governance tradition, the Madhu Koda corruption is well-known and so too others.
So too on the other hand, the Raman government of Chhattisgarh has done well and though the state is still the centre of the Maoist menace, the only way a government can function in a rather satisfactory manner is  and can only be on the lines of the Raman government. Democratically elected governments can do things only in a democratic way. Even the so-called pro-poor CPI(M) government like that of West Bengal hasn't succeeded in tackling the Maoists. Nor the CPI(M) government  succeeded with industrialisation programmes.
So, when a senior bureaucrat like Saxena says that the UPA hasn't done its job in tribal rehabilitation even in the Maoist infested regions, he is both true and at the same time, he has nothing substantial to contribute.
Of course, Saxena is a wise man also, as he says so candidly that one doesn't know who is the Tribal Affairs Minister of this country! He further says that the ministry, already a very small ministry and the minister is considered a man with a punishment posting and the ministry staff spend time waiting to get recommendations of MPs and other ministers and they entertain the applications for funds to be disbursed to bogus NGOs!
The ministry is not interested or capable of addressing basic issues of policy or raining fundamental issues like land alienation or displacements of tribals owing to land acquisition or some such big issues.
"They are just running a racket!"Says Saxena(Business  Standard interview)."Where is tribal welfare happening? This ministry says some programmes are the  responsibility of the rural development ministry, some other programmes of that of ministry of forestry or some would say it is the overall responsibility of the agriculture ministry" says Saxena.
So, we know how much a mess some of the UPA ministers are making already, after the series of scandals like IPL match-fixing, ministers phone tapping, Raja tapes on lobbyists clout in ministry making, then the Maoist killings that saw the home minister taking cover from a barrage of criticism from his colleagues, from  Digvijay Singh to Jairam Ramesh and so where to start shedding tears and where to stop!
Delivering the fruits of development
This is again a very tiring topic!
Now asked ,Saxena has not clear answer either!
All he has to say, this is some new information at least for us in this magazine, is that out of the total area of tribal dominated geography, Naxals are hardly present in 20 percent places only. He then asks, rather rhetorically:"Tell me then what has the government done in other places?"Do the tribals in other places like Kanker (in Chhattisgarh)or Banswada (Andhra Pradesh) enjoy development? Who has stopped the government from implementing its programmes properly in these non-Naxal areas? The literacy  rate of Scheduled Tribes women is abysmally low. The government should work on that to bring it at least to 20 per cent".
Of course, these observations are rather unhelpful and needs more punch and more down to earth realistic appraisal.
So, the blame game and passing the buck and continuing to do what the ministers are already interested, be it cricket or sports bodies, unfortunately, in the  recent run-up to the completion of the one year of UPA-II, we saw how the Prime Minister performed.
There can't be two opinions the PM failed to enthuse the country and he had almost lost all his reserve energies and he seems to be waiting for the right time to call off his holding operations.
Yes, unfortunately, the politics, the very dynamics of power and also for a democratic society like India's diversity needs lots of political energy to deliver!
That can happen with all its drawbacks or advantages, as one can take one's stand, with the dynamics of a democratic process only.
And we have to face the political realities.
The initiative for  a coherent strategy must come through the pressures  from the public opinion only.
There can't be any more vacillations and post-poning a decisive decision.
The decisive decision can't be other than pushing for a final assault.
There can be many academic theories. As one expert notes that "the seduction of maximum force" has always been there in all extreme situations. Be it Manipur, Nagaland or Assam and now in the Maoist` heartland.` In Jammu and Kashmir 70 battalions of CRPF is available for operations. Likewise, in Manipur, 67 battalions. But for Maoist counter insurgency operations the Indian state lack adequate forces and  training.
Experts  are too many and all say that we need adequate police, trained  police is a must. Also Army was also used in West Bengal in 1967 Maoist insurgency.
So, what we need is well- argued. It is for the government to show it can perform its duty.
Image Source : tribuneindia.com