This distorts international trade and directly hits Indian agriculture!
Reforms in agriculture as urgent as in other economic sectors!
Let us think out of the box!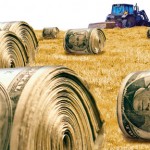 Yes, the monsoons seem to be timely this year, after, we are told, nearly three decades! India is monsoon-dependent agricultural economy and 70 per cent of the country's agricultural activity is dependent upon timely rains.
So, one great common truth that escapes attention of our city-based politicians is that Indian agriculture is not fully under the control of government policies alone! So, as we write, rains batter the window panes and it is now optimism all around the agriculture scenario. Let us hope there will be normal monsoons and there will be normal production of the basic essential food crops and also in the critical pulses and oilseeds.
These are our top priorities.
But once we realise this basic reality, our agriculture policies too seem to be wisely thought of.
Our basic agriculture reforms, if reforms are called for as of now we are obsessed with cash crops, commercial crops like cotton and other farming activities that has a ready export market.
Our agriculture production must be export market-oriented progressively and yet India's food security is so critical for our geo-strategic and political reasons, that we shouldn't forget for one moment that our food cropping system must always weight high in the minds of policy makers.
So, we would be tracking the government policies closely from this point of view only.
The second top priority is the economic status of average Indian farmers. Why they are still pathetically poor? Why such deprivations as we see in Vidharbha don't invite a humane approach from the rulers?
We seem to be a country without a soul!
A very sorry state of affairs.
There is so much corruption at all levels.
Even the European newspapers, as we have seen recently, write extensively about corruption in Indian politics, business and elsewhere.
Indians come up as a shameless people, Indians are written about in the European press as telling lies, insensitive to others in public, loud speaking, accumulate wealth in tax havens, even the recent IPL league cricket matches drew attention as to how Indians are greedy enough to park their illegal wealth in countries like Switzerland, Mauritius and other countries.
So, we have to realise, the government, the party leaders all must do some introspection and ask why the foreign press write so scathingly about why the Indian democratic system, Indian Parliamentary system allows the CBI to book cases against political rivals and at the same speed withdraw cases from the CBI at the drop of a hat.
All the recent names are mentioned in the foreign press, A.Raja, Lalu Prasad Yadav, Mulaym Singh Yadav and Mayawati!
So, India's image as a self-believing hypocritical nation, that doesn't think for a moment to take moral high ground as in the nuclear deal, as in the NPT and CTBT etc.
At the same time, we don't perform in our critical governance system.
Laws we make but then laws don't have much sanctity, when it comes to deal with high corruption. No single political figure has been booked under corruption nor any corporate figure is caught in crimes. See the contrast in the US corporate world!
Even Obama is battling with the US Supreme Court appointments, in the stand he took in pursuing controversial and yet highly beneficial legislation like healthcare etc.
Obama is earning universal fame for his highly principled stand in nuclear non-proliferation and in all these developments India as a large democracy must be seen playing a pro-active role.
But somehow, India under Singh is pussyfooting on sensitive issues like nuclear proliferation!
There is so much uneasiness about even mentioning, let alone openly speaking about the role of the USA in renovating Indian agriculture.
Who don't know and yet who would dare to mention or even bring to Obama's attention  how India feels about the rich countries huge farm subsidies that directly impact growth in agriculture in the poor countries of Africa and Asia. India and China are the biggest farm economies.
Yet, the United State, the European Union and Japan, together, boosted their own farmers' incomes in total by 219 billion dollars through subsidies and tariffs in 2008 alone. This three rich blocs' amount is eight times as much as these countries say they have spent on farm aid to Africa.
In India, unfortunately, there is no open minded, new thinking in agriculture issues. Too much about too little topics, some words like green, sustainability and organic farming create an emotional response and yet the hard part of the world  agriculture is in the huge US/EU/Japan farm subsidies that directly distort international trade in farm goods and services.
So, even now, when India is supposed to discuss with Obama during his current visit, India must seek to impress upon the American President how simple cosmetic aid, be it for agri research or exchange of agri scientists won't do much, it is the aggressive US farm subsidy lobby that is undermining the poor nations' farming systems.
Who can raise such basic issues in Indian agriculture? But someone someday has to face this Everest-like resistance for upgrading and strengthening our farming system.
The Indo-American Business Forum is headed by the Prime Minister and yet we don't know a thing about what we expect from the USA in regenerating Indian agriculture.
Only one thing we mention here and left it at that!
That is our agriculture productivity is abysmally low, when compared with what farmers get in USA and China. Per acre yield in most crops are almost double, if not more, than what farmers get in USA and China.
We request our Prime Minister to take up that sensitive subject as a top priority item when he meets the American President on the Indian soil!
Image Source : breakthematrix.com