Living Tolstoy of modern Tamil literature!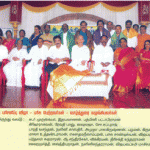 I came back to my office in Bangalore after nearly ten days in the countryside. As usual I met and interacted with a wide variety of people, political and social activists and writers, poets and NGO enthusiasts and others.
Since, my home is in Coimbatore where the big state government-sponsored "world classical Tamil conference" is being staged, the city was abuzz with activities, mostly propagandist posters, giant sized cut-out banners and others, most of these posters were only those of the incumbent chief minister and his son, designated as his heir, the whole environment gave the feeling of disgust and even neglect in other areas.
For instance, from Bangalore to Coimbatore the National Highways is well-laid out, from the Bangalore's Electronic City flyover, some 14 km stretch that is covered in just some 10 minutes to the tail end of the last stretch, it was obvious that the last stretch, of some 30 kms from Avinashi to the Coimbatore entry point, the entire stretch is left undeveloped for the last 63 years of Independence! How to explain this neglect.
In fact, in Tamil Nadu, the roads and the bridges and even the transport services are the least developed, even primitive in this time of expansion in other states. In Karnataka just now I read that the KSRTC, the state-government promoted public transport corporation is run at a huge profit, the profit for 2009 is about Rs.40 crores! And I read with great satisfaction that the KSRTC is the number one state service in terms of road safety, in preventing road accidents! How great, I wondered.
Now, to the issue that is uppermost in my mind, so fresh from the countryside, I of course met and talked and exchanged views on literature, poetry and the forthcoming classical Tamil event I got back much new feedback.
One great scholar who is an expert in the Kongu Nadu literature and heritage, Pulavar S.Rasu, an internationally-recognised expert in Tamil inscription, he is the one who discovered the first new, current(?) Tamil script from a cave dwelling of the  Jains, who resided in the Kongu region, Rasu discovered the first Tamil script in the nearby(nearby to Erode, his native town in the Coimbatore District)he must be in the list of those to be honored by the  state government, I am not sure whether he would be so recognised, though, as he informed me, he was invited to contribute three articles to the conference seminar.
So, when I met a group of Tamil scholars in Erode  where I spent a day, they, the scholars all informed me how politics is played out.
The Tamil literature under the present DMK regime is almost totally corrupt and distorted. The Chief Minister, who has no formal education, he is only known for his fiery cinema dialogue, he got his dialogues published into English translation! These would be distributed to the foreign Tamil literature scholars! For this purpose he had allotted a few crores of rupees and one university(the Bharatiar University in Coimbatore) is designated for the purpose.
One other university, the Madras University, is designated to bring out the Chief Minister's other writings. Incidentally, this university has prescribed the Chief Minister's dialogues as the text books for the MA course in Tamil! So, the atmosphere in the state is so vitiated by corrupt and many anti-scholarly pursuits.
So, when I came to my office after ten days and when I opened the posts there was one lone letter from an eminent Tamil writer, namely, Mr. Vikraman,85,who is editing a pure literary magazine, called Ilakkiya Peetam,(Literary pedastal), for the past  14 years.
There is a great  deal to say about Mr.Vikraman. He is perhaps the longest surviving  writer of Tamil novels, all historical novels set in the great Tamil history of the great Chola kingdom that existed in the Tanjore delta in Tamil Nadu.
He is perhaps the heir to the other great writer of historical levels, namely, Kalki (Krishnamurthy). Mr.Vikram is the  true heir and inheritor of those great literary values and adherent of the chase Tamil writing, his prose is limpid and very easy to read and it creates such a pure sensation that I make it a point to read his monthly supplement of his autobiography that runs through for so many years.
In fact, I had read most of his autobiographical publications and there is so much to say about those times he had lived through.
Vikraman had achieved much in his life's mission.
He is the founder and currently president of the All India Tamil Writers Association. The Association was first started by Kalki Krishnamurthy and other giants like Narana DuraiKannan and others, Thi Ja Ra, all pioneers in quality Tamil literature.
Recently Mr.Vikraman brought a team of the writers to Bangalore where at our home we gave him and his fellow writers and poets a reception and a felicitation.
Now after a long time, an invitation came from Mr.Vikraman to go to Chennai where he arranged a function to celebrate the completion of the 14th year of publication of his literary  monthly. In fact, Mr.Vikraman, for most his life, for some 55 years or so he established and ran a highly reputed  literary monthly, namely, Amuthasurabhi, that was a land mark in modern Tamil literature. Perhaps, the monthly discovered some of the great writers of contemporary Tamil literature, some really great, who went on to win even the Gnanpeeth awards and many Sahitya Academy awards.
In fact, some of the  notable literary controversies and debates were conducted through the pages of Amuthasurabhi!
The great  short story and novelist, Vindan, was brought to the wider world thanks to Mr.Vikraman's promotion of his writing style, Akilan, another great novelist, winner of the  first Gnanpeeth award was also featured through the pages of Vikraman's literary journal. So too Jayakanthan whose first short story was first published by Vikraman. So too the other great novelist and short story writer, the late L.S.Ramamirtham.
So ,Vikraman would emerge as a creator of the modern ethos of the Tamil literature  and would be remembered for the tireless selfless  service.
Now, there are some melancholy touch to Vikrman's life and endeavour today!
One, he is a lonely person, though blessed with a wide circle of admirers and friends. He is financially stretched. He has no firm foundation for his literary activities.
Second, he is in fact singled out for punishment by the state government! His literary monthly is  not patronised by the state government-run public library system!
Yes, the letter before me states in a depressing tone that there are no public library patronage and so please can older subscribers help?
Is this possible in this day of heavy commercialization of literary magazines, all the serious literary magazines in Tamil today are sick and limping!
Even the older publications, even the Tamil dailies and the weeklies and monthlies are heavily controlled, there is no free press in Tamil Nadu, there is no freedom of the press, and the editors are all under the poorly paid employer's thumb, there is a sense of helplessness and dejection.
The newspaper employees are a miserable lot.
While highly corrupt regime holds forth.
Literary prizes, all in the names of some political figures are highly arbitrary, whoever the Chief minister favours to reward  and then they get them.
Thus, there are more cinema poets than genuine poets in Tamil! There are more Chief minister favoured Tamil scholars than genuine independent scholars in Tamil Nadu today.
The rare and genuine ones are all sidelined.
So, when I read Mr.Vikraman's letter I felt disturbed and distressed to say the least.
As finished reading his letter, I also chanced to  read a book review, it was about the status of the writers and poets in the then Soviet Russia, in the Tsarist Russia.
In the former Soviet  Russia, there was this long tradition of suppression of creative minds and under Stalin, poets and writers were even shot!
In modern times as far as I know, only in Tamil Nadu, the home for a great classical literature, there is no  modern-day sahitya academy! There are state level sahitya academies in neighbouring Kerala, Karnataka and even in Maharashtra. Only in Tamil state there is no such organised literary promotion. There is also, alas, not much literary patronage either.
So, only a lonely man, a lonely voice like that of Mr.Vikraman, the grand old man of modern Tamil literature who is carrying on, boldly, unmindful of his health or finances a lonely battle for nurturing the spirit of independent and creative literature.
Long live Vikraman whom I would daringly call him the living Tolstoy of modern Tamil literature! So, I said in my citation I presented him when he came visiting our home!