He talks lots of practical sense!
He must dilute more his temple rhetoric!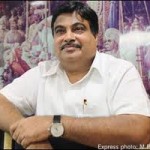 Nitin Gadkari, the new president of the Bharatiya Janata Party (BJP) seems to be a refreshing new air in the Indian politics.Gone seems to be the era of L.K.Advani and his team.
Gadkari dreams almost near total secular dream, expect his compulsions to carry the old baggage. He even dared to reject the Uma Bharati types and even dared Advaniji!
That speaks something of the man who takes on even the most skeptical critics and he even dared to call the Congress Prime Minister Dr.Singh for an open debate.
This is unthinkable!
A BJP President, the Opposition leader, calling on the incumbent Prime Minister, a supposedly multi-faceted expert for a debate!
That is something we have to celebrate and cheer about!
Such an open debate only will help to articulate our national policies, socio-economic and even political and cultural policies for a greater clarity and a consensus of sorts.
So, we welcome Gadkari's such bold initiatives and talks,In a full-page interview to the Hindu newspaper in Chennai the other day, where he was there Mr.Gadkari took on some bold questions and his answers were equally bold and constructive too.
He says in his opening remarks that politics for him is an instrument for socio-economic reforms.
As a student he took politics to be his vocation.
For doing something for the poor, for the society and the country. He has good experience with infrastructure and then he proceeds to unveil his whole vision for a strong India. As Public Works minister in Maharashtra, he built the Mumbai-Pune Highway. From that experience only, he says, that he advised Vajpayee to launch the National Highways Authority! He says with "Rs.5 crore equity, I completed works worth 8,000 crores". This experience stands me in good stead when I look for helpful ideas to pursue development ideas". How great!
He speaks out so clearly that only if he and the BJP goes along with his line of thinking, we are sure, the people of the country won't hesitate to elect the BJP in the next elections! Such is his refreshing approach to a wide variety of issues, water, transport, agriculture and what not. He speaks clearly and with much ease than even our Congress ministers who, lately, see the Maoist menace and the discordant voices by several players!
Irrigation and water he puts lots of emphasis.
Once in Tamil Nadu he sees that the state needs water, more river waters and with the Dravidian parties making a mess of the interstate rivers, Gadkari opts for inter-linking the national rivers.
He takes up the Ganga-Cauvery links and he seems to be the man for the job as well! His statistics on his finger tips, so to say, he says that from Cauvery the state can get only 800 TMC of water and if we do by the connectivity of the rivers, the state can get 4,000 TMC! He cites the BJP ruled Gujarat to stress his point and says the state had a 20 per cent increase in water table thanks to the Narmada dam and the agriculture growth in Gujarat is now 14 per cent! The Indian average, he points out, is a minus 0.2 per cent!
As far as his party's political plans are concerned he says he has many plans.
Of course he disagrees with the UPA economic reforms. Specially the export and import of sugar and food grains.
He has so many plans for revamping agriculture, more cold storages, banning the essential commodities from speculation commodity exchanges.
The Vajpayee launched Pradhan Mantri Gram Sadak Yojana was prepared under Gadkari's chairmanship and this was of course done by Vajpayee and  it was a Rs. 60,000 crore scheme and Gadkari was the main advisor for the four-lane forming national highways. So, the road connectivity was the mother of all other infrastructure programmes that are underway under various names and in various sectors.
The Pradhan Mantri scheme was a 100 per cent boldly funded by the Central government scheme and this fact needs more propaganda by the BJP and that will only help the party in its election times.
He calls for sincere development of agriculture and rural India.
He says, so graciously and so magnanimously: Let the 21st century politics be a politics of progress and development.
We wish Gadkari all success in his bold vision and for his bold talks!
Image Source : indianexpress.com