Why does one go for a secret new agribusiness  pact with the USA?
Why the secrecy, why this below radar deal?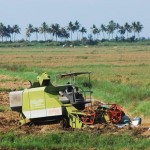 A five column  news report appears in the national daily on such captioned  title.
The government only last week, that is, just a week before the presentation of the budget "quietly secured a Cabinet approval with the United  States that aims, among other things, at promoting the privatisation of agricultural extension services and facilitating  collaborations between American agribusiness and the Indian farm sector".
On the face of it, this is nothing so earth shaking!
The MOU on US Agriculture Co-operation and Food Security was approved(by whom?) likely to be signed soon(by whom again?)
The MoU is also intended to give a push to private investment in agriculture for growth of agribusinesses and farm-market linkages with stress on creating an enabling environment for private investment and reciprocal trade. It includes bilateral policy dialogue and agri business-to-business collaboration between India and the U.S.
The nutrition security component calls for bilateral cooperation and best practices, including access to adequate quantities and quality of "diverse diet and diversified and fortified foods" and an integrated programme that targets the most vulnerable. The food security aspect focuses on sharing technological expertise and promotion of private sector extension in agriculture. Collaboration in S and T and education would focus on technology to farmers and agribusinesses.
The weather forecasting for crop management and market information part of the pact highlights improvement of crop production management in response to vagaries of weather and potential impact of climate change variability.
According to geneticist Suman Sahai of Gene Campaign, while India could gain from improved weather forecast technology in the proposed MoU, the bilateral collaboration on S&T, food and nutrition security will give access to the U.S. to India's great genetic diversity of crop plants for commercialisation in its interest. "The opening of food security policy dialogue is also a matter of concern as it will impose on India the U.S. model of agribusinesses and vertical integration of food chain, impacting diversity and consolidating monopolies," she said.
The costs of implementing the MoU would be borne by "parties that incur them." Joint Working Groups would be set up to implement each component. Intellectual property issues would be settled as per the S&T agreement with the U.S., which was also approved in the last Cabinet meeting. Curiously, both agreements have been kept under wraps.
An India-U.S. Agriculture Knowledge Initiative is already in place that allows for U.S.-based private multi-national trading and seed giants like Cargill and Monsanto to be appointed on the board, enabling them to bear influence on the country's farm research.
The present MoU was initiated under the India-U.S. Agriculture Dialogue during Prime Minister Manmohan Singh's visit to Washington last November.
Of course, the media in India is not Indian farmers-friendly. It is government friendly. Only when it comes to the US or other countries co-operation, there is this leftist itch for taking some prejudiced stand.
Even now, we need to look at critical issues.
First, the Indian agriculture extension services are as good as dead. No one is serious about it. So, if Indian farmers can benefit from American companies, then, let them come with their services. It is now a market economy and so the market demand would decide the worth of such services.
There is nothing wrong to access the latest "best practices" in modernising  the Indian agri sector. Also, there is no harm, in fact much good only will come with weather forecasting, marketing information etc.
Image Source : vrckerala.blogspot.com