How Bihar is  doing?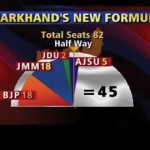 Bihar first. Bihar is now the next focus for many. Lalu Prasad Yadav and Paswan are going to concentrate on Bihar as  Rahul Gandhi is said to have turned his attention after UP.
In Jharkhand, the Congress lost its bid, honestly. It is not that shibu Soren, Guruji, has suddenly become an untouchable. Jharkhand and Bihar are intertwined as it was a former territory for players like Lalu Yadav and Nitish Kumar to ignore what is now to go on in the troubled state.
In Bihar, the law and order has improved under Nitish Kumar. The CM said at a recent seminar in Patna: Go to any park in Patna and you will see big cars are parked outside them. Why? Because, there was a time when people were afraid to venture out with such display of wealth. Kidnappers were waiting at the corners to snap the wealth and status symbols! Not any more. People have become more emboldened and more confident. That shows the situation has clearly improved".
Is it so?
Not so much says the critics. You can see the trucks come into Bihar ladden with all sorts of goods, from cement to food items. The very same trucks return home empty! Whay?
Not much investments and no big corporate house except perhaps Hindustan Lever, the critics point out.
Has things improved lately?
Not yet we can give any definite figures and talk with some data.
SKS Microfinance pointed out in the same seminar:"42 employees of the company were robbed of their cash in 2009.In 2008,the figure, can you8 guess? It was down at 17 only!
So you can draw your own conclusion!
When Nitish Kumar took over the government in Bihar four years ago, there was hope that the state's defunct sugar industry might revive. Bihar contributed one fourth of the sugar output to the country before Independence. It now accounts for one unbelievable miniscule, less than 3 per cent of the country's output. Unfortunately, the companies that were brought in by Kumar have developed cold feet soon after.
One company has even forfeited  earnest money of Rs.5 crores! It was a sugar industry and the industry now says that there is not enough sugarcane for the company to become a viable activity. Set up the mills and sugarcane can naturally grow and become available, says Kumar, the otherwise earnest Chief Minister who even otherwise has kindled and even now retains the hope and his credibility. You have to remember it was a state that was fleeced by the likes of Lalu Yadav and Paswan and the people of the state were left high and dry when the late leader, under his own rule and the rule of his wife had left the state almost paralysed by a series of unaccountable scams and scandals.
Bihar has its own complex web of caste politics, only the likes of Lalu and Paswan can unfathom the bottomless pit and it is anybody's guess what Rahul Gandhi would do in the state and how he would come out  of the snakepit, Bihar is.
It is the land of Buddha and Ashoka and now it is the land of Lalu and Paswan as well! There is one year to go for the next elections and for all political parties, it is election and election only that stir them out of their own lethargy, complacency and sheer lack of any commitment to do politics  as they are accustomed to do nowadays.
Of course one can diagnose the ills  of the state..Kumar says the Centre is to be blamed. It divided the state, created Jharkhand and robbed of the left out state with its own traditional natural resources, iron ore and  the politics based on ore trade and the Madhu Kodas. Between  one Jharkhand's politician and the other there is not much difference. Or for that matter, between one Bihar politician to another, between Lalu and Paswan and the rest there seems to be also not much difference.
If Sibhu Soren is to succeed and come out of the present regime, then, everyone concerned, from Delhi and Patna must play his or her role. Bihar is not yet a special category state as Uttarakhand and Himachal Pradesh are. Such incentives-based industries are not encouraged as they, the industries that come on incentives go away once the incentives cease and this is not the way a new generation of industries that would come based on market forces.
So, Bihar needs a more serious and more committed types of political leadership
and for this to emerge there has to be a broad based public opinion in favour of a more open and more serious basis of industry promotion.
There is a feeling that Bihar needs to promote its own home-based indigenous entrepreneurs.
This requires a much more determined leadership.
Bihar, fortunately or unfortunately, has a long tradition of outward-bound migrant labour, both unskilled and semi-skilled. In all parts of India one could see the nimble fingers of the semi-skilled Bihari labour, be it marble laying or textile labour. Down South you can see this labour spread out even in remote villages.
Of course in the North, In Punjab and Haryana and of course in Mumbai and even o in North Eastern states, Bihari migrant labour is now a legend and a butt of attacks and much resentment. All for wrong reasons!
So, it is time Bihari elite and the media and the political leadership  take pride in their own skils. Self-respect is now the trigger for new politics in the states.
Why this self-respect is not forthcoming in  sufficient strength? Bihar is rich in human capital. We agree.
Already we are told that local entrepreneurs have invested to the extent of Rs. 1,500 crores. Of course this is tiny.
Bureaucracy is blamed. Orders takes time to get notified. Subsidies and concessions take time to be got.
The state is hugely underbanked. So, bank branches can be opened. The Centre can help. SKS Microfinance is a great success, we are told. So, the big banks also cam move in. Determined attempts are need to make this transformation.
Image Source : currentnewsindia.com