None! None at all!
You can't have altruism unalloyed at the grass roots democracy, can you?
Forget about it! For quite sometime!
The hold of bureaucracy is total and unbreakable!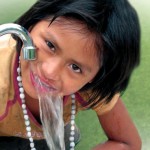 Unfortunately, our current crop of leaders also doesn't believe in empowerment, seriously!
Yes, this election will be as like any other election.
The other day I was viewing a very heartening programme, one on the NDTV Profit channel on the unstoppable Indians.
Who is the unstoppable Indian I saw? It is none other  never-say-die Mr.Kejriwal who runs the NGO, Parvartan. Kejriwal, as everyone knows is a winner of the Magsaysay award for using the Right for Information  Act, RTI for getting justice done to poor people.
His experience was an eye-opener. He has a fund of energy that was surprising. Anyone who runs an NGO and that too in such an out of the way field like getting official information from the deadly institution of Indian bureaucracy is sure to fall victim of incurable cynicism! But not Mr.Kejriwal. He is young and earnest and is driven by unlimited optimism.
If I were the President of India, I am sure I would have enlisted his name for a Bharat Ratna. Yes, I am digressing here a bit but such a digression is in order.
We in India don't recognise talent, talent if it doesn't come from the official channels! That is the trouble. See the list of the Padma awardees. They all come on predictable lines, good and loyal government service is rewarded in a routine way. So too our choice of artistes. All respectable fields are there but not from out of the way fields that are rare and likely to disappear like the great and immortal oral art traditions like, say, the Kerala-centered  Sanskrit drama, Koodyattam etc.
To search for and reward rare talents, dying arts calls for rare leadership and imagination.
Even in other fields like development, who would appreciate a young man like Mr.Kejriwal who like others in the same category, the waterman and others, are battling against the very walls of government and the bureaucracy.
After listening to his experiences I was wondering whether the President of India or the Prime Minister or Sonia Gandhi would have been watching the same programme. If they have had watched the programme, there must have been news in the next day. There was none and I assumed that I must be right in my assumptions and in my own prejudices. Assumptions and prejudices about our own leaders, the power seekers and grabbers with no shame whatever!
Mr.Kerjiwal says that in UP and other states, it is now  three years the pending time before you can get your application under the RTI act is likely to be taken up. So many applications are pending as on date. It is no fewer time lags in other states.
If any of the media houses is doing any pubic service then they must get the latest issues under the  working of the act and must publish and expose the causes and the men and women who cause such great distress to the affected community.
So, to come back to Mr.Kejriwal's other efforts to empower people under the panchayat  raj, it looks he is fighting a losing battle surely. It is not a secret that the institutions under the panchayat raj are not working as they are envisaged. Who doesn't know this state of affairs? Everybody knows. The PM knows and so his ministers. Surely, Mr.ManiShankar Iyer knows this only too well. But who is responsible to hold back the powers, the empowerment from the local people. It is again, the very same bureaucracy.
Who can reform the system?
Not surely, Dr.Manmohan Singh, the poor man with no powers, no vision and no powers at all.
Who knows he may go down in history as the one who put up a false facade  for five long years, a poor shadow of his master, the late P.V.Narasimha Rao, another false face. The late Prime Minister didn't have even the courage to write a straightforward autobiography. So, we can be sure this time too our Prime Minister wont let you know what he did and what he couldn't do, given the constrains under which he is operating as on date!
The concept of empowerment and decentralisation has taken so many avatars.
The history of the experiment is also too long.
One can quote Gandhi, Nehru and whomever you choose.
Even Mr.Kejriwal, in his TV chat quoted from Buddhist history the grass roots democracy and empowerment.
That is very fine and very soothing.
Today, we have to approach peoples' empowerment, yes, I agree, without any cynicism whatever. That is our duty. Every one's duty.
After all, we live in a democracy and society would be what it is.
Society would have all the pulls and pressures and various interests and ideals operate.
So, I am robust in my outlook and my optimism is unbounded.
Having said this, I like to look at empowerment in a positive way.
There are enough empirical data, enough World Bank reports, for instance, on governance.
I would like to see that the Central government takes serious interest and makes this social and grass roots democracy experiment as a high priority.
Unless the Central government and the major parties are serious or made to become serious and sensitive to this highly civilised and highly enlightened great political objective nothing much would happen in our life time.
At the states's level I would like to see the Prime Minister to take the initiative  to impress upon the Chief Ministers to sensitise themselves on this human, humane and humanitarian issue  then also nothing much might happen.
It is a question of leadership. State level initiative is the key to the decisive move.
These aspects, the Central government initiative, state level initiative ,Mr.Kejriwal didn't emphasis. I don't know why.
Nor he took notice of the various other experiments, by other governments, as in Kerala and West Bengal, where the Communists made a dance and song of the decentralisation and in the end ended in making the Communist party to oppress and suppress all the initiatives and spontaneous growth of grass roots democracy.
I have also one skepticism of the enthusiasm of Mr.Kejriwal.
Yes, people's assemblies must be regularly convened and questions asked for the failure of panchayat officials, petty officials to perform their jobs.
The olden day's local heads of big families had some hold.
Today, these petty officials ,from the village revenue officers to others, including the village school teachers to the ayahs and anganwadi workers don't respect the villagers. They are often party hands, the ruling party hands and they have their own corrupt deals made or to make and as such they are insensitive or be responsible to their paid duties.
So, in the end, as I also live and had lived and worked on several such projects and got disillusioned, I have to strike a realistic note, dont you approve?
So, we look at empowerment from a more altruistic manner.
Sometimes people deserve mercy. Many times they deserve what they deserve today! You cant have altruism unalloyed, all the time, can you?
Image Source : livinginperu.com