TV channels overdid their jobs!
They played up the youth victory theme rather too far and too unbalanced way!
Who are these youths are? They are neither from the poor or the middle classes. They are from the privileged families.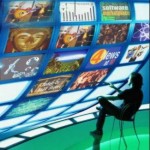 Let us see what this means for the emergence and the evolution of democracy in the country.
Yes, the 15th Lok Sabha has a good number of young MPs, both young men and young women. While M. Sayeed of Lakshadweep is just 26, he won it on the strength of his father the much respected  P M Syeed who won it ten times! Other young MPs, like Noor from Malda are a niece of the late heavyweight Ghani Khan Choudhary and so too others like Shruti Choudhary, 33, in Bhiwani, again she is closely a member of the late Bhansilal of the Sanjay fame!
So one can go on and on.
Most of the highly successful youngsters are either the sons or the daughters of the already privileged political families.
Though one should not underestimate the significance of the election results, the Lok Sabha is a house of most bright youngsters and they are in good strength. 79 MPs are below the age of 40 years of age and 225 MPs are below the age of 50.This is significant.
Also,58 new women MPs, most young and also some well-qualified academically and corporate experience and film world and they are all determined to make a difference to their constituencies  with new ideas and work.
All this is welcome.
We have to have a forward looking attitude and this time it is a sure victory for the youth power and for Rahul Gandhi in particular.
But there are some uncomfortable questions that need to be asked just to give a balance to our election victory euphoria.
There are more criminals this time than before, more crorepatis!
Then there is the urban-rural voting patterns.
In Mumbai the vote was just 40 per cent, in New Delhi it is again just 50 per cent. Only in the rural hinterland, the voting was above 60 per cent.
Every election is a wave. This time the wave was in favour of India's stength, stability and unity and also secularism and development and a range of hopes.
Thus, caste parties were swept aside, communal parties went up in smoke and even the great many reputations, Lalu Prasad Yadav and  Paswan and many others were laid to rest.
In the states, the all India wave was not fully operational.
The BJP won in seven states, in UP and even in Karnataka there were surprises.
Of course Gujarat apart, there is this governance question.
Yes, people voted for good governance, in Orissa and in Karnataka and AP, we saw this trend.
So, India is maturing, India voters are becoming conscious of development and what it can bring about in transforming their lives.
Just before the voting there was this theme of this election being an issue-less election. After the resutls, there is this projection of an election that generated lots of hopes.
Let us hope this is fully realised.
Now, as for governance, yes, there is much that can be done and must be done.
Luckily, there is one new face, S.M.Krishna who comes with the reputation of making Karnataka, in particular Bangalore as a new focus of development of a new India.
Can we hope that with his presence in the cabinet, the new government in Delhi takes up deploying the IT tools in a big way to improve governance, to bring transparency and a decentralised decision-making in many areas of national life.
Urban governance is as important as governance at many levels, rural India cries for attention.
There is so much  corruption at the lower levels, no less one might say at the higher and highest level too!
In the rural small government offices, no task is easily done and hours and hours of waiting makes life a miserable experience to the vast majority of  the people. So, can we hope that the Manmohan Singh government, this time, is no  more "more of the same"!
There is a penchant for relying on the retired bureaucrats for various jobs.
Why not engage the youth MPs, the motivated young persons with tasks they can be expected to deliver with their energy and idealism!
Lucky again, Mr.Veerappa Moily is also now a cabinet minister. He has produced volumes of administrative reforms.
Now, pray, the new government talks too much about economic reforms, too little practically nothing about the need for political reforms.
Our democracy needs very many reforms. The Constitutional Review committee report is also gathering dust.
There are so many institutional deficiencies.
Electoral reforms, curbing money power in elections, the EC must be also reformed! The EC must have more powers to prevent electoral malpractices.
There are party reforms, party fundings and also a major reform to limit the offices of the PM and the CMs for two terms.
Otherwise, we see what unhealthy tendencies ,as in the case of the  DMK party and also the denial of democratic behaviour for the ruling party, again DMK is a case in point and also more scrutiny of the party constitutions and the party funding sources.
Unless these reforms are affected, the electoral process would tilt in favour of our democracy emerging or even deteriorating into a new form of middle age feudalism of privileges and abuses of privileges.
Image Source: gooclip.net