It must become a more democratically-constituted organisation.
State-level units must enjoy total autonomy and AICC must be an affiliating unit only
My political evolution, its twists and turns!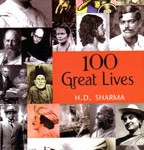 Why I remain a committed nationalist and Congressman!
Readers might find this title very unusual and unexpected. They are right and yet I feel it is my duty to explain why I chose such a one. And here, in the pages of the journal which is mainly devoted to education issues. I have some reasons and it is only proper I should explain the provocations for such a title.
I just now read through an engrossing book on"100 Significant Pre-Independence Speeches" edited by H.D.Sharma( Rupa & Co,2007).It is a bulky volume running to some 435 pages and the one hundred speeches make up our very history of Independence movement. All the venerable names are here and I was delighted and energised as well as depressed and much saddened.
Delighted to see how men with enormous innate powers gave themselves up for the country's awakening. Saddened because I saw how the Indian National Congress came to be formed(in 1885) and how it evolved and how through the early years of the last century, from Home Rule League days to the emergence of leaders like Gokhale and Tilak and later Gandhi and Jinnah, with other greats like Motilal Nehru, Jawaharlal Nehru to C.R.Das to Laj Path Rai we see the split of the Congress into two, as Swaraj Party and the original Congress and then through the rise of Muslim League and the separatist movement from the Muslim leaders we see the gradual rise and fall of the political tide and the 1942,the gradual weakening of the hold of Gandhi and finally the partition of India.
The country ,in my opinion, is passing through an uncertain phase in its political evolution.
I was an active politician all along my life and even now I consider myself a political activist, though I don't hold any political office.
In India there is this public perception that if one wants to serve the country, play a dominant role in public life one has to hold some political office, be an MLA or an MP or at best a minister!
I was an MLC for a term of six years and thereafter I didn't hold any office, though I was interested in active politics. I have explained here the various phases of my political life and how I evolved into a committed politician and a Congressman when I enrolled myself as a four Anna member ,right from the year 1962.
Thus, I remain a traditional Congressman, though not an active party worker or a party member as such, though once again in the year 1969 I once again renewed my membership of the party, right in the presence of Kamaraj when he was out of office!
Thus, I hope my credentials to call myself a traditional Congressman would be established in the public eye.
The point I want to make here is that today the Congress party is not what it was once, in the good old days when there were leaders of stature and the Congress always functioned as a collective body and fairly in a democratic manner.
Today, the party is in a serious crisis, as I see it.
Sonia Gandhi may be the President but her leadership is based on some make-believe assumptions and basis.
She was never elected in a genuine manner, in a democratic manner and she has remained in office for more than ten years.

In the ten years she is in office, the party had completely become a dysfunctional body, the party had declined beyond recovery, and it seems, in major states, UP, Bihar, TN, W.Bengal and even in Karnataka and Maharashtra where Sonia Gandhi's poor judgements had led to the party's decline.
Though no one openly talks about the decline of the Congress party everyone, every Congressman or Opposition party leaders know well the party almost had ceased to be an all India body and it exists in some patches, in some pockets here and there and the party is also loosing steadily in all state elections.
The nomination of Dr.Manmohan Singh by Sonia Gandhi ,when it was done, was seen as a master stroke of sorts. But today, it can be seen the nominated PM has only added to the party's decline and poor image.
The PM may be an honest man, a humble man but these qualities alone don't make a Prime Minister of India's stature and size.
We have a non-speaking Prime Minister, he doesn't go out of Delhi, into the remote corners of the country, he doesn't articulate and he doesn't hold out any big picture or a great dream or an inspiring vision.
So, when I was reading through the 100 speeches of great Indians in the pre-Independence days, I was more saddened than elated.
I read Vivekananada's speeches, Sister Nivedita speaks "why I became a Hindu?", Tagore speaks on nationalism, Gandhi, Nehru and before them, Gokhale and Tilak and many others, all dedicated souls and I was inspired to ask: "where am I? In this galaxy of stalwarts?"
Do I relate to these great souls of India? Or, do I feel left out and stand out and be a witness to what is going on in India? In the Congress party?
I feel the Indian National Congress is 123 years old and it is a great history. I joined the party after I went through a very highly gifted education, at Santiniketan and Oxford and when I came back to India I chose to join the Congress and articulated my own political convictions: democracy, yes, Parliamentary democracy and secularism and a very strongly committed to work for a strong and united India.
In all these the Congress party was the anchor.
The party's great many traditions, the very history of the Indian National Congress, the various phases, the very many splits, the controversies, the fights and differences of opinions among the stalwarts, Jinnah, Ambedkar, then Bose and even after these three, there were many others who all joined under the leadership of Gandhi, knowing well that was the only way.
Gandhiji, now we can see and also historians who wrote about the post-Independence history and others say that after 1942,after the Quit India movement, Gandhiji's hold on the party became weakened and when Partition was mooted and when it took shape in the very tense years, between 1942 and 1947 Gandhji's leadership was nowhere in command.
The point here is that when we look back and take stock of what we achieved and what we missed we see our own leaders falling in some perspective.
The same argument holds today, in the post-Independence days.
Now, Sonia Gandhi's poor judgements of men and affairs are showing. She had missed many opportunities to take timely decisions and thus had let off the opportunities .In TN she didn't press for due share for her party in power. In Karnataka, she nominated S.M.Krishna to lead the campaign and yet she didn't allow him to context. Thus, she let the party miss the chance by losing few more seats.
Lately, in New Delhi, we see her nominees in the Cabinet becoming subjects of ridicule and jokes.
Terrorism is rising and yet the government is faltering.
The PM is doing his job in a routine manner and I don't know for what ends?
Is he a firm believer in nuclear power? Or, a firm believer in Indo-American strategic relationship?
Or, he has a correct view of the economic liberalisation policy priorities? No one knows.
He is not even an elected Prime Minister, his legitimacy and credibility is questionable?
A great country, a great party should adopt some strict norms of public conduct. Clear democratic norms, accountability and performance and open debate and an open society are all needed and for this the ruling party must be an example.
Is the Indian National Congress a democratic body? Or, a one-person or one-family-centered?
And much more amusing is the scene where we see so many sycophants surrounding Sonia Gandhi and pampering her vanity with the idea of foisting the youngman, Rahul Gandhi, of all posts, the top job of the Prime Minister! In succession to Dr.Singh?
This would be the height of foolishness and audacity and such a move is fraught with so many dangers to the party and the persons concerned, considering that politics is not family succcession, right?
Also, the party needs some space for its own inner strengths to express and find its own equilibrium and stability.
Today, the Congress party is so weak and it hangs by a thread, between survival and total disintegration.
It is this thought that worries me.
As I was going through the pages of Sharma's book I also reflected upon my own political evolution. How I came to join the grand old party and how gradually I evolved into a loyalist of leaders like Pandit Nehru during my Santiniketan days and then coming closer to other leaders, my frequenting the leaders at the AICC and my work at the AICC during the 1967 elections and my close links with Kamaraj and Atulya Ghosh and Sadiq Ali and also getting to know the other greats like Shastri and Gulzarilal Nanda through his Congress Forum for Socialist Action and also my moving closer to the other Socialist leaders like Chandra Shekhar and others led me to identify completely with the Congress Party.
In fact, I started seriously to correspond with Congress leaders while I was still at Oxford. As I read in the newspapers in England I started knowing the active players and the one name that caught my attention was the Shyam Nandan Mishra(S.N.Mishra)who was a deputy minister in Nehru's Cabinet and was also a member of what was called the 'Ginger Group' of which Indira Gandhi was also a member. Their radicalism attracted me and they were advocating more radical and activist methods to make the government work in people friendly manner and this was that caught my attention and I started corresponding with Mishra. He was good enough to write back and thus a life-long friendship was established.
So, when I first came to India ,I traveled through a circuitous way, I first went to Soviet Russia from London by a boat to Sweden and then Finland and then I crossed over to Leningrad, now St.Petersburg. From there I went to Moscow and from there I flew to Tashkant and from there I flew over Hindukush mountains to Kabul and from there through the land route to Peshawar and Rawalpindi and then to Delhi by train.
In New Delhi the first thing I did was to go to the khadi bunder and change over from my Oxford suit into khadi kurta and jubba and in the changed attire I went straight to Teen Murti Bhavan to see Pandit Nehru.
Why the sudden urge to see Panditji?
I was familiar with Panditji from the very first year in Santiniketan. Nehru used to visit Santiniketan every year, he was the acharya(chancellor )of Visva Bharati and in those days Santiniketan was small and very quiet and it was almost like a family. So, Panditji was very accessible and in fact he liked the visit and he used to stay for a day or two and he in felt very relaxed in that atmosphere there. Whenever he arrived we, students would stand in attention and I used to hang about eagerly to see Panditji at the very entrance of the ashram and as soon as we sighted his car we would greet him as saying "Namaste Pandiji!". He would instantly reciprocate, sometimes he would stand up in the open car and with his palms folded the vehicle would make a slow move through the ashram paths down to the Uttarayan where he used to stay. At once, we would also gather there. There would be songs and dances and Panditji was at his relaxed best. He would remove his Gandhi cap and would hold a cigarette in his pipe and stretch his legs freely and would be full of joys and laughters. Students would freely interact with him and he would welcome such close interaction. Every student almost invariably would ask Pandiji all sorts of questions, most questions would be light and childish, even asking him about his attire and how he felt in his tight fitted achkan etc!
I had the rare privilege of sitting at his feet and listening to all sorts of talks, with an eager crowd of admirers, Padmaja Naidu, the Governor and Lady Rani Mukerjee and others(too many names to mention here)big and small, surrounding Panditji almost pestering him with tea or some other items! I am sure I was one of the few such lucky students to have got into such close proximity to Panditji in those years where I was growing up in my adulthood. My years at Santiniketan were critical in my mental and emotional growth and transformation and I was becoming a more sensitive and aesthetically transformed human being. We used to receive our graduation degrees and diplomas from the hands of Panditji, I got twice or more such degrees and diplomas and there used to be so many photo opportunities. I even once asked Panditji to pose with us students for a photo session.
He was standing alone once at the front verndah of Uttarayan, soon after the Convocation ceremony was over and where he gave us a long and rather long-winded speech. On such occasions he would become every emotional and reminiscent about his old visits and his memories of Tagore and so he would narrate and recall anecdotes and every time Nehruji spoke on such occasions we used to see the audience very moved and touched by such small details and references to the place, our abode of peace.
So, on this occasion I ran towards him when he was standing alone at Uttarayan and said to him: "Panditji, we like to take some photographs with you…." To which he said: "Call the photographer and come quickly…" I ran and fetched the photographer and that was a field day for us! He put his hands on my shoulder and called everyone there to come nearer him and he was always very warm and informal on such occasions.
This informality ,this accessibility and his interactions with us on such occasions drew me closer to his personality and his ideals.
Once there was a student strike and I was also called as a member of the economics class. We told Panditji about the lack of proper faculty. He turned to me and asked: "What class are you?". I said: "Economcis". To which he said: "Oh, economics? If you seriously want to study economics, then you should come to Delhi where V.K.R.V.Rao is conducting the Delhi School of Economics!".
So, it was no wonder that became drawn towards Panditji in many ways. I used to follow him whenever he addressed public meetings near Santiniketan. Once in Bolpur, I listened to him. Atulya Ghosh, the Pradesh Congress boss was holding an umbrella over Panditji's head. I still remember his inspiring words. He said: "People ask me abroad what India has got? How will India grow? Develop? Where are the resources?". He said: "I say to such people: we have the panch varsha yojana hai! "We have the five year plans! What a wonderful conceptualisation of development! In fact, his great co-worker and colleague and intellectual, P.C.Mahalanobis, the great statistician and the formulator of the second five year plan, was a Santiniketan man and I used to see Mahalanobis often there. Once he delivered the Convocation address and I was watching Panditji opening the printed pages of the address and following the speech as a student with his spectacles on and seriously following the address and the arguments!
So, in my early years, in my formative years, Pandit Nehru became the perfect man, perfect human being and unsurpassed personality with a magnetic power and I thought I had found my idol and my ideal as well!
In 1962 when I reached Delhi, I went to see Panditji ,I went to Teen Murti House, to meet Nehruji and ask for his help to join the party and work for the country.
At that point of time I would have accepted any assignment from Panditji, even it was a lowly job! Such was my enthusiasm for political work.
Nehruji was out of station that day and I don't now remember why I left Delhi and reached my home in the village. Yes, I wanted to see my mother who lost touch with me once I left UK and thus I was anxious to see her. Of course, I promised myself that I would soon return to Delhi.
This happened. Many times I came to Delhi and now I wonder whether I have the stamina to travel by train, as I did then so many times to Delhi.
That is how I landed up at the AICC where the presiding deity was the Bengal strongman, Atulya Ghosh. I was introduced to him by a common friend (Prof.Ashish Bose) and this a rapport developed. I enjoyed a privileged position in the AICC setup, thanks to my proximity to Ghosh. It was then Ghosh mooted the idea of launching an English magazine(we even finalised the title as Vision) for the Congress to lift up the spirits in the wake of the Chinese debacle.
We met more than a few times and after the final meeting Ghosh held(when there was a fair strong contingent of leaders from Bengal, Orissa and other states and Ghosh enjoyed a commanding position, I returned home promising a final visit to take up the assignment. It was then I heard the tragic news of Panditji passing away! Thus, the project was shelved.
Thus, once again during the general elections in 1967,Ghosh summoned me to write the election pamphlets. And Kamaraj was then the Congress President. I worked directly under Sadiq Ali.
It was my high noon in power politics. My colleague at the AICC in charge of Youth Congress was none other than my Oxford colleague, Rudolf DeMello!
It was all exhilarating days. Indira Gandhi was the new Prime Minister and she gave us great hopes of much idealistic politics. We, I and Rudolf planned a special Youth Congress issue and featured Mrs.Gandhi on the cover page. That was a much prized issue.
I had remained a Congressman all along.
But today, the party is devoid of any ideological bonding and no emotional bonding either.
The nominees of Sonia Gandhi are all men and women with no public service behind them, they have been party defectors at one time or other and much more than their credibility, it is their competence to hold high offices that had exposed the party to its current inherent weaknesses. I am sorry to say but I have to say the truth, however inconvenient and personally not benefiting to me, that Sonia Gandhi has no innate ability or shown any interest in presiding over the party or guiding its destiny. Sonia Gandhi is no Annie Beasant or Sister Nivedita, the two women leaders, foreign-born and yet they became champions of Indian cause through their self-willed transformation into what they eventually became. I read their speeches included in the volume I referred to above and I was stirred to my very being, their soaring idealism and self-less service.
Sonia Gandhi must ponder over these aspects of her leadership and must take courage to reach out and engage the best talents, best minds, the very many senior and old and tested leaders and workers who have stood by the Congress party and empower these genuine self-less workers and leaders to come and engage themselves in the cause of the country.
At no time, paid civil servants or fortune seekers can be a substitute for genuine and public- spirited workers.
Political participation is a public servi9ce,it is never an office of profit or opportunism of the adventurers and pasture-seekers.
India is now at the threshold of a mature and emergent super-power status.
India has friends and jealous neighbours.
India and China, along with Japan are now seen as the rising Asian powers.
India stands apart. India is a great democracy. India is an open society and a multi-religious society. China is a Communist dictatorship. As Bill Emmot, former editor of The Economist has noted in his latest book, that despite China having three times more GDP, India would be enjoying the advantages of a democracy, a credible and a lot of legitimacy when it comes to winning the confidence and trust of the nations in the world.
The question is whether the current crop of leaders, the ministers and party activists around Sonia Gandhi know what the stakes are and what needs to be done to enhance India's credibility and legitimacy?
I am afraid they are not men equal to the challenges and the tasks ahead.
The Indian National Congress is rightly called the Grand Old Party. It needs lots of rejuvenation. The old party structure, the Working Committee must be recast as to bring in the long-time workers and leaders as members or special invitees. The base must be broadened..
The AICC must be similarly a genuine body, the members must be accountable and elected as far as possible. Today, we see the sons and daughters of the ministers packed as AICC members.
The Congress party is now moving dangerously towards getting squeezed out by the regional parties and regional bosses ,some of whom can be described as just bullies. Nothing less!
Sonia Gandhi doesn't seem to have any clue to the short and long-term consequences of what she is doing or failing to do in the emerging political realities in India. The Congress is almost nowhere in many of its traditional strongholds like UP, Bihar and TN. Here the party is hedged in by strong regional parties or bosses or rendered completely inconsequential as again in these big states. Mulayam Singh Yadav-Amar Singh duo has become Sonia Gandhi's allies-cum-long-term enemies! So too the DMK strongman who rendered Sonia Gandhi almost frightened of him!
So, what for the Indian National Congress today stands for? Has it any long-term vision? Can it strengthen India? Or, would it lead to a weakening and disintegration of the country? Dont forget India was never a one country for any length of time in history. So, anyone who doesn't speak out at this juncture, I feel, is not doing a patriotic duty.
Likewise, the Foreign Affairs Research Bureau must be strengthened, must be headed by a well-educated and well-qualified party worker. Likewise an Economic Research Bureau must be created to formulate the party's economic ideology.
The state-level party must have complete autonomy, as far as possible. The PCCs must recommend and almost nominate the candidates for MLAs and MPs. Just the reverse of the current practices only can do, can only revive the party in the states where it was once the leading political force.
Image Source: rupapublications.com