What use the study of Indian history?
Dr.Sabyasachi Bhattacharya
Dr.Romila Thapar
Prof.Irfan Habib
Prof.M.G.S.Narayanan
Prof.Suvira Jaiswal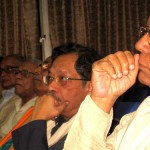 I have just noted down some of the names of the eminent historians now writing in India. This I do for the simple reason that many of the readers of this magazine might not have heard of their names. I have read and still continue to read them whenever I want to seek some clarification of some details on some aspect or some points in Indian history.
Here I like to limit myself to certain few points on which an average Indian reader might seek some clarification or some overview of India's history.
As far as I am concerned, the important point in Indian history writing or for that matter how reading or writing of Indian history might help us, as individuals or as citizens or as a country as a whole is what is the approach to write or study history.
Even the latest book by Upinder Singh(A History Ancient  and Early Medieval, From Stone Age to the 12th Century), historian and daughter of  the Prime Minister all, as far as I know, don't ask any of the questions people like me, the very generalists as against the specialists might be asking.
My questions are: what use writing history unless you really don't have anything new to say on how the present Indian would be impacted by your new specialist knowledge in history?
So, I have come to a stage in life when I like to share what agitates my mind. I was recently in Delhi and had taken some time off to go around and see the old Mughal monuments, Qutb Minar complex, Fatehpur Sikri, of course, Agra and Taj Mahal and the Delhi monuments, from Red Fort to Humayun's Tomb etc.
As I was moving through the monuments where in their complex lie hundreds of tombs and they all evoked a sense of the past and the lives that had gone by.
Will India ever remain a one country?
There have been repeated attacks and wars and I just now read through the pages of Sir Jadunath Sarkar's 'Military History of India". The 21 chapters made me saddened me greatly and I fell silent at many places when I read through the pages.
Then, I recalled the observations made by Prof.Sabyasachi Bhattacharya's lecture at the Bombay University Kosambi Birth Centenary Address.
Will India remain a Civilization? Was it always a one Civilization? Was it always one country? One nation?
Such questions were not raised by the learned  professor, except he recalls Gandhi's Hind Swaraj writing where he, the Mahatma asks: Indian civilization for Gandhi was something he saw as based not on material civilization as in the West and in India it was, as according to Gandhi, based on something like  a spiritual basis. Though it is not made clear in the professor's lecture.
I am, to say the obvious at the very beginning, a bit tired of this uncritical way of using some expressions and some words.
First, the very word, the very expression and the conception of civilization.
Yes, Arnold Toynbee has asked this question and he himself had given some explanations. The rise and fall of civilizations as cycles of rice and fall.
This view was of course contested by professional historians and they did this kind of thing when I was a student Oxford. The galaxy of historians in my time, A.J.P.Taylor and Hugh Trevor Roper and many others were doing this. Even I suspect Sir Isaiah Berlin and E.H.Carr were subscribing to this scpeticism. They had their own reasons.
In India we pay the usual respects to our great nationalist leaders and Prof.Bhattacharya, just does this by quoting approvingly Tagore, Gandhi and Nehru.
Yes, they were great mind, creative minds but their view of India as being a distinct civilization, India being a country of diverse and yet united into one whole and Indian civilization has this distinct spiritual(not ever well-defined) and we always discarded and disregarded the claims to any material basis to our civilizational beliefs.
Now, D.D.Kosambi comes in as his birth century came(he was born on July 31,1907),Gandhi wrote his Hind Swaraj in 1909.
Kosambi I haven't read as a student. But I have read others on him. Recently, the Economic and Political Weekly (July 2008)brought a special issue and I read through the articles with some attention. Romila Thapar, a Marxist historian, says all when she tackles such topics like "outstanding Exponent of Marxist interpretation", Tribe and Caste, Clan-based  Society and State, The Aryan Question, Use of Iron Technology, Buddhism and Trade, Roman Trade and on Modes of Production and Feudalism, Slaves in the Indian context, Feudalism from Above and Below, Indian version of Feudalism, and European models.
I don't want to test the patience of readers and would just conclude my remarks saying this much:
Gandhi ,yes, he wrote much and talked much. All his theories and programmes didn't lead to a happy end. India got freedom after getting itself divided into two halfs!
Is this a great outcome of a great wisdom?
Nehru read a lot and wrote  a lot on history, Indian history and world history.
But did he live to see his  dream fulfilled? No, alas, he lived to see before his eyes, his great hopes for unity of India and China(remember vividly every time when he came to Santiniketan) and this he did every year as he was the chancellor of Santiniketan, he used to tell us, students, that India and China are world's  two great civilizations and the world is safe and the world  would live through a peace process. Alas, the very friends he believed and promoted, Chou-En-Lai and his countrymen betrayed India and China invaded India on flimsy grounds!
I remember Nehru telling us, the listeners in the convocations,(he used to ramble and speak long and  for hours even) that it is not the fault of the Chinese people but that of the China's rulers ,that China did the mistake.
My own Chinese professor, a great man and a friend and close associate of the  poet, Tagore himself, sitting in the audience, he cried and wept  openly in the midst of distinguished guests!
Yes, even the great Tan(Prof.Tan Yun Shan, the founder of the Cheena Bhavan where I was his favourite student),an friend and ally of the great Chiang Kei Sheik and his eminently talented wife and also of Mao, when they were great in their times.
All this and all the visits of India-China bhai-bhai goodwill visits didn't pay!
China invades and that led to Nehruji's premature death! What a pity and what an irony of history!
Yes, we, in this day and time of the present world,(I say to myself at any rate)have to become more skeptical and more circumspect when we start talking on big topics and big themes like civilization, the unity of India, unity in our diversity and also India as a distinct nation.
I am skeptical on every aspect of this debate.
History doesn't give us any lessons in these respects.
For each question, we have start separately and we have to ask specific questions and also stop with some specific answers suited to those specific contexts.
This is what I have learnt about history.
In my humble opinion, professional historians, we need and we need to study them.
But when it comes to making judgments we, the individuals, depending upon the "station in our life" we have to become bold to express them and stick to them, boldly, as leaders and as spokespersons.
Image Source : bahirbanga.org