Government of India must have conferred the Bharat Ratna
Even on his deathbed, he deserved the highest honour!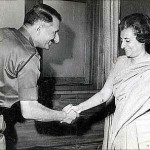 Sam Bahadur as he was lovingly and with much indulgence called by one and all is no more. Salute to his memory. He would be remembered for a long time to come.
It is nice to remember that he chose to live his retired life in the beautiful Nilgiris and Wellington and he now rests in Udhagamandalam (Ooty in the Parsi graveyard along with the side of his beloved wife, Silloo who died seven years ago.
What a life he lived! By any standards it was remarkable and a testimony for man's innate qualities of head and heart, to deploy a cliche!
Yes, there are so many nice things being said of his soldierly qualities and that will be discussed and retold in all military lores.
What has now come out in print and what is not mentioned are very noteworthy.
First, his life was unique. He chose a field in which he reached the ultimate recognition.
Second, his unique way to deal with very difficult situations. The way he handled a difficult Indira Gandhi. His reasons for delaying the launch of attack against the then East Pakistan in November instead of June was very wise. A military genius can't compromise with a hurrying politician.
That part of the story need to be told and retold many times for public enlightenment.
Then, comes the way he was overlooked by that another politician of big ego, V.K.Krishna Menon. He was overlooked and the fooly B.M.Kaul (I briefly met him once in London along with his boss, Thapar when one of Tahpar namesake, my Oxford friend took me to see them in a London Hotel in Mayfair) was promoted.
Third, the way he was honoured by the then British Commander, D.T.Cowan when Sam was wounded and almost died. Cowan, it is now written, saw traces of life in Sam, quickly pinned his own Military Cross Ribbon on to the chest of the barely alive soldiers. Military Crosses are not awarded to dead soldiers. This soldier, says a writer, lived to become the Army Chief in 1969 and India's first Field Marshal in 1973!
There is much to write about Sam and his sense of humour and his very earthiness and humility and last of all what we, seeing from a distance the style and flair  he brought to an otherwise seen as a dull and colourless life of an average army man.
Sam's military legacy is debated with some critics arguing that he was not the principal architect of India's 1971 – a classified document, it can be downloaded from the Internet says the protagonists ever issued an unequivocal order to seize Dhaka.  Both Army Headquarters and Eastern Command "had thought of and made some provision for the capture of Dhaka, but had played safe and issued no formal order to any of the formations in the field" – a not-unreasonable position given the prospect of a United States-backed Pakistani counter-offensive.  Lieutenant-General Sagat Singh and Major-General Gandharv Nagra took "the bit in their teeth and gallop(ed) for Dhaka even before receiving any order."
What thought that came to me uppermost when Sam Hormusji Framji Jamshedji Manekshaw was lying battling for  his life in the beautiful bluehills range in the Western Ghats, was that the Government of India didn't display that rare trait of imagination and rush to his bed side and honour him with the highest civilian honour, Bharat Ratna! That would have inspired the whole nation and fired up the spirit of India as a one nation, one people and one wholly unique character of India as a nation.
Our secularism would have been vindicated in a natural manner, we would have been seen by the outside world as a nation with a great different set of values.
We are a free nation, a great democracy and a great people.
Yes, Sam is no more. We need more Sams in the very mode, more fitting army and more fitting leaders, to take this nation forward.
Yes, we won the Bangladesh liberation war, we gloat over it often and this should be balanced without troubles that continue to this day. An unfriendly China ands the Jammu and Kashmir issue and also the larger issues in our neighbourhood. Let us hope we live to have a leadership, both civil and military, as we mourn the passing away of the much-loved Sam Bahadur.
We send our condolences to his family members. Long live his name and fame.
Image Source : specials.rediff.com