Elusive Terrain: culture and literary memory
By Meenakshi Mukherjee, 200 pages, OUP, 2008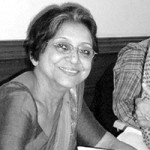 Now and then, it is nice to read a book by specialist on topics like literature and culture. Meenakshi Mukherjee is a veteran academic specialising in contemporary Indian literature. Both in the Indian languages and that is more important than just talking about the Indians writing in English. This is what she has done and enjoyed reading the essays compiled into a book.
Some of the topics might interest many readers. Indian films in English, Internal Diaspora, Hindi to Bangla, Literary debates in India in the last half century, Narrating a nation and history and imagined history etc.
The book stirs our thoughts and kindles our imagination. A very pleasant read, indeed.
Almost all the topics interested me, English in an uneven land, that is the way the English language  has come to occupy a central place in the lives of the privileged and the less privileged. There is now widespread learning and the use of this language and now a new India, those living in the USA and UK and making a new life of comfort and exile, yes, the word exile catches the reality, though the use of the word, Diaspora, I found repelling! At least for me! So, readers would find my use of English a bit old-fashioned, old-fashioned I remain in many other aspects as well, in holding on to my own views of  what English language means to me and also how I hold others who write and make a living  abroad.
As I live in India and committed to the success and failure of what India means and I still see the exiles as a class apart from the native Indians.
I give weight more for the native Indians than for others like V.S.Naipaul who have their own bees in their bonnets.
I am not going into the very specific points raised by the author and that is interesting but the point I want to make here is that still, that is even now, after Britain had departed from the Indian shores, there is this perception that in Britain they don't seem to have come to recognise the Indian literary successes, like Salmon Rushdie and Naipaul as mainstream writers, there is the classifications and categories as black literature, colonial literature etc. There is this racial perception and it seems it is hard to go. She quotes Susan Sontang for writing in the Times Literary Supplement (13 June 2003) saying that English had contributed to the disappearance of many "lesser" languages of the world. I am glad to find Ms.Mukherjee criticises this view. Slave trade first, (for 3 centuries) then, the indentured labour migration saw, Africans and Indians migrate in large numbers and the result is the current race and religious intolerance we noticed in UK and France, to cite just the two advanced countries. There is also the shift in the use of English in India by the new generation to displace jobs in the USA and elsewhere and also the English publishing that sees more English books published in India but not bought by the West but mainly for the domestic readers. She cites a book by Pascale Casanova, The World Republic of Letters (2004) which profiles the racial and other factors that discriminate against writers and literary activities taking three forms, linguistic, literary and political, the last taking on an economic cast.

English writers of Indian origin stand to gain but many also sink without trace after one or two books made the waves. There is also a new trend, a welcome trend in English translations of Indian writers, this trend is boosted by similar successes elsewhere, it started with translations of works by Kafka, Camus and Proust, institutionalisng Modernism (I am yet to grasp this topic) and others followed, from Latin America, now made an international force with books by Marquez, and now other language writers, Czeck(Milan Kundra) or Turkish(Orhan Pamuk),Coelho's book from Portuges, now sold even in Indian cities at the traffic junctions!
The author speculates why our Indian language books don't get noticed even in translations. The reasons could be many.
One is not just bad translations but also  a range of factors like modern day marketing techniques, Indian publishers, even the best ones like OUP or Penguin or any one of the more commercially successful publishers like Rupa or others don't spend money on promotions. Incidentally these publishers, says the author, have sizeable lists of translated novels in their catalogues and a lot more in the pipeline (page 62).
In New Delhi, I find there is not even one decent modern bookshop as we find, say even in other Indian metropolises!
The society and culture in Kolkatta is much better for a book to get noticed than, I would dare say, in Delhi.
When I think of Kolkatta, I want to say more, as I have lived there as a student at Santiniketan and also as a frequent visitor, I find here in the book two very interesting chapters, "His films, Their stories "and" Indian films in English" and they need a discussion separately, if only to show how genuine literature, in this case stories by Tagore and the author of Pather Panchali and Prem Chand. T he other about the films in English made by such directors like Aparna Sen and Mira Nair. I had always sought after Satyajit Ray and also Mira Nair's films and the point here I like to make is, that the writing of literature and appreciating such good literature through films made on the same literature could be a very different cultural and aesthetic experience. Both worth enjoying and appreciating. This is at best what literature and culture is all about! Alas, no space for me here!
The society is very important. Literary environment is another.
Even in a city like Chennai, where English came first and where you find even an ordinary man has a smattering of English, there is simply no literary culture  among the elite, there is language chauvinism, political domination of the world of letters, than what we can find ,say in, Trivandrum or Cochin.
Travels by writers, literary conferences, as we found in the previous generation, there is a write up on the progressive writers conference in Lucknow in 1936, the very starting of the AIPWA in London in the 1930s was made possible for the authors like Mulk Raj Anand Sajjad Zaheer to become known widely.
The case of Tagore itself is an example, how international contacts help. Even now, we see this happen; you stand a better chance of getting noticed by the Nobel committee if you live in London, like Naipaul or at Harvard, like Amartya Sen!
Now, I am straying further far from the contents of the book before me. I enjoyed reading Romesh Chunder Dutt's adventures and his literary creations, both in Bengali and   English. This is the first time I have got to know also of the impact of Aleadander Todd's Rajasthan's antiquities on the Bengali literary imagination. Also, for the first time I learn so many new things about Bankimchandra Chatterjee.
The last essay on Centre and Periphery is also very interesting and I have much to say on this topic, though space constraints limit me. This is a topic, we in India, those who are concerned with not just literature and culture alone can't take interest.
There is one valid criticism I like to make here of the author's approach to study the developments in Indian literature in the last fifty years.
She hasn't touched upon the developments in the respective Indian languages, how linguistic chauvinism, as in TN notably, if not in neighbouring Karnataka and Maharashtra have  curbed genuine creativity, the political class had distorted the value system and thus we see, as in TN, no independent literary elite except as co-opted to the Dravidian illusions. So too the so-called dalit literature as different from the mass literature vs. the elite literature. May be the author is ignorant or fearful to say so or say openly that when it comes to elite literature in the Indian languages, it is always the upper castes and the upper class vs. the lower castes and the lower class! This is politically not correct and is always avoided. Even the selection processes for the Sahitya Akademy awards and even for the Gyanpeeth awards are sought to be severely politically pressured(I know cases in the Tamil literature selections)either you help someone win the awards for the wrong reasons, the creative literature is bypassed and you award it for  some  critical essay on some classics or you get the Gyanpeeth not award the award for someone else for the incumbent Chief Minister makes the  local selection committee recommends his name year after year!
I find the Tamil literature, or translation from the same is not even once mentioned or Tamil literature discussed. This seemed rather surprising considering that of all the contemporary Indian languages, Tamil was the only one accorded the classical language tag!
Why this special honour when you don't find worth even considering any of its current writings worth even mentioning in the all-India map?
As for me, I am more worried about the cultural decay and degeneration where language literature is being politically twisted under some not so honourable a manner.
Literature and culture must have autonomous space to thrive as fully to thrive and make their impact on our life and day to day value system, right? Why don't the academics discuss such more relevant issues?
As for the colonial legacy, the leftover of the slavish mind as derived from our English education and even now after all these globalisation has impacted on our lifestyle and when India is seen as a software superpower?
This even political thinkers and sociologists, and others have to tackle, this Indian mindset, the subservient mindset of us, even after sixty years of independence and much more galling, the so-called elite of this country, those who live off the government favours, the bureaucrats and the politicians and experts (now they are also enjoying direct political power without getting elected!) have added to the common man's perception that we have become men and women thanks to the British goodies!
English language is co-opted for this perception.
This is the great deception Indians entertain to this day.
I was searching for some clues in this book, there are quite a few, and I have to piece them together ,may be on a different occasion, may be in a seminar type presentation, this subject of how literature, in our case the Indian language literature as it is evolving in different languages as well as the ascendancy of the English language both for our creative writing as well as our professional excellence in the IT/BPO sectors and  yet our average mindset is  thoroughly corrupted by the raj syndrome mentality.
Our elite, the practicing elite in Indian universities or abroad as NRI intellectuals contribute to the debilitating disease of a subservient mindset.
How our literature and how our culture, both the classical as well as the more contemporary creations can help us to overcome this debilitating handicaps?
This is the question I like to pursue from where Ms.Mukherjee leaves us!
Image Source : ppthakur.wordpress.com