What Mr.Sharad Pawar is doing?
Where the PM's expertise?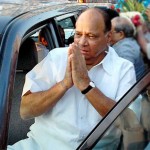 Do these gentlemen and the hon'ble lady or ladies care for the poor and the rural people?
Now, everyone in the government and outside knows that there is a food-prices-driven inflation and there is an element of helplessness and a lot of desparation. Rightly so.
So long there was this fairly high growth rate and Mr.Chidambaram stuck to his one-track policy reform. Promote everything and everybody, be it Reliance or the Tatars who do this dirty job of growing the economy by buying companies or bringing in new investments and where there is an open filed and you enter there and make the most of it.
That is how the so–called 9 per cent growth was achieved. Put in simply, it was the growth that saw almost an unregulated monopoly capitalism having its field day. If you are not a doctrinaire socialist or an equity-morality-driven purist, then it is okey, this 9 per cent growth and India as a success story!
Now, the growth rate had dipped somewhat to 8 plus and inflation is raging still, Mr.Chidambaram's economics had fallen flat and the honble "Doc" is also invisible lately, now caught in the T.R.Baalu mess and the maze of the DMK threat perceptions!
Yes, this is economics and politics for you!

Now, for Mr.Pawar, the agriculture minister, he neither understands the finer points nor appreciates the finer points, is it politics or economics. He is a quick-fix type politician and for him what matters is the bravado of getting things done and getting his political track in place.
These politicians that are politicians like the DMK boss or the likes of Pawar know well that none in New Delhi can destabilise them and that is why they manage to destabilise the New Delhi complacency.
Price rise that too the rise of food grains and the common man's staples is a headache for any government and that is why there is this unease and desperation in government.
Now, the next general election weighs a great deal on everybody's mind and everyone tries to save his or her place or honorific any!
So, the inflation might be controlled in reasonable time, as the FM says, the reasonable time is the election time!
But it is anybody's guess how the electorate would vote this time, given the ground level realities.
There is a massive crisis in agriculture, though the kharif crop is good, it is not easy to control inflation, as the food grains prices is only one part of the price rise. There is the price rise caused by the steel and cement exports and shortages, these sectors are not easy to control, as the neglect of agriculture you can do without doing anything. The farmers are caught in an ever-growing debt cycle but not the steel producers or the cement makers! Steel is a basic industrial commodity and the steel products are exported or imported on totally different trade and export obligations and they play a critical role in our international trade. So too cement.
But agriculture is facing a whole lot of challenges.
There is the declining investment, declining investment, declining bank credit to farm sector. There is environment, climate change, the world food stock, even Cambodia, once a rice basket is now faced with shortages, so too Thailand and Vietnam and these were the world's granaries.
Now, five Asian countries, all major rice producers, Thailand, Vietnam, Cambodia, Burma and Laos are planning a rice cartel to maintain rice prices in the international market, as the Opec does for petroleum products!
Rice cartel is front page news in neighboring Asian countries which import rice! India must have a role and a vision for its rice economy in the Asian rice cartel map.
So, there is a long and short term perspective to the agri sector.
Agriculture is ignored by the urban press, no educated  person likes to know about agriculture or the villages and no English language press would print any agriculture news, unlike in the West where the rural gentry is still strong and they call the election results. Nike here, where Sonia Gandhi or Jyoti Basu(see our last page)can call the shots and get away by talking anything ,any nonsense!
Yes, here we still use Communist ideology or mass appeal, call the names of any opponent and you get the mass frenzy too for a visiting politic9ian from far off Delhi!
That is how rural vote canvassing is done. Hell to agriculture and the nitty-gritty of serving the poor!
So, Mr.Chidambaram this time calls the PSB banks to swap money lender's loans to farmers with the bank loans at reasonable rates.
This is simple nonsense and not workable a solution.
The Finance Minister must draw up a revised, higher target for priority sector lending by all banks, PSB or private or foreign. That is a first step he must take. He knows even if he takes such a step very few banks including the PSB ones would adhere to such targets. But the government must have a clear policy.
The most important policy shift needed now is to create a number of institutional safeguards for the grass roots issues. Say co-op rural credit must be strengthened by strengthening the co-op banks, at the district and rural levels. Such banks must be put under an autonomous management like the NDDB.
We have become almost tired of repeating such positive measures. Because no one in Delhi has the mind or the stomach for serious institution building,
So, as things stand, may be next elections might bring about some change, change for the better. This is democracy and a coalition era where no amount of sane thinking will help anyone to win elections! Or, to save his or her seat!
Image Source : business.rediff.com