His Excellency
Sri Surjit Singh Barnalla,
Governor of Tamil Nadu,
Raj Bhavan, Guindy,
Chennai
Dear your Excellency,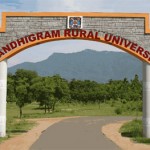 Sub: Gandhigram Rural University, Dindigal-Kasturba Gandhi Endowment Lecture-regarding
I had the honour of being invited to deliver the Kasturba Gandhi Endowment Lecture at the prestigious Gandhigram Rural University, near Dindigal, Madurai on 22nd Feb, 2008
The lecture and the interaction with the students were very interesting and the students seemed highly motivated and so the staff of the Department of Gandhian Thought and Peace Science.
The fact that I was also a friend and follower of the founders, the late Dr.G.Ramachandran was a particular friend and mentor for me as he was a student of Santiniketan and knew Tagore well enough, though I also went to Santiniketan for my education, well after some 30 years very much after Gurudev passed away, this was in the years 1955-59. After that I went to Oxford. Prof.Amartya Sen is my Santiniketan day's friend.
Now, the purpose of this letter is request your good self to do your part to improve higher education in Tamil Nadu which while it is on the forefront is also home for all the ills and education frauds!
Now, even the PhDs are for sale!
One way to improve things is to introduce some self-regulating measures; in Bangalore University they conduct a qualifying exam for the intending students to do P.hDs!
May be some other ways could be found. Of course the nexus between the politicians and the self-financing college businessmen-turned "chancellors and vice-chancellors" is the root of all evils!
There is a delay in choosing the Vice-Chancellor to the Gandhigram University and I wonder whether any routine official-type academic or bureaucrat can do justice to the place which requires great dedication and also great drive and vision of sorts.
The hard part of the job is to find leaders in education! Anyway these are some of my thoughts that I thought I can take the liberty to share with your good self.
Now, I have attached herewith the article I wrote after my Gandhigram speech in my journal. Also, there is the text of the speech I gave at the university. Please kindly go through the same. Also, I have attached the letters I wrote to Vice-President, the visitor to Gandhigram and also to Gopal Gandhi who is a visitor to Visva Bharati.
I have also attached the video of my speech.
I very much like to look forward to call on your goodself during my next visit to Chennai.
With warm regards,
Yours sincerely,
V.Isvarmurti
Enclosures: Magazines & video
Image Source : knol.google.com