The tangible and the intangible factors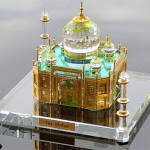 India is seen as an internationally rising economic power. Not only just that perception one gets when one thinks of India as a country of some consequence. It all depends upon who makes this observation. If   you are placed in the USA for your career and livelihood, as most capable Indians today are placed in such strategies bases like American academic campuses or in other services in private corporations as chief executives, as some of our well-known Indian names are doing the rounds, be is in Pepsi or some other MNCs, IT companies, in Silicon Valleys are elsewhere, then you see the Indian brand value in terms of what your peers would approve of or applaud  as your very insightful new discovery or discoveries.
That is how lately, more and more Indians, NRIs, both as holders of American Passport or even holding Indian Passport, you could still be conditioned or under subtle pressure to conform to the American realities and such NRIs, be they intellectuals or just plain high-power executives see India in some America-compatible terms and say India enjoys a high brand value or not.
When it comes to the UK attitudes towards Indian brand value it is plain that India doesn't enjoy any such brand value, except when it is Indian curry masala or Gandhi or Taj Mahal or poverty!
The Brits are the highly pretentious lot and also some sections of the Indian NRIs from the UK, also entertain such distorted notions when it comes to India and Indian icons like Gandhi.
In a recent book on India, V.S.Naipaul, the Nobel Laureate, has made some damaging observations on Gandhi and others. He seems to pretend to know more than what some of the greatest minds like Romain Rolland and others who knew Gandhi and who also know the Gandhi's many virtues and shortcomings and yet they all evaluated Gandhi in such a way that Gandhi today symbolises some virtues that are highly rated even by the orthodox Christians and other religious groups.
India's brand value is both in terms of material and non-material terms and this has to be kept in mind when you talk of India as a brand.
Now, the provocation for such observations came from reading a column by Prabhudev  Konana, Distinguished  Teaching Professor  at the University of Texas at Austin(The Hindu, September 22,2007).
Image Source : objsam.wordpress.com