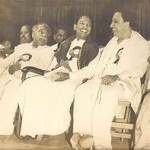 The coming of the Dravidian politics is seen by many uncritical elements as a great blessing.  I consider the opposite is true!  The illusion of Tamil supremacy stands disproved! 
The Tamils' much proclaimed self-esteem is thrown to winds!  At the mere scent of opportunism! A competitive air to surrender to Northern hegemony is running through all these years!  Tamil hegemony is nowhere evident in the thoughts of leaders!  No self-esteem, so pride and no sense of superiority! 
What evidence for Dravidian superiority we find in our political ideology, literary canons or social sharing or integration?  I don't see any touch of enlightenment in any of our political beliefs!
Image Source : maps.thefullwiki.org