Urban development and much of new infrastructure investments only can change rural India's fortunes.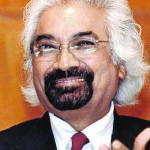 Sam Pitroda, yes, this is the wizard, who befriended Rajiv Gandhi and helped to bring about the PC booths all over India. That was the first telephone revolution that reached almost the rural interiors also. It was later; now, the new mobile phone revolution that had almost changed the very face of India, rural India too was caught up with this new wireless technology. As per the latest statistics India's mobile phone market has been increasing at a faster rate of 2.5 million users per month!
Yes, this is the new revolution that is impacting rural India, not any of the promises like employment guarantee legislation of sorts! Now, back to Sam Pitroda. He fell foul of the V.P.Singh government, that government a bit overzealous of itself banished Pitroda back to his US home turf. Now, back in Sonia Gandhi's good books, Pitroda had been rehabilitated by Dr.Singh with a new Commission, this is called the Knowledge Commission. Now, heading this Commission, Sam Pitroda had come out with his one more brainwave, this time, on rural India. What he says?
India's corporate sector should turn rural India as the back office of urban India! This is real brainwave. Pitroda might have been born in poor Orissa but clearly he is cut off from Indian rural realities. India's corporate sector had never been known for its social responsibilities. They seek profits even in some charities! And more, in a careless way, Pitroda also says": I do not expect the governments to bring about this change. "This is the height of unwisdom! For what else the very government that have given him this job, claims to be in power, in governance? The UPA lays much stress on its claim to serve rural India only, to reduce poverty, to generate jobs etc. So, we can dismiss such remarks by "experts" on the subject of rural India. The trouble is that typically Indians, experts, NRI experts included, don't identify them with the real India that is the poverty, illiteracy-ridden rural poor. We seek kushy jobs, in government, committees, want to life off in govt. bungalows, or better like to live in the USA and come here once a while to give advice and wisdom!
So we can dismiss silly talks, silly advices. The reality is that India is changing fast. There are now many new big projects that have started a momentum of their own. Take the National Highways project. The highway network now extends to 124,000 miles. By 1999, another 28,000 miles of highways at a cost of 38 billion dollars be built. There are optimists and pessimists inside India as well as outside India. First, we must be beware of the foreign media, the US and the British media. The US media could be fatal for India's own self-confidence and our own interests. Now more and more American officials are visiting India, India had signed a deal with the USA on civilian nuclear energy co-operation, there is lot of activity on setting up new nuclear reactors to build up our energy requirements.
Also the Americans know well India, along with China offer big markets so that American companies are likely to expand their business here. But then we in India have to realize that some of the trigger for big projects was given by the Vajpayee government decision to go for the "quadrilateral" highway development project. No one has the generosity to say openly, it was Vajpayee in his enthusiasm announced this big infrastructure project and today this one project alone had transformed Indian road network and also triggered a rural Indian transformation. Better and bigger roads mean rural Indian hinterland is brought into modern transport revolution. Now the highways dot with new petrol pump stations, soon highway stores, eating places, chain stores of all sorts will come and the beneficiaries will be the people who were hitherto were only concentrated in cities.
In fact, one benefit of the highways projects is that now many other infrastructure projects, ports, airports etc are getting more investments and very soon India must boast of world class metro railways in cities, as in New Delhi now, and also world class airports in Bangalore and Mumbai and New Delhi, besides Chennai.
There are now six lane highways, 56 mile one near Jaipur. The highways had now become India's newest big infrastructure asset. The American magazine, the high-cost magazine calls this "India's success story"." This lighted the way for an infrastructure revolution". The nearly 3,750 miles of highway have been built since 1999.More is underway on a 25,000 mile highway, from Srinagar to Cape Komarin down south. Five more phases at a cost of 40 billion dollars is envisaged. Maj.Gen Kanduri, the minister put in charge emerged as a hero. Like his counterpart in charge of Delhi metro E.K.Sridharan. Most contractors are foreign, from Malaysia. The difficult part is acquiring land for such big projects. In fact, the problem of changing the rural India's fortunes is hinged upon how to enable investors to acquire the needed agricultural land before thinking of projects that would bring in the urban facilities to rural areas.
In down south, in Bangalore, the Silicon Valley of India, we see a latest manifestation of how politics can spill into real development. Mr.Deve Gouda, the former Prime Minister and now a coalition partner in the state government had thrown a spanner in the development debate by questioning the government's wisdom to allot large tracts of prime agricultural land for IT firms. He turned the land acquisition of land for industrial development into a poor vs. rich, rural vs. urban debate. This is unfortunate. In Rajasthan, the Chief Minister, Raje wanted to create a new Special Economic Zone (SEZ).She says that the SEZ would change the face of Rajasthan, making it a destination for hi-tech investment".
A proposed Rs.10,000 crore and a potential for creating 1,00,000 jobs. But then, as can be expected, a big political jealousy and rivalry broke out. Farmers had been given wrong feedback and farmers are now demanding impossible prices and terms to part with the land. The same was done in Karnataka. The very same trend we can see in West Bengal where the CPI (M) Chief Minister promised land for an industrial township, an SEZ and when the foreign investor came to Kolkatta, the irresponsible Mamata Banerji, the leader of the miniscule party stormed the gates of the fiver star hotel where the FDI men were staying in what in her view is a good photo opportunity to be see as a fighter for the poor.
So, the question of transforming rural India is not through creating more jobs in rural areas, as experts like Sam Pitroda, are imagining. In fact, we need to kill this mindset that seems to me an over-done falsehood! Rural India can be transformed only through big, large scale infrastructure projects: highways, ports, airports, more power plants, more nuclear plants, more SEZs. There are now about 30 SEZs in the pipeline. So are so many new development projects like the food parks.
Agriculture and food processing is a much bigger opportunity area than  the Indian IT, says Ravi S.Deol, president and CEO, Field Fresh Food Pvt. Ltd. This is no ordinary company, readers should know. This is a 50-50 joint venture company of the newest rich India, Bharti mobile phone fame man and the Rothschild Group-controlled ELRo Holdings India Ltd. This joint venture talks of what is lacking in infrastructure. Supply chain management facilities, the presence of middlemen everywhere. All this has to change, they will go away and new technologies will transform rural, agriculture scenario. A tomato changes had 16 times!
India has only a 1.6 per cent market share of the 520 billion dollar worth of food processing market worldwide! Some of our states have unique agricultural strengths. Karnataka a large horticulture state with concentration of such produces like onion, potatoes, grapes, mango etc. West Bengal is the largest producer of vegetables, says S.S.Ahuja, principal secretary, dept. of food processing and horticulture. There are still states that haven't woken up to the opportunities in food processing and also horticulture.
All these are bound to happen. But let us not lose sight of the big picture. It is urban India, the rapid urbanization, the urban migration, the  large highways projects, new revolution in civil aviation, air cargo, ports development, telecommunication  revolution, the IT tools, in information kiosks, e-governance etc that are going to change rural India from an area of darkness to a play of light  and sun and much a cheerful living space.
Image Source : hindu.com