Life after the Nobel Prize
Or, an afternoon at Santiniketan!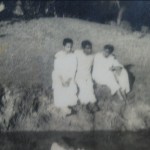 Why this title! The other day I was speaking to my long-time friend in Santiniketan. What can you do when you are caught up in a remote village where you don't have Internet Broadband connectivity. Accustomed to live in hightech Bangalore where latest technological gadgets are our daily lifestyle, a lone telephone wire in a remote village could be sometimes a nightmare!
The only laptop was engaged and the Internet access through the telephone was taking all the time. So, when a chance came, I used the phone to converse with my long time Santiniketan lady friend! Oh, it was such a pleasant long distance conversation one fine afternoon!
She was my class-mate both in my degree as well as the Chinese language courses. This was during the Fifties, to be precise, from 1955 to 1959. Those were my best years and my intellectual as well as my cultural sensibilities were getting shape and the atmosphere was quite stimulating. My friend was from a Bengali family long settled in Indore in Madhya Pradesh and she was one of four sisters and all the four had come to Santiniketan for education as well, as perhaps, getting suitable life partners! Though I was innocent of so many things in life at that point of time! My friend and her one sister were both in the Chinese class and thus, I became a close friend of this foursome and I was also friend of so many friends from other parts of India, boys from Gujarat to Punjab to Assam and also from many South Asian countries. I can count so many as my close friends, they are all still live before my mind's eye! Friends from Indonesia, Vietnam, Laos and Cambodia, far off Mauritius and one Egyptian couple in particular became close friends of mine. Among my 'girl' friends, so many come to mind! The other Bengali boys and girls are so many who were my close friends. Prashanta Banjo is one name I can still recall. Though other names I had forgotten I remember their faces all! The girls, from Bengal, Punjab, Assam were also known to me and we all moved and lived as if members of one family.
Yes, that was Santiniketan for you! Among the girls who became closer because they interacted with me in so many roles. Anjali Sirkar became my debating partner! Thus, she remains in my memory and my debating interest started in Santiniketan and ended at the Oxford Debating Union. So, whenever I meet this friend, Reena Ganguli (she was originally a Chatterji before she got married) and I had now met her some two or three times, in Pichanur and in Chennai, I used to ask for these friends I had not seen after I left Santiniketan. Prashant Bhanju had now become a renowned Hindustani musician as his father was the Principal of Sangeeth Bhavan, music was in his veins, though he formally studied economics with me. Reena and her sister Leena (she now lives in Canada) were my class-mates in the Chinese class, as I had said. The Chinese class brought me into close contact with a remarkable Chinese family, the family of Tan Yun Shan who was the legendary figure, a friend of both the Chiag Kei Shek as well as the Maotse Chung.
Tan's one of the sons, Prof.Tan Chung( he now lives in the USA) is my lifelong friend. And for many years whenever I visited New Delhi I used to stay with his family. He was Professor of Chinese language both at the Delhi and the Jawaharlal universities.
He left India for good and settled in the USA and this time I found out his address from this friend.
She lives not far from the house where Amartya Sen, the Nobel Laureate, lived with his parent when I was a student there. So, I asked Reena: "What is the latest news about our Sen?" "Oh, he was here last week! He came to visit his ailing old mother and he nearly spent a week and left." "Did you meet him?"
"No, he was too busy, you need to fix up an appointment with him …"
"Now ,tell me what is doing now? What are his current pursuits?"
"Oh, he is too busy with so many projects, writing projects.."
"What are his current priorities? Does he write anything on China? What about your own interests in China? You have been in China, after we all dispersed, I went West, you went to Beijing.. How current is your knowledge of China affairs? I'm just now reading through a latest book by an American journalist, Thomas Friedman, the New York Times journalist and he has much to say on India and China.."
"No. no.. As far as I know Amartya is more into Gurudev (Tagore) kind of humanist thoughts."
"You see that it is becoming a fashion and lately an obsession with all sorts of people to compare China with India. I really don't understand how much of IT industry entrepreneurs' idea of China is really insightful. So, I want to know your own insights and also Amartya's as he had also been talking about China in so many ways.."
"Yes, I had now friend who studied Chinese here and then went to Beijing and he was recommended by the Indian Ambassador to China? You know Nambiar, and he put him with the Tatas. Tatas sent him to China and he keeps travelling between China and Bangalore and Hyderabad. He meets me often and I asked him to look you up in Bangalore and in fact he was keen to meet you and this time surely he would bee meeting you and he would give you all the China news you are looking for!".
The my friend said: "You see China is growing fast. The Chinese say so many things about India. In India, they say, giving bagsful of money in bribes even don't speed up matters. You know, the Chinese won't rurst anybody in the world…."
That set me thinking! I had moved with some good Chinese families, all of Tan's sons and daughters I know. Some are also married to my close friends! I know this family and from all my long years of friendship with them, I am not sure what to make of their mental triats. This Chinese family seemed to me so innocent. Yet, not a day passes when I read about the other side of the Chinese character. Nehru trusted the Chinese and lost everything he stood for by the Chinese 'betrayal'.
Just now I am reading a review of a latest book on Mao (Mao: The Unknown Story by Jung Chang and Jon Halliday). The lady is a Chinese and the husband is a foreigner and she had lived through Mao years and had first hand experience of the atrocities that took place. Mao in India is still not assessed openly. In my time at Cheena Bhavan at Santiniketan Prof.Tan used to speak warmly Chiang Kaishek, as he was a friend of that great leader and he was instrumental in setting up the Cheena Bhavan. After the Reds took over China there was a break with Cheena Bhavan. So, when I was a student there (1955-1959) all the visitors to China and from China spoke warmly of Red China's great achievements! We as student believed them. It was only after Chou enlai's visit to India in 1958, when he came to Santiniketan, he visited us, students of Chinese language class and I had the privilege of shaking hands with Chou! So, after this visit a new chapter was opened ,Prof Tan was invited and he made a famous visit to China and met Mao and other great leaders.
After coming back from China there was much activity and there were so many exchanges and that was how my batchmates of the Chinese language were all sent to Beijing for further studies. Prof.Tan was keen I went to China! I was ,if I can say so, the brightest of the lot in the class and as such I was the chosen one to make the China visit! But I had a different idea. I was keen to go West, to Oxford. So, my other friends got the chance to go to China. Thus, I had so many friends who knew China first hand and they used to give me their versions.
China needs to be studied and understood in perspective by Indians of this generation, at least.The new biography of Mao brings out in enough detail the enormous human costs of Mao's many brutal acts. 70 million people perished, a figure that exceeds those who died in the second world war! Famine and starvation killed 38 million. "Mao, an ignoromous on economics" says the reviewer who also has first hand knowledge of China. "Educate the peasants to eat less" Mao decreed!
The cultural revolution saw 3 million died. Post-Mao leaders of China stated that 100 million suffered because of Mao's irrational acts. Here, my purpose is not to evaluate Mao or other Chinese leaders. My purpose is to bring home to Indians that when Mao came to power in 1949, he was 55, as Nehru was in 1947. Now, it can be said that Mao never cared to respect Nehru or Gandhi. Nor, as the new biography shows he cared to respect any world leader. He had his own "duplicitous" ways, he was simply ruthless. "He was a leader without law or limit"
I wondered: "whether even today our so-called China experts, who range from Amartya Sen to Subramanyanswamy to so many diplomats, scholars and others enlighten the Indian public about the true nature and importance or otherwise of the new China with which India is now interacting.
What we know for sure is that the new crop of leaders, China's Prime Minister Wen visited India give the impression China wants peace with India. But it is also true that China is still behaving like an odd man out. We are told by none other than former diplomat to Pakistan China is still helping Pakistan in its missile and nuclear technology front. Is this the way for a great country like China to serve world peace? By helping to spread the nuclear weapons technology?
Of course our leaders have to be diplomatic. But what prevents our intellectuals to debate freely.
It is then I wondered that Prof.Amartya Sen, after winning the Nobel Prize, must share his thoughts and anxieties for a peaceful world as much for a prosperous and equitable Indian society. Unfortunately, our great intellectuals, most of them NRIs, cosily settled abroad. They neither speak freely in USA/UK or they speak freely in India! What is this freedom of the intellectuals. Lately, I found from a friend who is a citizen of his migrant country (I cant name it) told me that sometimes Indian government revokes the Indian visa even for visiting Indians under some pretext or other! So, he told me (or I understood so) the visiting NRI academics don't express their opinions freely for fear of antagonising their mother country!
I don't know how far this is true. But I know for sure that we Indians are still immature, we tend to believe our government, official versions and until something hits us, we go all the way with much of government's foolhardy acts too!
My opinion: given the type of leaders we have now in power and in Opposition, Indians cant feel secure that our government knows the issues better than its above- the- average citizens!