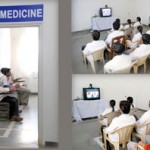 Tele-medicine should reach India's remote areas. The budget makes generous allocations for education. But not enough for health. The allocations in the budget for national rural health mission allots just less than Rs. 2,000 more ( from Rs.8,420 crore to Rs.10,280 crore).
We have a non-speaking Prime Minister and an over-talking Finance Minister.It seems that we have to amend our Constitution that should mandate the Prime Minister, besides being the chief executive of the government must also be an educator! The PM must be talking, talking and talking! Like Gandhi and Nehru in the earlier generation, we need our leaders first be educators. We have to educate more so now, not only the masses but also the various vested interests!

Yes, if you see the basic statistics for education and health the per centage of GDP that goes into the social sector is very low,even after 60 years of Independence.So, the very high rate of health indicates of our poor health levels. Now, the happy news is that though our governments, including this one, haven't done anything radical to reach education and basic health to the very poor in rural areas, there is high absenteeism among teachers in schools, doctors and health workers in primary health centres, nothing can be done to improve matters.
It seems that we have to amend our Constitution that should mandate the Prime Minister, besides being the chief executive of the government must also be an educator!
Why? Apart from anything else, there is local politics.The ruthless criminals-like State level polticians, see the large States.
Thank god there is Presidential rule in Bihar, the 9th time, and it should do some good. So caught between the devil and the deep sea, we have to save our democracy from the current crop of so-called" democratic" criminal-politicans! Now there is independent developments in the health sector.
One is the coming of the market-driven corporate hospitals. In Chennai-Apollo hospital for instance, you can see a cluster of Bengali patients who have booked rooms outside the hospital for staying and getting medicare from Apollo. They come from the far North, from as far as Siliguri and other North Bengal districts. They come why?The latest medicare is available only in Chennai city hospitals! So the coming of the corporate hospitals is now driving quality medicare even for the vast poor. The poor are willing to spend money if quality medicare is available. This, the quality medicare is not available in government hospitals!
Along with the corporate hospitals, there is now the "telemedicine, thanks to ISRO initiative, to make available advanced medicare to grass roots. The ISRO telemedicine project is established in nearly 100 hospitals. 20 of these are superspeciality corporate hospitals. The others are district / taluk or trust hospitals. One lakh people have benefited from tele-medicine. Even inaccessible areas like Andamans, Northeast are connected. One more development is the IT applications in medicine and telemedicine. It is here we need literate politicians! Do you know that some critical health budgets are not spent?
In cancer care and other areas unspent budgets are a scandal! But we have a govt. that can't reward performing ministers and punish unperfroming ministers! Do you know? Lessthan 2.2 percent of a typical hospital budget is spent on IT applications!
Hospital Information Systems (HIS) is critical for best health care.There are motivated initiatives from individual hospitals, Narayan Hrudhalaya, Wockhart, Bangalore are outstanding examples.
One more point. The big corporate hospitals like Apollo and Manipal have also become more like govt hospitals! Small, human scale corporate hospitals like Sagar Apollo, Mallya, Bangalore Madras Medical Mission, Chennai give a better quality personally attended health care. Indian healthcare system is changing.Private-public partnership concept is needed more in healthcare than in other spheres.
Image Source : kleayurveda.org