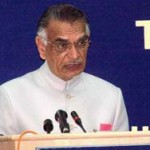 The recent Malegaon bomb blasts had one fall-out. The home minister, Shivraj Patil, seems to have come out poorer in the wake of Sonia Gandhi's personal visit. So, there is dissatisfaction and now the news reports have it that Sonia Gandhi has decided to replace Patil.
So, the announcement by the PM about appointing anew foreign minister also coincides with these developments in Cabinet reshuffle. In the expected changes, there is also news about the agri minister Sahard Pawar losing his coveted portfolio.
The replacement is also likely to be another war veteran, this time, Mr.Ajit Singh, son of Charan Singh, the Jat leader and a champion of the kisans and what is significant in the cabinet reshuffles is that a person becomes a Cabinet minister, not because of his competence but by his political use. Ajit Singh had played the political game in the name of kisan politics. As an heir to the Jat lobby which is so powerful in the Northern States, more so in Western UP and also in Rajasthan where Mr.Natwar Singh is also identifying himself with the Jat lobby. So, in a political calculation, the Jat lobby has to be won over and Natwar Singh must be held in check and so Ajit Singh fits in well with the strategy. Ajit Singh is a past master in party hopping and for him the portfolio if a perfect fit, considering that he had already held charge and also he can use his official position to further advance his chances in the politics of the most important state, UP.
UP is the most difficult territory for the Congress, which is in number four position, after SP, Mayawati, and BJP. So, Ajit Singh might help the Congress? Not likely, considering his own cynical approach to politics.
Compared to Singh, Pawar is too much of a more competent politician. Pawar and Singh are known to this magazine and so we are a bit embarrassed to comment on their respective strengths and limitations, though in the larger interest of the future growth of the agri sector, we owe a duty to the country and the farmers themselves to make some judgments.
Agriculture has never been an easy portfolio. It had seen much causality in the past. But there have been some rare exceptions like when it was headed by Jagjivan Ram and later more famously by C.Subramaniam. But in the current context, Sharad Pawar is the best bet. He knows the subject so well and he had proved his competencies in so many ways. Maharashtra's agriculture advancement can be ascribed to one person, if any, and that is solely to Sharad Pawar.He is a legend in his home State, more so in Baramati,he had created a mini-rival to what the redoubtable Kurien had done in Anand.Baramati is the model for any future shape of the agro-industries based agricultural modernization. So, knowing Pawar's clout, in his political and managerial skills we can't be blinded by the current setbacks in agri sector, which may not be wholly Pawar's making.
But public perceptions persist.
First, the Vidarbha farmers' suicides would haunt the present government till at least the next general elections. If at all, this government is unseated in the next elections, it could be solely on its neglect or its helplessness in the face of the mounting farmers' debts and farmers suicides that refuses to stop. PM's much-publicized visit only came as a cruel reminder even the PM couldn't do anything.
Second, the decision to import wheat, after 8 years of successive self-sufficiency, the BJP govt even managed to export wheat and rice! So, it is really humiliating for the present government to see the agri sector exposing its failure.
So, what to do?
To blame Pawar alone is wrong. But then partisan politics, coalition works in some strange ways. If a coalition partner is proving inconvenient or useless, then you have to blame somebody else or some issue as the cause for change. Pawar is also a Prime Ministerial material. He can swing the allies, at least some among them and he has friends in all parties, inside the Congress itself his friends are a good number and even the Left could come round to support him. Such is his reputation for political maneuvering prowess. So, one can't treat Pawar lightly and more importantly he has a mass base. How many among the senior Congress leaders who are now in office can claim any mass base. Practically none! That is one reason they are accommodated in office! That is how power politics, real polity works in the present coalition calculations.
Ajit Singh as agri minister to be accommodated? And as for Ajit Singh too we can't write him off lightly. He has his own Jat caste base in Western UP. He is also keeping the minority vote bank, at least some among the Muslims under his own inner coalition of sorts. He is much more adept in changing parties and coalitions and this he had demonstrated amply. So, his joining the present government, from the point of view of Sonia Gandhi, might add to her clout in her UP ambitions. UP is the much more difficult State for the Congress as well as for the power calculations in Delhi. As it is, Rahul Gandhi is being projected as the sole custodian of Congress interests in UP. This is a tough calling. So, whoever comes from the Mulayam Singh stable, Ajit Singh now, is a welcome change. At least in the short run.
So, a reshuffle of the Cabinet, if it comes, could be a minor one or a major one. But this has to come only when Sonia Gandhi feels confident enough to change her top names in a new order of broad consensus. Anyway, home minister must go. There would be no tears for Patil, given the nation's mood in the context of almost repeated blats in the last few months. As for Pawar, it is again a calculation that has to be made when you go for elections in the States. Surely, farmers' suicides would become an issue and also the rising prices of all essential commodities, mostly agri and food articles.
So, farmers suicides, mounting farm debts, rising food prices, wheat import, the continuing fall in agri production all add up to a near recipe for claiming Pawar's head! Or, at least taking off some portfolio like food and consumer affairs and handing it over to a separate hand also could make a difference.
Jagjivan Ram as agri minister
It was a golden period!
"In another reshuffle in January 1967 Jagjivan Ram took charge as Minister for Food and Agriculture, Community Development and Co-operation. On the day he entered Krishi Bhavan to preside over one of the most vital Ministries of the Government of India, it rained heavily. It was a good omen!" His years in the Food Ministry were a boon to the country. His new plans for food production and procurement led to wheat production, from 12 million to 23 million tonnes. In history of no other country in the world a particular crop has doubled in just four years"
Devendra Prasad Sharma, Jagjivan Ram, The man and the times,1974.
Image Source : practicalaction.org