Contrast the Food Processing Ministry with others!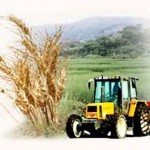 It is agriculture that doesn't make news for the right reasons? It is in the news for the wrong reasons!  That should explain the failures on the agriculture front. We are saying this with a sense of mission, with a sense of sorrow and with a sense of rage! Yes, now we are told that the 52 Food Parks that were set up with such fanfare, as the new big thing in taking agri/food industries forward had all failed. Now, we are told the Central Government would "revisit" the subject!  We have been making the points more often. But who bothers?
We have written to Sonia Gandhi and wonder whether she ever sees any letters from the public! At least we send her our magazine along with our letter. There doesn't seem to be any indication she had ever seen the letter or the magazine! Simply, the Government is very complacent or very insecure! Either way, the government doesn't function as a normal government should function. Unless the government gets the feedback, especially in a field like agriculture, the vast geography, the vast mass of the poor so unevenly distributed in so many inaccessible pockets, how your various schemes would really function in a proper way.
We are often amused to see the lacklusture ad put out by the Food Processing Industry Ministry outlining the various concessions. But for what use? And the only success the Ministry brags about is the presence of "all big players".! As if these MNCs would solve the problems, of job creation.
The Food Parks failed because, as we see, there is no vision. There is no hands-on approach.
The various new generation technologies for the various food processing sectors are not simply there. We have been working in this area, we know well that Government funded institutions like CFTRI, Nabard; Agri Universities don't generate commercially viable market-driven agri/food technologies. We are searching the Google all the time and there is no single new Indian breakthrough in any of the new technologies.
We are a bureaucratic government,  we don't see any new concepts or new ventures indigenously happening. We hear so many watchdogs for other sectors. For IT we have the Nasscom, all the time lobbying.  We too must have Food Parks as SEZs and integrated townships, we need comprehensive incentives to draw the new generation entrepreneurial talents to come into such 10-year tax breakthrough zones and enjoy so many incentives to start new ventures in the agri and food sectors.
Bank funds are a big problem. New technologies, it is near impossible to convince the banks or the so-called experts who are either academics or bureaucrats. They are not practical persons or willing to listen. Instead, we have created a situation where we see the irony of not even enough tenders to import wheat into the country! The same old foreign monopolies, seeking a ransom to supply wheat at  200/210 dollar a tonne!
We don't want to take on names. It would be futile.  What we want is: come out with a 10 year tax break for any company or individual who comes out with an agri/food industry in the Food Parks. Or, create or allow declaring any zone as SEZs, so long there is a business plan to develop the agri sector.
Even Consultants must get this status. Otherwise, who will put their time and energy in a sector where there is no money! Even the routine BPO work earns handsomely! We talk of a competitive economy, we talk of Public-Private Partnership, but where are the new success stories?
All we say is that at least please listen to us who are in this game! Otherwise, we have to only count our luck and shed tears for the one lakh farmers who committed suicides between 98-03.How sad and depressing!
We hope the VVIPs in Delhi read this page!
Image Source : indiadaily.org