Kamaraj as  I knew him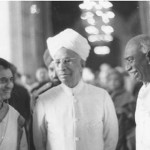 Kamaraj had played historic roles in the evolution of modern India. In Pre- Independent India he built up the Congress Party in Tamil Nadu as a strong well-knit organisation. In post-Independent India he became a role model for efficient administration. His Chief Ministership took TN to the forefront of development. He introduced free education, free meals scheme which now has become the education development model for the whole of India. The author had the rare  privilege of working closely with Kamaraj for well over a decade till his last days. Here he shares some rare information and insights.
Kamaraj as President of the Congress party
It was at this time I came into personal contact with Kamaraj! I was drafted to the AICC assignment through my Bengal contacts by Atulya Ghosh, the then Congress Treasurer.  As I was the only Tamil speaking AICC political expert and as I was always active in AICC affairs, I used to visit Kamaraj at his residence almost every evening to be with him.
It was  the time when visitors, more so the journalists and favour seekers would throng his residence, I  came in handy for Kamaraj to answer some of the queries and also communicate with him all sorts of matters and information. So,  I was eye-witness to some of the dramatic events too.
Like how Kamaraj under the influence of Ghosh dismissed the later-Bangla Congress leader Ajay Mukerjee. The man was so hurt and he left with such disillusionment. So, the entry of the CPI(M) into the Mukerjee Cabinet was facilitated by the arrogance of the Congress leaders! My colleague in the AICC was also another Oxford friend of mine, Rudolf De'Mello, who had lived long in England and he became friend with so many, a long time friend of V.K.Krishna Menon and others. It was through him. I came in to contact with the formidable Menon!
Rudolf was the Secretary of the Youth Congress I had met so many leaders in the Youth Congress including  the now senior -most leader N.D.Tiwari and others in Rudolf's company. Rudolf was particularly close to Mrs. Indira Gandhi as he produced one special youth Congress magazine with Mrs.Gandhi on the cover. It was in the company of Rudolf. I had  met Mrs Gandhi at her residence as well as at the AICC. In those days all the Congress Leaders, giants of men as well as the meek looking Mrs. Gandhi would dutifully troop into the dilapidated AICC building for the working committee meetings! We were the ones to stand by them and supply them all the help and see that the CWC meeting went through smoothly.  She was pleased  with Rudolf's boost for raising her initial image. And later she rewarded him as Ambassador to Cuba. (That was another interesting story).
Rudolf wanted a Lok Sabha ticket and he asked me to take  him to Kamaraj. I did so and as it was my wont, then as now, I boldly told Kamaraj :"My friend Rudolf is from Goa and he wants the Goa Lok Sabha ticket "To which Kamaraj said:" He is too young ;he can wait" May be I might have said the same things to Kamaraj on several occasions! One day when we were alone Kamaraj  asked me:" Where do you come from Tamil Nadu? "I just said: "Pichanur village" He was taken aback! He for a moment looked blank at me:"   Where is the village?". I said:" Sir, You could not be knowing. It is the last village on the TN-Kerala border on the Coimbatore- Palakkad road! "He got back to his self and he smiled with some sense of "defeat"!  Yes, he had the legendary reputation of knowing each and every village in TN! But it is not his fault that my village was so remote and so out of his way! So, I now often boast to visitors to my village: "My village has the distinction of being unique,  you know why? Even the great Kamaraj who knew his state as if on his palm, didn't know my village"! So, my acquaintance with Kamaraj blossomed into deep loyalty and remained a fierce loyalty to his end!
I was reading through arecent biography of Kamaraj  by one young man (whose father incidentally was a long time friend of mine). The book: "Kamaraj; an epoch" by A.Gopanna. The biography is quite detailed and covers a wide ground. The first two chapters I read for the second time. And I must confess, made me sick! It is all about Kamaraj  vs Rajaji, I  had written about elsewhere.
I also don't want to go into so many small and boring details of the outcome of the 1967 elections. Kamaraj was in a despondent mood and he was in Coonoor in the Nilgiris when my election to the Madras Legislative Council,in 1968 in a fiercely fought election from the Graduates Constituency was announced. It was said, Kamaraj remarked "He is my candidate!" I started on a political career inside the august Council with giants of men and achievers as my colleagues with the legendary DMK leader C.N.Annadurai the Chief Minister. My encounters with Anna elsewhere.
The Congress party yesterday and today engages my thoughts. Indian political unity is just a recent historical experience for the people. The long history of diverse cultural traditions and regional powers made India a slave country for 1000 years. So, the rise of nationalism was fostered by the Congress party. On Kamaraj (1903-1975), the great leader of India and the Tamils, I write at a time when his name is almost forgotten. Even by his own self-proclaimed followers! The Tamil Nadu Congress Committee, TNCC, once  synonymous with Kamaraj in the public mind, is now a different entity. So, what I see now? The Congress party which he nurtured in Tamil Nadu so assiduously for so long, almost his whole life, also when he rose up as the President of the Indian National Congress when Nehru was ill and on his last days, Kamaraj towered over every other political leader in India, except Nehru. Yes, such was his stature in those days. I am speaking of the years when he resigned his Chief Ministership. I distinctly remember the day when I was standing outside the Rajaji Hall in the Government Estate just off the busy Mount Road in Chennai.
I was fresh from England, just two years ago, I was already a full-fledged Congress member. I also remember distinctly the day  when soon after arriving in Coimbatore from Oxford I enquired from a local person where the  District Congress Committee office was located! He showed  the narrow lane through which I reached the office. Kunniah, the old Congress tyagi, a humble worker, he was the secretary and I enquired whether I can become a full time worker straightaway. He said I can't but I can just then enroll myself as an ordinary member. I think it was just four anna membership. I still have the receipt! I also got hold of the form that I can later enroll as a full-time worker after I myself enroll so many minimum number of others as party members! So, readers can imagine my ardour. This I will write elsewhere, this ardour I nurtured ever since I became so enomoured of Nehru's personality whom I saw him every year when I was a student at Santiniketan.
Now, after Kamaraj announced his intention to take up Nehru's wish of he becoming the Congress President, Kamaraj was really at the top of the Everest! He became the king , not just the King maker. Now, I was also very much in Delhi around this time.
In 1961 I returned from England after a daring travel that took me to Sweden, Finland and then to Soviet Russia, I landed  by a Russian ship in St.Petersburg (then Leningrad) and then  travelled by train to Moscow and from there I flew to Uzbekistan, I landed in Tashkant. From Tashkant I flew over the Hindukush mountain and landed in Kabul, the capital of Afghanistan. From there I travelled via Khyberpass to Rawalpindi, then by train to New Delhi. In Delhi I was very keen to meet Nehru, my hero for years and the purpose was to announce in his presence I wanted to work for the Congress party and India. I often wonder: if only Nehru had been in town that day my destiny would turned upside down! May be, I now comfort myself saying to myself: "Destiny willed otherwise. May be I was destined to do the things I had done so far and may be I would be doing in the years ahead" Who can say these things in such certain terms. I have changed lately a lot, my mind had mellowed or evolved? I am not sure. But I know well, at least inside me, that I take long views, look back and also look for into the future.
So, whenever I think of Kamaraj who was my leader in the post-Nehru phase till his last moments, I tend to take philosophical views. I returned to my village, Pichanur though I was located in the village I used to travel almost every few months to New Delhi. Visit to Teen Murti Delhi, I thought was my destination and destiny. I didn't meet Nehru soon after my return as he was out of town. I remember the visit to Teen Murti House and the entire length of the walk I made to meet my hero and also the walk back. May be next time, I told myself. In 1963 or early 64 I had a call from my Bengali friend in Delhi University. In fact he was at the Institute of Economic Growth. Dr.Ashish Bose, India's well-known demographer-economist was married to my Santiniketan class-mate Manju. It seems Atulya Ghosh, the then Congress party Treasurer had asked Bose whom he knew earlier to get one qualified person to edit a to- be- started English language monthly to propagate the Congress party ideology. So, I duly arrived in delhi. The first meeting was held at Atulya Ghosh house, the others present beside me and Bose were all big leaders who all later became Chief Ministers and Governors! The name of the magazine also was tentatively fixed. The title was to be called "Vision"!. Perhaps to please Nehru, the one and the true visionary! So, with all the details finalised I came home for a break. It was while I was standing one day in Coimbatore town (the place and the time I still vividly recollect) someone said: "Nehru expired"! I ran to inform one friend. Just before I entered the office, I saw a cobbler on the roadside shedding tears already! So, the vision project was stalled.
Though Kamaraj was the President at that time I didn't meet him. Atulya Ghosh was the boss of the AICC and Kamaraj when I was there all those few days never visited the office. He conducted the affairs only from his house. So, came the 1967 GeneralAt the AICC This was in 1964 onwards. Only after I started working at the AICC for some  six months or so then I resided in the nearby YMCA Guest House on the Jai Singh road and I used to walk up to the 7, Jantar Manatar Road  AICC office. It was then I became known to him and in fact in the thick of action when the big leaders would all strode into the compact ground floor where the Working Committee meetings would take place.Mrs.Gandhi used to come and so also Morarji Desai and others. Gulzarilal Nanda was my favourite leader as he was running the Congress Forum for Socialist Action in which I enrolled myself as a member and there was a long correspondence with him even after I returned to my village.Sadiq Ali was the General Secretary, my immediate "boss", so simple and unassuming and he was humble enough to request me, an Oxonina, to correct his English!
In fact, I remember till this day Moaraji Desai was so simple and so unassuming that he would stand near me before the meeting started when we were receiving and seating the visitors one by one.Desai used to engage me in some coversation or other and he was so ordinary looking though I didn't know at that time there was steel inside the man! Atulya Ghosh was as heavyweight and a tall  leader as Kamaraj was and the two made a formidable combination  at the AICC. We,  under these two leaders believed the AICC ran the Congress party and also the government. AICC at that point of time was a body of highly dedicated leaders who all came through the long process of political evolution. AICC was located in an old building and the facilities were few and yet there was this collective belief in a shared destiny for the future of the country. I felt it was my natural evolution in the Indian politics. After living at the YMCA for sometime I shifted to the Western Court, the imposing building of the British era where India's great leaders had stayed at one time or other. When I went to live at Western Court my room was so big and imposing and when my friends called on me they were over-awed by the very imposing  rooms as well as the very political environment, they found there. My immediate predecessor in the room was,as I read his name plate  that was still hanging: Indulal Yagnik! The great labour leader of Ahmedabad. My neighbour was none other than the great Acharya N.G.Ranga! So on and so forth! So, this way my staying at the Western Court enabled me to meet all the great leaders. I met the then fiery great Socialist leader H.V.Kamath at the breakfast table! So, Nath Pai and I think even the great Swatantra party leader  Piloo Modi. Here came my Oxford friends like Ashok Thapar along with his then newly married Spanish wife Ana! It was me who negotiated and pacified the two while at New College, Oxford. Rudolf de Mello was almost my constant companion at the AICC and also whenever we went out. My Santiniketan  friends Ashish Bose and also Prof. Tan Chung (of my Cheena Bhavan days) used to come to see me.
Indira Gandhi and Kamaraj
Indira Gandhi and Kamaraj. I  clearly remember the day in Delhi when Kamaraj asked Mrs.Gandhi to be at home.She said:"Kamaraj asked me to stay at home". Soon after she was elected as the Prime Minister,  she said so many things in humility in praise of Kamaraj.These were all published in the government publications.
Only after the Congress split, the passages were completely blacked out! Those who betrayed their own ideals and values went on to become Presidents and important Cabinet Ministers! In politics, instead of values, often betrayals pay! Down through all history!
English and Tamil language skills
My interactions with C.N. Annadurai
So, here I, was  perhaps the new generation speaker in the English language and that  was also one reason why I could get a wide notice from across all parties and opinion for my English language skills! Annadurai was in fact surprised to learn about my election victory. I defeated his candidate. So, he sent  one of his trusted lieutenants to Coimbatore  to ask me to meet him.  When I met him he was surprised to find that I could write both in Tamil as well as in English language! Till then, the public knowledge was it was only Anna (as he came to be called affectionately) who had the command of the two languages.
How close I was to Kamaraj?
He would often send for me
How close I was to Kamaraj? Kamaraj's assistant,Vairavan, used to say to me whenever I used to call on Kamaraj in his residence in T.Nagar:"Sir, please wait. I will send away the other visitors. Ayya(Kamaraj)would like to talk with you leisurely and you will also be free to talk…".So, what attracted me to Kamaraj more and more was his interest to talk to me.This increased as  his later years became more and more lonely and one by one, many of his close colleagues like C.Subramanyam and R.Venkatraman drifted towards Mrs.Gandhi. I  had noticed one thing in Kamaraj. Whenever the talk of reviving the party came up and it was many times, the subject of my talk with the leader,  I used to say:Let us draft C.S.and R.V.into the task. As soon as I mentioned the two names, Kamaraj would fall silent!I used to wonder why. Only later, more so now, as I also grow in age and may be in wisdom (!) I realise the great man must have wondered:these two traitors, the very same old "you too Brutus"syndrome must have haunted him. Yes, he was a bitter man in his last years. He used to describe Mrs.Gandhi in severe language. One day he sent word to me. I met him at night when he had his fruit dinner. The time was the Bangladesh war.He asked me many pointed questions about the war and then made one remark:" If by luck Mrs.Gandhi wins the war, then she would go down in history as a big leader and a winner and she would become a more powerful person than she is now". I often used to walk into his residence, sometimes unannounced. One day I was climbing the stairs, C.S was coming down. I saw an enigmatic smile on his face.The only smile I ever saw on C.S. face! There were so many such unexpected visitors. In politics, there is no enemy or a friend. We are all time-servers, aren't we? So too in Kamaraj life too.Till the end we all expected some patchup with Mrs.Gandhi. It was not to be.
With E.V.K. Sampath
Kamaraj was interested in Bertrand Russell, Oxford etc. Once E.V.K.Sampath who was close to Anna and broke away early was also in  a lunch meeting with Kamaraj in Coimbatore. So, to break the silence Sampath asked me about Bertrand Russell.The occasion was one celebration meet I arranged for Russell's birth centenary. When Sampath mentioned Russell's name, Kamaraj lifted his face and looked at me and said:"Oh, that man who wrote to Nehru on China, right?"I said yes and then went on to narrate my Russell meet to Samapth Kamaraj showed great interest in the conversation. I had often noticed how curious was Kamaraj about small and big subjects. Sometime in 1971 I went to see Kamaraj at his Chennai residence. At that time I was planning to go to England and so I informed him:"I am going  to Oxford,England for a few months". Kamaraj was very interested to know all about Oxford! So, this time I explained to him what Oxford meant for the world, for education etc. He questioned me pointedly:" Why Oxford education is rated so highly? What is special about Oxford education?" So, it was given to me the rare privilege of explaining to the great leader of the masses, the man who didn't have any formal education and yet reached the top of the political ladder what it was to be an Oxford-educated man! I should say  these small little details must have also contributed to his bonding  with me. I noticed one thing about him as my relationship with him strengthened. Kamaraj, I knew from so many personal encounters, would be quite brusque with people, he would be domineering, given his long years in power and his peers were also equally ego-centric people. So, there was this rough edge to his character. Sometimes he would use direct language that would put off otherwise sophisticated persons. In my case I had noticed he always used very polite (plural tense) whenever he conversed with me. May be that was one more reason, I was drawn to him more in an emotional sense. I never reasoned my poltiical affiliation with him. I never calculated in a political sense. My attachment to Kamaraj was something more personal, more a cultural sense of decency, being loyal to a leader who represented some values, selflessness, dedicated to a larger national cause, national perspective, all nurtured in the Gandhi-Nehru mould. There are so many episodes I like to narrate.
AICC
In my time and now!
As I write these lines I see a totally changed New Delhi politics and the power plays.  The AICC today, under Sonia Gandhi is a pale shadow of the past glories.The decline started under Indira Gandhi who simply destroyed (yes, that is the right word) all the values and moralities in the Congress political culture. As I later was to watch the developments in politics,the Kamaraj-Mrs.Gandhi divide,how great leaders like Kamaraj and Nijalingappa and others were humiliated. Mrs.Indira Gandhi was still new to the office and so everyone assumed that she was under the direction of the heavyweights. How wrong it proved! And so soon! And with what consequences! Anyway, at the AICC there were all sorts of men and  some women too.
My two significant contributions
In the Madras Legislative Council
My two significant contributions in the Council were two private member bills.One for the fixing of the terms of the tenure of the Madras University Vice-Chancellor.Sir A.L.Mudaliar occupied this office for an unbroken 27 years,a world record.None dared to question this impropriety.So,when I took it up,it proved to be an earthquake! What Kamaraj couldn't do,what Anna couldn't do and what Karunanidhi couldn't dare to think of I attempted.That is a long story I had narrated elsewhere.Suffice here, if I say that I was young and daring and that was how I managed to storm all the opposition to my bill and finally the terms of the Madras University VC were fixed for fixed terms.The other bill was to establish a separate full-fledged Tamil University to promote Tamil language and literature and research.I can claim credit for what was established in Tanjavur, though the present structure of the university is not as I envisaged.For that matter,the very structure and the functioning of universities in TN is very out of date with the international trends and there is not much chance that any great university reforms are possible in the present Dravidian,narrow politics environment. I led two agitations when I was member of the councils. On the two occasions. I was arrested and put in Jail. Teachers agitations I led in. Chennai and arrested and kept in  police commissioner's   office. The farmers, agitations in Coimbatore saw me spend some days in Jail in the city.
With Raja Sir Muthiah Chettiar
English  language brought me close to the Chettinadu Raja
My command of the English language impressed him. On another occasion Kamaraj sent word  to  see him in Conoor.The local leaders, S.N.R.Chinnasamy Naidu and others went with me in the Benz car to Ooty. As soon as I was ushered into the drawing room of Chettinad House (owned by Raja Sir Muthiah Chettiar) Kamaraj eagerly started talking with me  about the possibility of the Old and the new Congress patchup.The talk went on and on. Late in the evening the Raja who was out of the house came back. As he entered the drawing hall where Kamaraj and me were engaged in serious talking, the Raja said:" Oh, you.."then pointing at me he said to Kamaraj:"you know that in the Congress party now you have the only person who can talk in such good English!".For which Kamaraj just grinned in some gesture of I know it well enough'. The Raja would often sit through my English language speeches in the Legislative Council and would unfailingly  would come over to me and congratulate me!
So, when it came to English language deliberations I can say with some satisfaction and pride I almost dominated the scene! In Chennai where the DMK made its political success, it was mainly the English language mastery that humbled people.Tamils have this double side.They make much of their love for Tamil language and too much indulge in emty Tamil oratory. But they submit to the sound of English language as subservient mental slaves. It was Annaduari's English oratory more than anything elsethat won him much acclaim.So too the great orators from the Tamil society, the two Arcot Mudaliar brothers, then Sir C.P.Ramasamy Iyer and Sir R.K.Shanmugham Chetty were the stalwarts of the British establishment. And only later all these great names became associated with the government in  Independent India.Readers should also remember that Annadurai, the founder of the DMK, started his career as a platform orator for the Justice Party.
Some unknown traits of Kamaraj
Quick grasp of complex issues, quick decision – making
Now, talking about how Kamaraj would listen to others here is one more instance. Once in Coimbatore when he was the Congress President there was the Congress workers meeting at Geetha Hall. It was the time when the textile mills were in deep crisis. Some labour leaders were also present. So there was almost much restlessness in the audience about finding a solution to the crisis. The crisis was not so simple and yet with Kamaraj himsefl was physically present people wanted to raise the issue.
So, there were questions from the audience. Questions were quite complicated and complex! So, Kamaraj asked some Congress workers, labour leaders to explain to him the issues. One advocate friend went on and on in explaining the nature of the problem. Kamaraj lost his patience! He snapped: "Okay, please sit down!". The audience was in some agitation! We who were near Kamaraj were really panicky. We didn't know what the leader is going to say. Then, suddenly he turned to me and said:" Mr…., please tell me briefly what is the issue!" I was taken aback. I stood up before the audience and looking at Kamaraj said in few sentences what the issue is and what possible solution we can suggest. It was not so simple. My purpose was how to save the situation and how to get out of the issue! As I finished I found Kamaraj relaxed! He was happy. So, he in very brief sentences said what he can do. Anyway, the audience was pacified and that was all to it! Thus, I had noticed he would often ask me in the midst of the Executive Committee meetings at Satyamurthi Bhavan in Chennai. He would suddenly turn to me and say: "please explain what this is.."  Anyway, I found him a quick decision maker and he knew how to get out of tricky situations.
Image Source : pib.nic.in