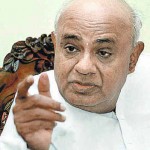 When the current regime assumed office in Delhi with Deve Gowda at the helm, there was some noise about making education for all a reachable goal by 2000 AD.  Under Gujral, this goal seems to have receded to the background.  No one talks of education these days.
Education at any time is a boring subject, isn't it?  At best we all talk of education only when it concerns us, the middle or upper middle classes.  The Delhi English language press may be making noises about education and that education is all about admissions into 'public' schools and the 'campus' college.
The front page 5 column spread education news in the capital's Hindustan Times is about a Delhi co-education college's lady principal banning girls wearing jeans!
Yes, otherwise, who would buy the news papers which report primary education for the poor!  Even the glossies don't bother unless it is about boys and girls in flashy clothes or in some disco-related activities.  This is all hype and much nonsense.
The really solemn faces are made only by some obscure ministers and bureaucrats and that too when they grilled by some in the public forays like the legislatures.  After seeing increasingly, and the latest display was in the UP legislature, how our MPs and MLAs 'perform' one gets the sickening feeling that education for all is all tall talk and not to be taken seriously.
There is not much action in education, except for some CMs who (got caught) in some racketing and otherwise, the MLAs and other politicians who indulge in the education entrepreneurship, it is all low key activity in their expanding 'conglomerates' of many concerns.
Why so much cynicism?
For the past 50 years we have been practicing democracy and one effect has been pandering to the higher education and thus taking lightly elementary. It was alright for long but not anymore.  There is a realization that unless education is taken to the homes of all, the poor and the deprived, there is no way to cope up with population pressures, poverty and much of the inbuilt tensions.  So many Commissions, so many academic studies, so much hype-ridden models of development have focused on the imperative of universalisation of primary education.  There has been progress, no doubt.  In Kerala education had spread in such a way that there is a necessity there, to re-order the education priorities.  The other extreme is the cow-belt States, UP, Bihar, MP and Rajasthan and the fringe areas.
UP Schools in a mess
Mr. Deve Gowda when he was the PM noted, after a tour of UP, that in the State there were 60,000 villages without roads, 46,000 villages without primary schools and 1.3 lakh villages without drinking water.  In a village in MP, Gowda saw both people and cattle drinking from the same pond.  In Haryana malnutrition in villages reached such proportions that hemoglobin level in the blood of the poor had dropped to 2 percent from the normal 18 percent.  This is rural India and the rural interior is still an undiscovered part for many a minister in Delhi.  In UP and Bihar and elsewhere primary education is nowhere nearer national goals.  According to a UNICEF report, there are 77 primary schools per one lakh population in UP.  The national average is 96 schools.  All is not of course gloom and doom.
The UP government is also proposing to set up new 9,524 primary schools.  There are 86,000 primary schools in UP to cater to 18.4 million children and salaries come to a staggering Rs. 2,000 crore.  What these bland statistics don't tell us is the lack of toilets and drinking water and sometimes not teachers in many schools.  Two schools in Maharajganj district in UP where school buildings were constructed two years back started cracking and children sit in the open.  The posts of half the schools in Katra bazaar block in Gonda District were lying vacant.  MP is making vigorous progress under a determined CM.
Education Guarantee Scheme is ensuring access of primary education for all children.  Latest move is to make the panchayats appoint teachers and make the teachers perform.  That is hire and fire!  That at the grassroots level is essential if we are to make primary education effective in the eyes of rural parents.  Making primary education universal is not easy.  Even the developed countries are struggling under various handicaps.  So too providing adult literacy.  Illiteracy and poverty are twins.  Only with economic development and more wide distribution of economic opportunities education would spread evenly.  All this conventional wisdom does not excuse the politicians and vocal sections to push the education agenda to the background.
We need experts, thinker and new education technologies. Open schools through TV network, through panchayat supervision could reach us to goals of which we despair when we only rely upon illiterate political classes.  Thinkers could galvanize society's aspirations.  Experts could provide the roadmaps.  So, after all it need not be all gloom and doom.
Image Source :topnews.in