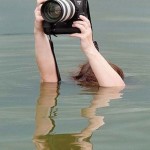 There have been somehow a good many number of books on the art of photography and also photographic exhibitions are on the rise lately.
In Bangalore, I visited two photo exhibitions, all top class, French names I forget but I remember Cartier Bresson's widow curating one and two other Frenc names.
One Mr.Poddar is single handedly devoting himself to promoting the photography as an art. I applaud him.
Now the two books I glanced through greatly inspired me. One, a history of photography in India(The coming of photography in India, OUP) and the other Mapin's publication on "Vijayanagara, splendour in ruins, it is an Alkazi Collection of Photography, all 247 pages of breathtaking pictures all taken some one hundred and fifty years ago! The price of Rs.2,850 is "peanuts", I told myself!
An Englishman, residing in the nearby cantonment of Bellary seemed to have taken a fancy for photography and the result is the rare collection. The pictures about the boatmen on the Tungabhadra would really surprise you by their unbelievable contemporary look! The man who shot the pictures, one Alexander Greenlaw earns our gratitude for what he had done for the Indian people and their cultural heritage!
The lotus Mahal stands in full splendour! So too the other structures, one doesn't know how much is lost and how much remains today. Those who visited Humpi and also those who haven't and plant to visit must acquire this treasure trove!
There is one more book and one more photographic exhibition, this time in Lond. That is the Alakazi collection again, this time it is on "coloured Portraiture in India"
India had had some two hundred years of miniature painting and we all treasure this tradition as our own very Indian priceless heritage. This was before the 19th century before the Western photography art came into India. Even the Daniells, the two English cousins came to India and covered the entire continent and drew all the monuments and Indian life through their tinted sketches and portraitures. Read More →