Macualay Ghost still dominates Indian Education?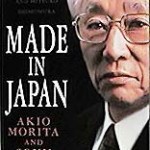 Yes,ever since I bought the hardcover edition of Akio Morita's"Made in Japan",way back in 1985 or so, I was drawn to Morita's story.
I remember the day  when  the Janata party was in power in Delhi. I one day went to see the education minister Dr.P.C. Chundar. Now his name must be a mere memory for all in education but Chundar was a different man. He was a great scholar and writer and, as I know Bengali society well,  he was the typical bhadralok middle class intellectual who knows so much and yet he was unperturbed by the burden of office. He was perhaps the best qualified to occupy Shastri Bhavan and yet I am not sure what impact he made on the Indian education scene. Perhaps others who knew him well and worked with him can comment. The point is that he received me one day as if I was one more admirer or a favour seeker. But I was neither. Yet here was the Cabinet Minister at his residence pouring over some papers and he looked like a typical writer or one devoted to some academic research.He talked with me politely and listening to my outpourings of the many woes of the education sector.
I was at that point of time running a semi- residential rural  secondary school in my native village and it was famously named an International school.
I think, as I recall now, my school had already met with some problems, a mix of local and state politics. I was in a disillusioned mood. May be that might have been the reason I was impelled to call on the education minister. As he soon as he came to know of my education background, Santiniketan and Oxford he became more attentive and gave me a patient hearing. At times I noticed he was keenly also watching the many projects and programmes I was narrating about in my school. At that time the UN and Unesco were very much active and in the news and so we bought many of the Unesco model textbooks on teaching history and geography in problem countries like Israel and other such countries with border disputes and also history disputes as  was in Japan. Read More →