Vidarbha farmers' continued suicides haunt the Prime Minister and the Agri Minister!
What needs to be done?  Prime Minister must deliver or ……!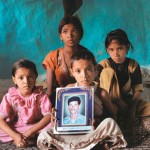 Prime Minister had visited the farmers' suicide zone of India, Vidarbha and listened to the farmers' problem!  It is a nice gesture after two years of so much indifference! The CWC had seen sharp differences of opinion about the performance of the key players in the economic ministries.  The statistics provided by the Finance Minister about the prices rise didn't find favour with many members.  This is a reflection on the handling of the price front as well as the entire farmers' suicide trial that haunted the Prime Minister and the reluctant Agri Minister who followed him to Vidarbha!