Retreat from Revolutionary Rhetoric!
Charting a New Capitalist Path!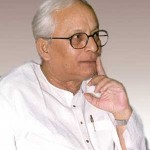 Yes, there is a new air of great expectancy in Bengal.  A new optimism and a new sense of purpose in all walks of life. But this expectancy, this confidence is still in the hearts and minds of some people at the top. May be in the  minds of Chief Minister Mr.Buddhadeb Bhattacharjee and some of his colleagues!
Alighting from the plane and coming out of Dum Dum was a great experience this time. Here I come, rather come back, after 20 long years!  Also I come back to my old haunt where I had spent some of my carefree years as a student at Tagore's Santiniketan. Yes, I had been back in West Bengal many times. But this time, I come back with so much change in me too!  This time I come with new eyes and new ears! I am seeing things, seeing the world in a new light. As an entrepreneur and as an economist (yes, I dislike the expression businessmen and in Calcutta they have so much dislike for business and businessmen, but here I am to communicate with the readers in some clear and non-complicated language!)  I see thing, the world in black and white! Yes, your are either for creating wealth,  or helping to contribute to the persistence of poverty! So, Calcutta this time I saw in a different light. Of course in a very positive and sympathetic light.