Old religion, new religion, god, science
How our secular beliefs are to be defined?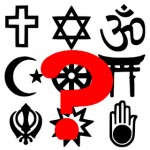 A survey of latest intellectual  developments in various branches of sciences and knowledge
Religion is still a force as well as a taboo! Religion is a subject to which every thinking person has to return one day or other.In India, religion is a strong force and also a strong impediment for secularisation and liberalisation of society.
Many of the great philosophers like, say Bertrand Russell and here in India Dr.S.Radhakrishnan have written much and created vast readership. I have read them in great, extensive ways. Russell is yes, quite brilliant, he wrote so clearly that won him vast readership, even today he is selling well. Karl Poppar says, in his autobiography, that Russell could write pages  and pages of such clear English without almost changing a word! Such was his writing skills.  So too I would say of our own Radhakrishnan. He could write very chaste and readable English with apt quotations from unexpected quarters, novelists and such then currently favourite writers and thus impress the readers. Equally, he was a great orator. So, he won his day,so to say! Indians easily fall for even empty rhetoric! But then I often ask:how much of Radhakrishnan will last? Now, after so much of my life lived in the way I had lived, that is, without office or the publicity that comes with it,what I think of Radhakrishnan's thoughts? I have to say, rather candidly, Practically nothing he thought as his original thinking! Read More →