The painful thoughts of the British empire syndrome
The Raj Syndrome by Suhash Chakravarty,Rupa,2007 pp 400. Revisiting 1857 Myth,Memory,History,Rolli Books,2007 Leonard Woolf A Life by Victoria Glendinning London,2006,pp 526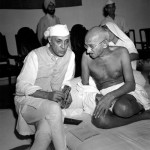 The thoughts here all raise highly emotional and highly controversial thoughts and throw up conflicting images as I look at India as a country and people who had been badly treated by  the march of history, if I can say so, by enslaving it, all through the last two hundred years and more.
These three  books are in a way inter-connected.
They came into my hands without any planned purchase. They in a surprising manner contributed to enlightening my understanding of an underlying theme that shapes my intellectual beliefs and political outlook today.
First the Moghul conquest, then the British  Empire and the result today is people whose mental make-up, their very national character is yet to  be clearly defined and understood by the people themselves.
The raj syndrome raises an important intellectual issue  that is widely noticed for long by many and yet no one systematic thesis has evolved yet.As far as I know.
The  raj syndrome is about how we Indians came under the occupation of the British traders who came to establish trade links and step by step they went on to conquer the whole continent and established control over the affairs of the left-over Mughal empire.The story is told in so many volumes of writing and for so long that we almost lost control over our own imagination of the whole  deeply-ingrained attitudes and our own mindsets,when it comes to knowing our own Indian identity.
Prof.Chakravarti has done a good job and we all owe something to him for highlighting this particular theme in the form of a book.While Nirad choudhary reading the same I was reminded of another Bengali babu, the more cantankerous Nirad babu, who in his own inimitable way had done the negative job of reminding Indians of everything that is good in us we owed to the British occupation!
I often used to wonder for I have spent some years at Santiniketan, that for every Nirad Choudhury,there must at least be another one hundred unknown Nirad babus, when it comes to learning, the bookworms the average educated Bengali of my generation used to be. I am not sure the situation now, but I should assume that the average middle class Bengali household is at least educated for over three or even four enerations, if we take the Raja Ram Mohan Roy years as the starting point.
Read More →