Gandhi's role in India's Partition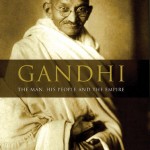 There are about 400 and odd books on Mahatma Gandhi alone. This vast output is besides Gandhi's own writings and letters that are collected into some one hundred volumes by the Indian government. Every country that had leaders of great national importance, from dictators to democrats, from Lenin, Stalin to Mao and the American and the British leaders has such authorised multi-volume publications.
These authorised, official versions and publications after sometime go out of use and completely junk!
Even Pandit Nehru's "works" now already in multi-volumes, are falling behind times and it is said by the time the full volumes come out, most  of the contemporaries might have all been dead and forgotten! Along with them the Nehru era romance might also fade.
What would be the fate of the Mahatma?
Why so many books, continue to be written about him? Is he a man or a god, a mahatma or a soul force and what else we can make of this complex personality?
Gandhi stirs our emotions, mostly beneficial, for the obvious reason he is seen as a moral person and he talked often as a spiritual person. One more attraction for Gandhi is his long association with so many Christians and Jews and his claims in his autobiography how he was influenced by his coming into contact with these religious teachings.
But then he always claimed himself to be a religious person and that too as a Hindu. And to complicate matters, he had to work for Indian freedom and that brought him into direct conflict with the Indian Muslims and ultimately India was partitioned and also he died at the hands of a Hindu fanatic.
So, the story makes for an unending charm and complexity and throws in Gandhi's other many idiosyncracies, eccentricities and a resort to fasting and direct action! All this he did in the name of freedom and also as a disciple of Gokhale, a great believer in constitutional means of agitation and persuasion! So, a series of contradictory acts and beliefs make for Gandhi, the man and his complex character. There are other ingredients as well like sex and sex experiments and the last but not the least the long-suppressed relationship with a high born Bengali lady of the Tagore aristocracy and the long-suppressed letter of Rajaji to Gandhi dissuading him to cut of his further relationship. So, you can have your own take, you are a secularist or a religious person or whatever you are and your inclination. The fascination for Gandhi never seems to die!
There have been several new books on Mahatama Gandhi. Two by his own grandsons, Rajmohan Gandhi (Mohandas: The True Story of a Man, His People and an Empire, pages738) and Gopalkrishna Gandhi (Gandhi in his own words, OUP), who is now West Bengal Governor. I had had a glimpse into these two new books. Both are written with much affection and also much detachment. That is an admirable quality one can surely expect from these two highly gifted grandsons of such a great man. There is also one by his great grand son, Tushar Gandhi whose book is sensationally titled as "Let's kill Gandhi"!
Read More →