Will the nuclear deal with USA ensure energy security for India?
That civilian nuclear power is not going to come to help us in any near-term future.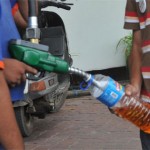 There is a steep rise in fuel prices. The Congress play a cynical drama by Sonia posing as the saviour of the poor, the Left and the BJP do what they know, taking a procession on the Delhi streets! Is this all to fuel shortages?  Bush can be taken not a safe nuclear expert!  There are so many technical, economic and even political and military issues and that too when the USA is debating the Iran nuclear power plant and when India is also being drawn into such international strategic buildups, to talk of nuclear power as if it can be tapped at our will is a near fantasy.