Classical music in democratic times!
From the Tanjore Court  to Madras Music Academy
A social history of music in South India By Lakshmi Subramanian, OUP, 2006, pp 196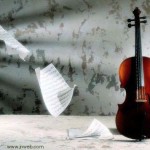 The rise and fall of classical music? Not necessarily!
It is always great to be a connoisseur of classical music, arts. Only a high society that appreciates the great classical arts, music, dance and much else, can sustain  a high culture.
Seen in this perspective, the Indian music and dance, more so the  Carnatic music and Bharata Natyam, had got revived thanks to many promotional interventions, but somehow, the arts got stuck in a middle class mindset.
First, the book. A curious  title  I thought when I ordered the book from my usual bookshop supplier. Why curious? What is special about the South Indian music, called as Carnatic music, and the link between the Tanjore Court and the Madras Music Academy?
So, I read through the pages and found the book is making some new contributions to our understanding of how Carnatic music evolved. For long there was no objective writing on the Carnatic music by those based in Chennai, being mostly Brahmins, these musical experts, they have a way of  eulogising music as if it was a divine gift from Tyagaraja and as if it is the beginning and end of music!