Ajit Singh's call for productivity and intensive farming.
Do they know the ground reality of agriculture?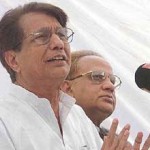 Who speaks for farmers? How committed is the government for the agri sector?
At the second International Congress on Plant Physiology, the President said this. The agri minister said this. What about the Prime Minister and his distinguished Cabinet colleagues? The Prime Minister, the Deputy Prime Minister, the Finance Minister and the Agri Minister and in an indirect way the Food Minister are all the senior politicians and ministers who have the authority and moral responsibility to give agriculture its due priority in the scheme of things.