Prof.Amartya Sen and Dr.Manmohan Singh
What are their positions on critical issues?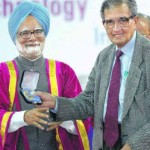 Any  thinker like Sen or any one in  government like Dr.Singh can  continue to talk and get away. And yet nothing worthwhile happens as it is today. Because any theory, however brilliant in hair-splitting arguments, between niti and nyaya, as Sen displayed  here might remain untouched by ground level realities.
For this to happen one must have a  fuller understanding of how democracy works actually. Even how capitalism works in actual manner. So, what we have today is that the big corporates get away with whatever they want, be it Special Economic Zones or large PSU bank funds at concessional rates, the government sits tamely and just talks or at best gets the government carried on silently.
The poor continue to be excluded and farmers and rural India left to their own devices.
After all India and the Indian people have survived. For ages. Now, too the same survival strategy, if it is a strategy, might give the Indians the much sought after mukthi, niti and nyaya and what have you!
Prof.Amartya Sen and Dr.Manmohan Singh both appeared jointly the other day on Sen's birthday celebrations. Dr.Singh and Sen started off their careers at the same time and both achieved eminence, no doubt.
One  participant who attended their speeches writes to say that the secret of their career success owes to their clever stand on most issues. They take central positions. So, it is difficult to pint them down ,so to say, on any issues. They are all things to all men!
Yes, that is why Dr.Singh's many views are not known. Where does he stand, say, on rural India? No one knows! So too Sen. When asked about the choices to be made he often becomes vague, in New Delhi, later in Chennai he became visibly wobbly!
What does it mean to invest in social sector, day in and day out?
We have to have some conceptions, some basic ideological position whether we believe in rural transformation through panchayat raj or through market capitalism, let loose, through Special Economic Zones or  urbanisation that leads to land encroachments or through some
"planned" and dispersed and broad- based "small is beautiful", government "regulated" path of "development".
Singh won't say anything. Nor does Sen.
That is one reason ,rather the major reason, I would say for the current patterns of rural development, large-scale farmers suicides, mounting  farm  indebtedness and yet  there is no "modernisation of farming or  modernisation of village services.
Read More →